Fr#MA-277 variety, serial #2590.  Face engraved by Paul Revere.
To the best of our knowledge, this is the only uncirculated example of this charming issue.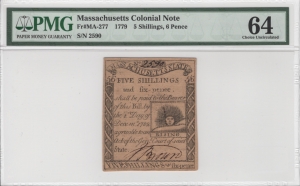 With the cool rising sun/fright wig vignette as seen in our close up image.
$4,250
To order or inquire about this item, call us at 1-800-Coins-99 or email us at John@CoinRaritiesOnline.com or complete the form at the bottom of this page.