Julian CM-11 variety, struck in Silvered White Metal from dies engraved by William Barber. 58mm.
A lovely, original silvered example with superb multi-colored toning on the obverse and reverse housed in its charming original leather box with regal purple lining: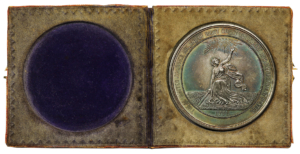 With an elegant Rising Liberty on one side with sword in right hand, left hand reaching to 13 stars surrounded by THESE UNITED COLONIES ARE, AND OF RIGHT OUGHT TO BE, FREE AND INDEPENDENT STATES, with 1776 in exergue.
The other side depicts Art and Industry being crowned with wreaths by Liberty, encircled by IN COMMEMORATION OF THE HUNDREDTH ANNIVERSARY OF AMERICAN INDEPENDENCE and ACT OF CONGRESS JUNE 1874, with 1876 in exergue.
$595
To order or inquire about this item, call us at 1-800-Coins-99 or email us at John@CoinRaritiesOnline.com or complete the form at the bottom of this page.