A charming, all original, old-holdered example with pink, mint green, violet and peacock blue toning that goes wild when you twirl it in the light: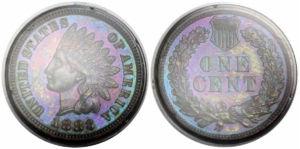 See what we mean?
Note that this coin has been verified by CAC.
SOLD
To order or inquire about this item, call us at 1-800-Coins-99 or email us at Info@CoinRaritiesOnline.com or complete the form at the bottom of this page.