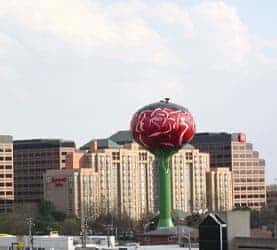 Prologue:
We are delighted to be attending the Chicago International Coin Fair this week, a world coin only (or at least 'mostly') event held in familiar Rosemont, Illinois right on the same street as the ANA show in August. Different building though.
And while we've been to this show before, it was always to just walk the floor. Until now! As evidenced by the fact that we are set up at an excellent table directly next to Stack's-Bowers, right near other dealers we see at most major shows and across the aisle from some guy I've never seen before selling coins I don't recognize.
Which is one of the fun parts of this show for us as we get to hob-knob with some new people, see new things, buy cool coins, display 2 cases filled with our increasingly large world coin inventory and, we hope, meet some new customers.  And also bid in the Heritage world auction held here, which was variously described by other lot viewers as both massive and very, very large.
So we are expecting good things here, and then expecting to write about them each and every day of this show right here in this space.
Starting bright and early on Friday AM.
April 10th:  Day 1
It would be a very civilized 10 AM on Thursday when the show opened to dealers (and "Professional Preview" attendees willing to foot the $100 charge to come in with us).
At which time your author burst onto the scene and began setting up like crazy, and when I say crazy, I mean in a very relaxed fashion, since I would be displaying mostly world coins here which account for about 1/3 of the total CRO inventory and, at least in theory, it should not take that long to put them out.
In reality, however, the coins ended up mysteriously filling two cases, as opposed to the three we would have a regular show (with one each for colonial, US and world issues). I'm still not sure exactly how that happened, but the end result could best be described as 'elegant', the lamps worked, and we were ready for action.
The first phase of which was to wander aimlessly around the room, peer into the cases of every other dealer who was already set up (only about 15% of them by my estimation) and buy every nice coin I could find that fits the CRO world coin parameters:
Is extremely eye-appealing
Has some connection to Early America, has a totally cool motif, or is so spectacular and beautiful we have to buy it anyway
Which I did to the tune of about 20 coins during the day, of all shapes, sizes and compositions, ranging in price from $150 to about $10,000. Including several nice ones from a German dealer I have never met before, and one colonial coin which presumably showed up here at CICF by mistake (actually that's not true, since a number of dealers did intentionally have a few US and colonial coins on display, but in all cases it was just a small part of their overall offering).
I also sold respectably during the day, including a fantastic MS66 Canadian 5¢ which I have apparently owned for a while and discovered hiding in the back of the safe where it was acting as an unproductive use of inventory dollars. So I was delighted to productivize it.
And saw a number of good local customers who collect US coins too, many of whom viewed, checked out, ogled and/or fondled coins in the cases and also bought a few while saying something to the effect of "Hey, you do not usually set up here!".  Yes, that's correct.
Up until about 5:30 anyway, when I packed up and headed out for a French dinner with relatives, since I like French food, and the Heritage auction session held in the evening was only Ancient coins which your author has so far successfully resisted any temptation whatsoever to deal in.
Friday we'll be back at it at 9ish, looking to buy more, sell more, schmooze more and have an overall excellent time in Rosemont.
More later.
April 11th:  Day 2
Great news RR reader, it is time for a collection of random thoughts about CICF on Friday:
I continued my buying binge here, which ranged from a high profile slabbed piece which had been prominently displayed in the middle of another dealer's case with a big light shined on it, to a lovely piece of Latin American silver which I fished out of a junk bin so filthy that I wanted to take a quick shower before returning to my table.
The percentage of PCGS graded world coins here is waaaaay higher than it had been at previous world shows I have attended.
I entered a bunch of bids at Heritage, but managed to buy just a couple of coins in a session that seemed quite strong to me. I am not complaining about the high prices, however, since my consignment to this sale really enjoyed it.
Most unexpected question: Customer approaches the world coin dealer at the table next to me and politely asks "How do you prevent 1943 steel pennies from rusting?".   So if anyone knows, please email me so I can track the guy down and tell him before it is too late.
A number of upcoming auction lots were on display at various tables, including some staggeringly nice coins which I will be desperately trying to buy (along with hundreds of other people).
While I found a lot of nice coins at prices that made sense to me, I also encountered some widely spaced pieces around the floor that I liked, and wanted to buy, but which were priced at levels that I simply could not comprehend, assumed I had mis-heard and/or which might have been quoted in some other currency. But no – they were in regular old American dollars at many multiples of what I expected. In one case, I actually asked two other dealers if I was missing something here, or if this was some kind of rare variety with which I was not familiar, but both concurred with my bafflement.
I seriously regretted eating that pizza for lunch.
Don't tell anyone, but I sold a US coin, one of six (6) I had with me here.
The set up at this show is most reminiscent of the former Coinfest Show, well staged in a nice ballroom with a good vibe. Did I mention that I miss that event?
I almost bought a beautifully toned modern Irish coin, but decided that it was not me. That's a risk at a show like this, when you find a lot of cool coins and want to buy them even if they don't exactly fit your business model.
So I will try to stay focused tomorrow as I look for late show purchases and hope to sell a few more coins before packing up and heading home.
From where our next Road Report will be posted on Sunday AM.
April 12th:  The Exciting Conclusion
Sometime during the final day of a show, dealers (or at least this dealer) enter what is known as the 'numismatic danger zone'. You know, that time when you have already scoured the floor for good deals and interesting coins earlier in the show, have gone back a second time and bought additional deals that you did not think were quite good enough the first time you saw them, and now, perhaps out of boredom or some kind of bourse floor wanderlust, you find yourself looking at coins that you should not be buying and/or which do not fit your business model, and which might offset all the good stuff you acquired before.
On the other hand, a very knowledgeable dealer once told me that you don't really know where your profits will come from in this business, and things that seemed like great deals don't always pan out, while coins you thought were just marginal end up working out great. And even though that sounds like a bunch of hogwash, or carte blanche to buy everything, everywhere all the time, I have found it to be largely true.
And if it is, I should be in the chips after Saturday, since I had an out of body experience watching myself write checks for a bunch of Philippine coins, two different coins with giant hands on them, low grade unc. US $20's covered with copper spots, a complete run of circ. Latin American silver and assorted other items which added up to pretty good money.  I did however draw the line at an expensive and cool looking Bolivian coin because I could not figure out how much it was worth despite an exhaustive internet search which only occasionally included checking out how Bubba Watson was doing at the Masters.
Another thing not purchased on Saturday: A 1960 Lincoln Cent in a slab labeled "Triple Die Obverse" shown to me by another dealer. And while I like a good triple striking as much as anyone, I could not, despite my best George Costanza-like effort to find the 3-D images in that book in the old Seinfeld episode, see any trace of triple striking even under a good loupe with a fresh bulb in my lamp. But if they say it's there, I guess I believe them.
Still, I was very pleased with the overall CRO haul here, which can perhaps best be measured in boxes, since I came here with 4 and left with 6 (and this despite the fact that I had dropped off about 15 coins for grading during the show and sold a bunch too).
Making the CICF event a successful one for CRO, and a show we will be adding to the schedule permanent-like going forward.
But now, I am going to sign off from Rosemont, fly home, and work really hard before boomeranging back here for the Central States Show in just 10 short days from now from where our next RR will be posted on or about Tuesday the 22nd.
So you might want to keep an eye out for that.
EOM