Road Report
Tales from Our Numismatic Travels
September 28-October 1, 2022: The Long Beach Coin & Currency Expo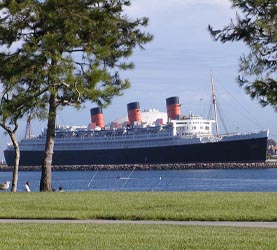 September 28:  Day 1
Rested, ready, and thoroughly un-jet lagged (since we made our way to Long Beach this time after spending a week in Portland, OR), team CRO arrived at the convention center on Wednesday AM and joined the impressive queue waiting to enter the bourse floor just as it opened at noon.
Where we then stood with no explanation for about 45 minutes until they finally let us all in at about 12:45.
At which time we stormed over to our deluxe table #802 and began our super-efficient booth set up, this time aided by Greg Cohen of Legend who was our designated tall-person / banner hanger thus obviating the need for your author to stand on a rickety chair and risk numismatic injury.
Not 4 minutes after that was completed we bought 4 coins and sold 2 others that had never been listed on our site to some long time customer friends who had made us their first stop on the bourse floor.  We like that.
After which I cruised around the floor and found 10-12 things to buy from a myriad of sources, some we know well and have done business with through the years, others that were totally new to us.
Interestingly, as I was walking the floor and asking to see things I sometimes, but not always, got a sales pitch which varied wildly from table to table.  Running the gamut from "I probably priced this too low" to "This will do great on your site" to "I purchased this from a little old old lady who came into the shop" to "This one is too expensive" (admittedly this last one was not exactly great marketing).  Regardless, I know what I like and have a good feel for what will work on our site so I don't put much stock in the comments pro or con.
Returning back to the table just as a collector I last saw at the New Hampshire show was buying two coins from MaryAnn and about which I had two thoughts:
That is one well-traveled collector.
The only other people who I believe attended both of those shows would be us, and our local New England friends from Northeast Numismatics.  But that's it.
After which we started to pack up after what had been a very productive though slightly shorter than usual set-up period and headed to dinner with some dealer friends down the block.  Before returning back to our hotel on the early side so we could be well rested for Thursday where we are expecting many of our local customers to make an appearance.
And if they do, or even if they don't, you can read all about our escapades right here first thing on Friday AM.