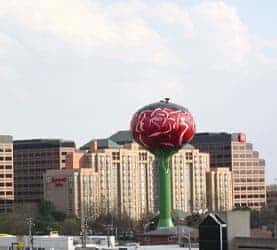 Preview:
Well, I'm off on another adventure today, jetting off to scenic Rosemont, Illinois for a fun filled week of coin dealering. And lord knows we're due – we haven't been to a show in weeks and we were just starting to suffer a slight case of bourse-withdrawal.
And so far, things have started off great:
Traffic to the airport was unbearable, causing me to just barely make it here in time to bang out this preview.
The man seated next to me here in the gate is actually clipping his fingernails – the first time I can recall seeing someone do this in an airport, in public, in some 25 years of extensive traveling all over the world.
Late today we'll be lot viewing at the convention center, then gearing up for PNG Day tomorrow.
Until then, then.
PNG Day:
With that nail-clipping incident behind us, it was time to tackle Wednesday with reckless abandon, a large number of coins, our trusty show banner, and, on an especially positive note, a corner table location about 10 feet from the door in-between Heritage and Stack's. We're not quite sure how we landed in this prime real estate, but we figured we'd take it.
And we did, arriving a little past 9 for set-up with the other PNG dealers and the collectors and non-PNG dealers who sprang for the early entry fee.
PNG day is designed, I think, to give the participating dealers a chance to wear neckties and get a jump on the competition, as we trade with each other and do some early retail business before the other 80% of the dealers are allowed to set-up on the bourse floor on Thursday. In reality, it's usually a relatively quiet day with a few good deals, a lot of quite wholesale activity featuring dealers looking through each other's boxes and a lot of expensive stuff being shown.
We sold a bit, bought a couple of expensive coins and are weighing one medium-sized deal of cool stuff that has not been on the market in years and years (which is always the kind of deal we like to find).
Also on Wednesday would be Heritage lot viewing and then the kick-off of the first auction session at 1 PM in a large room with about 400 chairs in it, and 20 people. Still, the activity was brisk at times, with podium bidding and phone activity making sure nothing went too cheap.
We bought a few things and then scooted back up over to the bourse floor making sure we didn't miss anything important. We didn't.
The rest of the day was spent largely filling out tons of submission forms at PCGS, as we had saved many coins for grading at this show for ourselves and on behalf of customers. Which is a great plan, as long as the grading at this show is 'decent' and the results are fair. Obviously we hope that's the case, but we won't know 'til tomorrow.
But that was about it for Wednesday, as they booted us all out at 5 PM and forced us to go have dinner.
Tomorrow should be materially different, offering a much broader view of the market and an opportunity for us to buy some cool new coins from lots of other sources.
And we plan to try very hard to do just that.
The Public Arrives:
It was an interesting day on Thursday.
We were expecting sort of a lackluster affair, but it turned out to be really pretty busy in the morning with some active buying and selling. And then someone pointed out to me that the actual show itself didn't begin until 1 PM, and the guys milling about in the AM were still the early bird group.
As an aside, that meant that the PNG dealers had a couple of hour set-up Tuesday night, then all-day Wednesday with the early entry guys and then half a day Thursday for more of the same. Doesn't that seem like a lot of time devoted to the non-regular public?
Anyway, we managed to spend several hundred thousand dollars on federal coins in a span of about 2 hours, then sold a whole bunch of them over the next few hours. Which was really good, except that it won't help us much in populating the website. Oh well, we'll have to find more.
In the 'you just never know' category, we had a small stack of coins we were planning to consign to auction when someone walked by, happened to see the top one (which was waaaay back in the corner of the case, upside down), asked to see it and bought it, all within a span of about 3 minutes. The moral of this story? As much as things have changed in numismatics in recent years, and despite the amount of information now available to both buyers and sellers, it's still an amazingly inefficient market in which buyers and sellers may or may not accidentally bump into each other like sub-atomic particles in a high school science film. So I guess you just have to keep your eyes open and look in every case.
We also had our initial grading results and they were pretty good – no gift grades, but everything else slotting in where we expected. We did hear whining from other sources though, and we were shown a nice, no-question choice unc. coin by another dealer which had just come back in an AU55 holder from the services. No idea what happened there.
That left nothing to do but go bid in the Heritage auction sessions, which for us meant the Queller sale at 6 PM followed by the colonial Platinum Night session at around 8 PM. Things seemed to go pretty strong, with the marquee 1804 Dollar hammering down at $3,250,000 to an internet bidder (who, I hope, was not some guy in his pajamas who never viewed the coin).
We stuck around just up to the early copper, bought a few things, and then headed out to rest up for what we hope is an equally stimulating Friday.
TGIF:
After our unexpectedly good Thursday, we dared to dream that Friday might be big, with people leaving work early (or skipping it altogether) to rush to the convention center and buy our coins.
And, in a lot of cases, they did.
As of the end of day, our sales at this show have exceeded last year's CSNS total by a factor of 10 (ten). Did he just day 10? Yes, that is what he said. And this is not hype. Nor are we looking for a celebratory high-five. Actually, what we are looking for now are coins, since a lot of what we sold were NEWPs that we intended to list in an EB after this show and then put onto the website with much fanfare, high resolution photography and humorous descriptions. Oh well.
Not really sure what's going on here, but we have had a lot of walk-in traffic, plus a good group of long-term customers who live locally, plus a very active wholesale selling show, etc. And certainly our location helped, as it's hard to enter the show without tripping over Dave, or being hit in the head with our award-winning show banner.
Anyway, enough about that. Instead let's talk about neat stuff we saw:
There were two deals of very cool early gold in old holders at this show. One was sold wholesale, which created a frenzy among dealers vying to throw tens of thousands of dollars at the owner. The second was sold serenely by sealed bid auction at Richard Nachbar's table right next door to us. It seemed like both methods worked just fine.
We bumped into a neat little group of colonials being offered by someone we've never seen before, and so we picked the 3 or 4 nicest of the lot.
Sheridan Downey had a collection of early halves, which were first displayed during dealer set-up with a sign that said "Collectors only please until Thursday afternoon." And that seemed to work too.
The snack bar opened at 10 AM if memory serves, affording us a great opportunity to buy a tiny tuna sandwich which seemed expensive even by airport standards at $11.
Heritage had on display a case filled with highlights from their upcoming auctions, including the gigantic May Long Beach colonial session, and Steve Ellsworth's Half Cents.
Grading continued going pretty well, with mostly fair results, one gift grade and one example of what we numismatists call a 'complete hose-job'. In total, I think we made 20+ submissions, and we have the mountain of blue PCGS boxes to prove it.
Saturday figures to be mostly a day for the dealers to pack up and hit the road in the afternoon, but based on how things have gone so far, I'm thinking there may be some good buying and selling opportunities yet to come.
And that would be A-OK by us.
Conclusion:
Actually, it was exciting, as the positive vibe continued here at CSNS. But let's start at the end:
Dave and I headed out at about 4:15 to catch a flight, but even as we were leaving it seemed like the room was still surprisingly full, with about 60% of the dealers still at their tables (though most were in serious 'packing-up' mode at that point trying to get everything organized before they booted us all out).
And commerce here continued right up until the end, as we sold a bunch of coins and a whole group of medals at about 3:30 (the latter being especially welcome as those things are pretty heavy to carry around).
Up to that time, we were scouring the floor for some additional NEWPs with slight success, collecting checks (which is always fun), picking up the last of the grading submissions and consigning coins to auction on behalf of customers.
Which we were energized to do after eating the exact same crummy thing for lunch for the 4th day in a row.
And that was after a morning of consistently good traffic and healthy sales, occasionally interspersed with someone asking if we buy 'colored proofs'. Questions like these typically come up on the weekends, and we always try to steer them to someone who might handle such things (though I'm pretty sure that bringing a 'colored proof' to a coin show in hopes of selling it is ultimately going to be a very, very disappointing experience).
But all of this paled to the first 30 minutes of Saturday, when we wrote a mega-check for a group of cool coins which will take us a while to get organized before they are eventually unleashed on the site like some sort of powerful numismatic tornado.
And with that, we close the book on a spectacular Central States Show in which every single aspect turned out to be way better than expected, except for lunch.
We look forward, enthusiastically, to the next event, some three weeks hence at the Early American Coppers Convention in Texas.