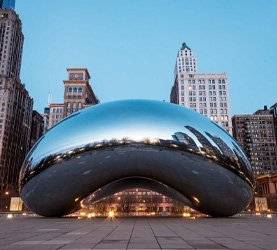 Prologue:
Greetings numismatist and welcome to the first of what will be pretty much 3 straight weeks of Road Reports as Team CRO embarks on a 3-consecutive show Midwestern odyssey unparalleled in our history.
Starting this very morning as we leave wintery Boston and head to even winter-ier Chicago for the 2nd Annual CCE Show.
And we better hurry, since set up begins at 10 AM today and your author, having scheduled poorly, is really cutting it close.  We're confident we'll get there in time for plenty of coin activity though, on the floor and in the auction, Wednesday through Saturday, early and late, pausing only briefly to eat and/or sleep.
With all the highlights posted right here (just as they have been on this site for the last dozen years or so) each and every morning of the show.
Starting tomorrow.
April 18th:  Day 1
Your author's Wednesday morning schedule:
Wake up at 3.
Go to the airport at 4:30.
Take off at 6:30
Land in Chicago at 8:45 local time.
Receive accidental (I think) elbow in neck from old woman in airplane aisle.
Slowly sprint to baggage claim.
Take a nauseating cab ride with a driver who alternates between flooring it and jamming on the breaks in rush hour traffic.
Arrive at the Palmer House at 9:45.
Enjoy quiet celebration when they tell me my room is ready.
Ditch my bags there.
Head directly to dealer set up.
Immediately begin coin dealering activities.
Which would consist of putting out our two case display of CRO inventory (including some new coins not on the site), and then walking around the room looking for similarly cool stuff at every other dealer's table.
Starting with a lot of near misses in the form of interesting looking coins, of types and series that we want, in marketable grade ranges, but which didn't hold up under close scrutiny in the form of a scratch here, adjustment marks there, a subtle discolored spot on a coin in a high grade holder indicating an old repair, an easy to miss edge ding on an otherwise gem Taler, etc.
But we did eventually find some that meet our standards, including a couple of gem Conder tokens of popular motifs, a handful of the South American types we always like, some lovely toned European coins and one cool toned Seated Quarter.
In and around meeting with a few collectors who were here on set up day, including an expert collector who ended up showing me an image of a highly-graded coin in a recent auction that had some graffiti repaifred in the obverse field.  I would act shocked, but that's honestly not all that unusual in my experience.  Hey, be careful out there.
After which I headed over to Heritage lot viewing to pore through the ~4,000 lots of world coins offered here (including the floor and internet sessions), finding many more lots to bid on than we expected, and thus creating a massive project of determining exactly how much to bid on all of that stuff.
Returning to the table to make one last, late purchase, and then heading out to dinner at an amazing Chinese restaurant off the beaten track with a dealer friend who had read about it in a magazine weeks earlier.
And then coming back to the hotel to work on those aforementioned auction lots before calling it a semi-early evening after what had by then been a looooong, tiring 22 hour day.
But we'll be good to go for the start of the show in earnest on Thursday.  With whatever happens to be described right here in just about 24 hours from now.
EOM
April 19th:  Day 2
Arriving at the bourse floor at 8:50 your author zipped in a tad early, clicked on the lights at table #22 and then proceeded to start buying like one of those new Dyson vacuum cleaners with the extra suction.
First some Latin American coins, then a big pile of cool toned random world coins, a good colonial, some gold, some raw US, several sunface issues, a raw 1776 coin, another very pleasing colonial, an old holdered example of an issue we've never seen like that before and, finally, a fantastic medal like this: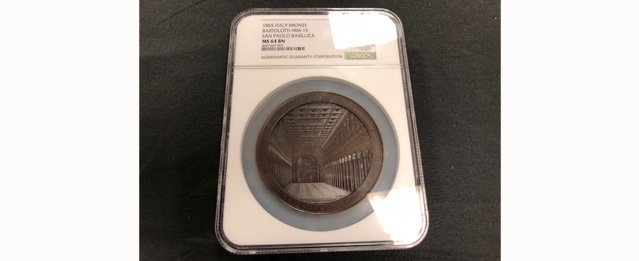 In and around which we met collectors (and would-be collectors) at the table, realizing the incredible dichotomy of people in attendance. From expert collectors (including numismatic authors, coin show regulars and ANS board members) discussing early gold die varieties and striated Trites, to absolute novices who wanted to know what the "discoloration" (i.e. toning) on some coins was, why each coin was encased in a small plastic box (i.e. a slab), or if an Indian Cent weighs more than a Lincoln Cent (um, no, at least not until 1982).
Presumably this was a function of this show's city-center location in which people could stroll in on their lunch break, or fly in from great distances to buy and sell on the floor and bid on the cool auction items.
So we did our best to answer questions of all levels of complexity, educate where appropriate, show and tell with alacrity and generally act in full capacity coin-dealer mode.
Which was all good business and fun.
As was seeing this tiny Chinese coin dinette set being offered for $500: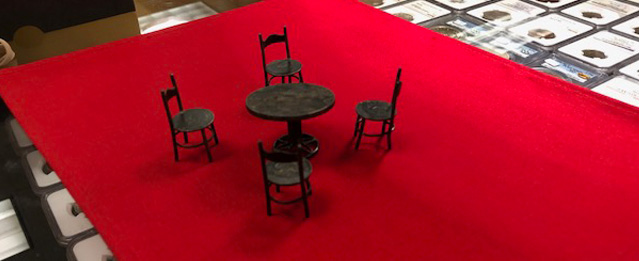 Spoiler alert: We did not buy this because it did not include a tiny umbrella for outdoor entertaining.
At most shows that would have easily qualified as the most interesting item offered, but here at CCE it was not even close. Nope. That honor went instead to this framed letter from Alexander Hamilton's son which contained locks of hair from Alexander Hamilton and George Washington (among others) priced at 15K: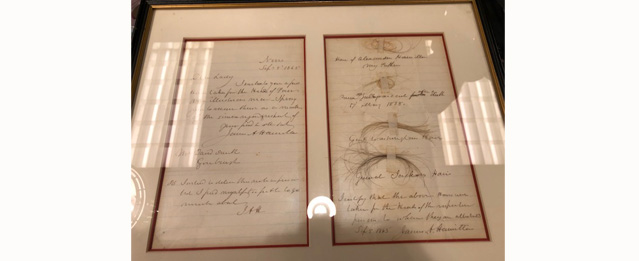 Before anyone asks me if I can verify the authenticity of any of this, let me just say that I think so, but I will leave the DNA testing to the next owner which will not be me.  To that same future-buyer I would also suggest maybe checking with your spouse before psychologically mapping out the wall space where you intend to hang this in your bedroom.
After which it was time for dinner with some dealer friends at a Mexican restaurant so good that they do not even serve chips and salsa there, telling numismatic tales late into the evening.
And then returning to the hotel where your author collapsed after what had been a long, tiring, utterly comprehensive numismatic day here at CCE.
With similar things to come on Friday, since we'll be doing all of that plus juggling the auction which will be taking place right smack dab in the middle of all of it.
Until tomorrow –
April 20th:  Day 3
Without a moment's hesitation your author arrived at the bourse floor on Friday AM proceeding directly to the Heritage lot viewing table for a second, deeper look at the lots of interest in the internet section of this world auction.
Which took about 50 minutes. It would have been 40, but many of these lots had tags in sharp plastic flips rubberbanded to them which 1) made them difficult and awkward to slide in and out of the boxes, and 2) stabbed me just above the thumbnail each time I tried. Fortunately, coin dealers are pretty tough and I was able to work my way through this challenge, circle about 25 coins of high interest and return to the table to focus on bourse floor activities.
Which was busier than in past days here, but not busy, as I met maybe a dozen customers at the table, sold a few coins, bought another handful and continued apace until 1 PM.
At which time the Heritage Canadian Tokens auction began and a lot of collectors and dealers filed out to go participate live. I was not among them, figuring I'd stay behind and watch the action online while simultaneously working with customers at the table in a way that I'm sure looked rude even though I explained what I was doing on my laptop several times. But not much choice when the auctions and bourse hours overlap.
Anyway, that worked decently, as I sold a few more coins and won a few widely spaced lots in what turned out to be a mostly very strong session.
With the last lots of interest going off at about 5:45, just as I was packing up to head out to dinner at that same Chinese restaurant we went to on Wednesday.
Arriving back to the hotel in time to pop into the auction which was by then plowing through ancient coins and into world coins through the letter C. But since most of my bids were in F, some G and also M on Saturday, I figured I'd better call it a night since it figures to be a long, tiring get-away day involving packing up, checking out, picking up auction lots, bidding in the aforementioned auction, breaking down the table, schlepping to the airport and, at around midnight if everything goes according to plan, finally getting home.
From where our next installment of the RR will be written and contain a detailed breakdown of (almost) every single thing that happens between now and then.
April 21st:  Day 4
It was a productive morning in Chicago on Saturday, as your author was up early, answered email, made a bunch of east coast phone calls, entered bids in various online auctions and then packed up and checked out of the hotel before heading back to the bourse floor at 9 AM.
Where I began with another look at a few of the lots being offered by HA on this day, in all cases re-affirming what we were already planning to bid on and the amount we were planning to spend.
Followed by a quick look around the room which surprisingly revealed a few coins I had not seen earlier in the week, probably because they had not been on display. Not sure why that was, or that it matters, but I bought 3 of them and twirled a 4th in my hand about 20 times before deciding against it.
Then met a few collector attendees at the table who, somewhat surprisingly, all asked to see either colonial coins or Morgan Dollars (!).
After which the day's auction began and with it the widely spaced lots we always encounter in these world sessions in which the coins are organized by country, alphabetically, and we're interested in just one or two lots every hour or so. Which necessitates entering bids in advance to make sure we don't miss something altogether, but also trying to monitor as they go just in case we need to bid again (which is frequently the case on the best stuff no matter what you enter in advance).
Alas, a few ran away at sky high prices despite our determined best. But we won our fair share too, including the one piece we most wanted during Saturday's session.  With a late, last lot pick-up minutes after the aforementioned lot closed.
So it could be added to our haul of 29 coins and medals here, slabbed and raw, which will now variously be off to grading or photography on Monday before we unpack, repack and head out to the Central States show from where our next RR will be posted in just a couple of amazingly short days from now.
The End