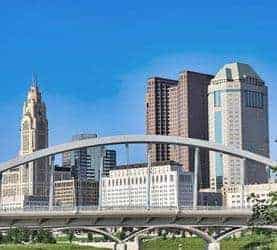 We arrived in Columbus on Wednesday morning and were one of the few (only?) dealers to stay until Sunday morning, thus not missing a single moment of exciting midwestern numismatic activity.
And there was plenty of activity. And sales were good. And buying was surprisingly good. And much fun was had by all.
The show started for us somewhat hectically on Wednesday, as we arrived and had to concentrate our Heritage auction lot viewing for session 1 (including the colonials) into a few hour period and then roll straight into the auction in the early evening. It was an interesting session, with a fair number of fresh nice coins buried in a mostly anonymous offering, presented in a catalog with few photos and in which opportunities abounded and ever-present land mines were to be avoided.
Some registry coins in rough shape went strong, including the much-publicized-CoinWorld-ad-featured-Texas Jola at $19,550 in what we thought was an extra-ordinarily generous NGC XF40 holder. We personally felt the coin was VF20, corroded, but we emphasize that we are not professional coin graders.
A new registry darling Getz Cent in PCGS F12 with a significant obverse scratch brushed the 5 figure barrier at $9,775.
At the same time, some pretty neat coins went for proverbial songs:
A Vermont landscape copper with exceptional detail and hard surfaces appeared in an NCS holder due to some superficial surface crud and realized just $3,220.
A very rare Elephant LON DON token pedigreed to Stack's Robison collection (though not noted in the catalog) realized under $2,000.
And a rare Connecticut Draped Bust Left 32.2-x.6 from the Taylor collection realized a sorrowfully low $1,955. We suspect the same item if cataloged in a specialist grouping of Connecticut Coppers and publicized accordingly might have sold for 3 times that number.
As usual, it paid to do some homework to figure out what to buy – and what to avoid.
The rest of the sessions were similarly spotty in our opinion, and we bought just a coin or two here and there that we thought slipped through the cracks (or at least got lodged in one).
The show itself was a quite strong from a wholesale perspective and we placed many coins with a wide variety of different dealers. We sold choice, original, beautiful coins at prices that bore little resemblance to Greysheet levels when we bought them AND when we sold them.
In a particularly interesting half hour span on Friday, we had a prominent high-end dealer explain to us that the beautiful, original Capped Bust Dimes in our case were too expensive based on sheet levels, then we sold both of them literally minutes later to another prominent dealer who knew exactly what he was looking at. The moral of this story is that beautiful, original coins are rare, they are popular and they are in demand. And they are not buyable at Greysheet levels. It's really as simple as that.
Which is exactly the philosophy we used when buying, as we paid very strong money for some neat coins on the bourse floor.
In all, a great show for us and a continuation of market trends as we've seen them.
Until EAC, later this week –
JA