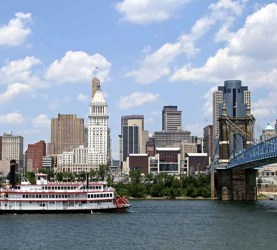 Prologue:
If this is Tuesday, we must be off to Ohio for the surprisingly long CSNS show.
Amazingly, we'll have PNG dealer set-up late this afternoon, PNG day on Wednesday and then a regular coin show from Thursday through Saturday, which should give us more than enough time to buy and sell, schmooze, grade, view lots, attend the HA auction, bid on the good stuff and generally conduct as much coin business as possible before leaving town.  All of which will be described here in vivid detail every evening (starting on April 28th) for your reading pleasure.
Day 1:
Everything was just great with my flight, except that it was a tiny plane completely filled with people with unusually large carry-on bags.
Nevertheless, we made it just fine, arriving in Cincinnati just in time for me to pick up my own suitcase at baggage claim and have the handle come flying off sort of like in a cartoon, though even more annoying.  Which got me to thinking that you never really appreciate a simple thing like a handle until it's gone, and you have to carry your luggage through an airport like a large bag of charcoal briquets, which is not only inconvenient, but also terribly embarrassing, as every other person in the airport watches you and wonders "why is that guy not carrying his bag by the handle?".
But I managed to get it to the cab for the short ride to our hotel, at which time I quickly realized that I owe our readers an apology.  You see, when I flew into this exact same airport a few weeks ago for the EAC show I said (and I quote) "This time we would . . . arrive by airplane by way of Cincinnati, finally crossing the border into Kentucky".  In point of fact (but unknown to me at the time), the Cincinnati / Northern Kentucky International Airport is actually in Kentucky, and you only cross the river when you drive into Ohio like I did today.  Sorry.
Anyway, we did check into the hotel, and then walked down to the convention center and straight into a surprisingly crowded Heritage lot viewing session, which suggests that when a collection of expensive coins is sold unreserved (as is apparently the case with the Joseph Thomas consignment) every dealer and his mother will show up (though not literally).
And what they saw when they got here was some great stuff, some decent stuff, some merely passable stuff, and some other coins that I can only hope did not look like that at the time they were originally submitted for grading.
But we only had about two hours to view lots before it was time to head down to the bourse floor and our A- corner table location near the door for PNG dealer set-up from 5 to 7.  Which was mostly uneventful, as a lot of people didn't have any coins on display.  Still, we made a couple of sales before heading out to dinner at a French Bistro with a dealer friend.
And that was nice, despite the fact that it is not my favorite cuisine (almost certainly rooted in a thoroughly unappetizing experience I had in Leon years ago in which a local business colleague would translate the menu for me by literally pointing out various cuts of meat or the location of a 'foie' on his own body).
But I'm sure that's enough about that.
Wednesday the show opens at 9 AM for PNG dealers, rolls into the first Heritage session at 6 PM, possibly followed by a Reds game and finally culminating with some intensive blog writing here at the hotel.
So I really need to get ready for that.
Day 2:
Wednesday began uneventfully, as I woke up at about 5, polished off yesterday's blog, donned my unbelievably stylish PNG shirt and met Dave in the lobby for the quick walk over to the convention center and the start of an 8 hour bourse session open only to PNG members and their invited guests.
And we were ready for them, with all sorts of cool things on display, including a slew of federal NEWPs, a long list of rare colonials, a big pile of raw coins and, for the first time ever, a really cool group of architectural medals in their original (and suitably ancient) display box.
And it was active right from the start, with good sales in colonials, esoteric issues and federal coins, in groups and individually, to a variety of collector and dealer buyers.
We also managed to buy some neat stuff on the floor, including a rare Fugio variety and a rare Connecticut copper variety, some nice federal type and – the pi·èce de ré·sis·tance – a rare colonial type of which we had never previously owned an example.  But we didn't own it for long, selling it just about an hour later to someone who knew exactly what he was looking at.
Somewhere in there we managed to submit several dozen coins for grading, repeatedly walk the floor (or at least the limited portion of it occupied by PNG members – the rest of the tables comprising about 60% of the total floor space were empty until Thursday AM's kick-off of the regular show), eat lunch, view the rest of the Heritage lots and otherwise occupy ourselves until the 5 PM closing time.
Which then gave us just a few minutes to drop our bags at the hotel and walk the few blocks to the PNG reception at McCormick and Schmick's for a few hours of hanging out with dealer friends.
After which we were too tired to do anything but head back to the hotel, start furiously writing this blog and then rest up for what figures to be a very, very active Thursday.
With all the rest of the dealers setting up and the general public let loose on the bourse floor, we're looking forward to all new opportunities to buy and sell cool stuff.
All of which will be described right here on Thursday night (or possibly Friday morning, depending on how much I have to drink at dinner).
Day 3:
Thursday started a lot like the other days, except that we decided it would be great if I tried to sneak into the Executive Lounge here at the hotel for breakfast with Dave.  See, he's one of those guys who apparently signs up for every hotel and airline rewards program possible, while I, not being a "joiner", never do any of that.  So he always gets better hotel rooms than I do, and always gets these invitations to the Club Lounge for free breakfast deals.  I, on the other hand, have to skulk around the halls and pretend that I thought I was allowed in as his guest.
Fortunately, it worked this time, allowing me to enjoy an impressive blueberry muffin in an elegant foyer (as opposed to drinking crappy coffee in my hotel room while ironing and watching ESPN).
Feeling energized, we rocketed (sort of) down to the show and looked forward with enthusiasm to the throng of show attendees on this the first day of public attendance.
But at mid-morning, it was pretty quiet, and the level of activity at Table 1700 was less than on PNG day.  This seemed bizarre to me until I realized that the public wasn't actually allowed in until 1 PM, just another indication that I am not only bad at joining hotel rewards programs, but also at reading coin show schedules.
On a more positive note, everyone who set aside a coin on Tuesday or Wednesday came and dropped off a check today which we always appreciate, as we sometimes end up at shows running around trying to settle deals on the last day as people are packing up and leaving.
We also bought a couple of kind of cool but not-too-expensive things that wandered up to the table.
But really a lot of the focus on this day would be dedicated to the Heritage Auctions, including the Signature session (starting with colonials) at 1 PM, and Platinum Night at 6.
And we frankly had no idea what to expect.  The colonials included some nice stuff (including a bunch consigned by us), other coins previously owned by us, and some absolute junk, all mixed together, most unreserved.  And the results were absolutely all over the place:
Lot #948, a completely unoriginal and unappealing Pine Tree Shilling in a PCGS XF40 holder brought a low-ish $6,325.  A nice, uncorrupted example with the same level of wear might have been 50% more money (maybe 100%).  And we'd have paid it.
Lot #950, a high grade (for the issue) St. Patrick Halfpenny in a PCGS XF45 holder with a CAC sticker, brought $9,775.  That was a sharp coin, and it would have brought much more money had it not had tooling on St. Patrick's hat which added detail that isn't supposed to be there (and which no one except a specialist would probably have even noticed).  Now, that's actually not all that unusual on a colonial, and it is something often excused on a 300+ year old coin, but it scared us off and so we didn't bid on it.
Lot #956, the finest graded and quite nice Voce Populi Farthing in an MS64 PCGS holder brought a rousing $17,825 in what was the strongest result of the afternoon colonial session.
Lot #964, the nice Vermont Landscape graded AU53 PCGS brought a low (for the quality of the piece) $7,000 hammer.  That's a coin we have owned twice in the past 5 years and one we consigned to this sale hoping for a far better result.
Overall, most of the prices were low in our view, with scattered dealer and internet bidding and just a few coins seeing bidding competition above their opening numbers.
And when that was done, we headed back down to the bourse floor for several hours of selling, some buying and lots of coin grading (including all of that raw stuff we brought with us) leading up to the Heritage Platinum Night session.
On the block would be the high end portion of the "Joseph C.Thomas Collection" (plus other assorted consignments), all in a purported $25 million, mostly unreserved auction.
Now, in the days leading up to this event, dealer views were mixed:
1.  Some were nervous that a lot of these coins would go super cheap, kicking the market in the numismatic groin.
2.  Some were licking their chops (an unbelievably unpleasant mental picture) hoping for low prices so they could buy a lot of coins for short money and make outsized profits.
3.  Others thought the results would be pretty strong.
And it turned out everyone was right (or wrong, as the case may be).
Lot #2001, the infamous Oak Tree Shilling in an NGC MS63 holder (but looking much more like an AU) realized $21,850.  I say 'infamous' because our readers may remember the exciting story on this coin once told in an earlier RR – you know, how it was originally purchased at the Ford sale for $18,400 by our own Dave Wnuck by mistake while he attempted to bid on a different lot, who then consigned it to Heritage unreserved and and watched it sell for $29,900, and then saw it reappear at Heritage every year or so after that bringing a little less each time (or not meeting reserve).  I guess next year it will be back to the $18,400 level (at which time maybe Dave can buy it again while attempting to purchase something else, and start the cycle all over again).
Lot #2005, a 1776 Continental Dollar in an MS64 PCGS holder looking waaaaay too white and altogether unoriginal still brought a stunning (to me, anyway) $195,000, a new record price for the grade (by a numismatic mile) if I am not mistaken.
Lot #2006, a very attractive and original Continental Dollar in a ridiculous NCS "Obverse Damage" holder (but by far the best looking and most original of the 3 Continentals in this session in our view) brought $31,050 hammer to someone who probably thought just like we did that this coin should have been graded AU53.
Lot #2008, the silver Myddelton Token ex-Garrett in PF64 PCGS, another coin we've owned more than once, went stunningly cheap in my opinion at $20,700 – well off the last auction records of this type at Heritage for inferior (but like-graded) examples.
Lot #2021, the really tough 1796 with Pole Half Cent in AU55 PCGS brought $103,500 all-in vs. the $138,000 the same coin brought at auction 11 months ago.
Lot #2030, an attractive 1793 Wreath Cent graded MS64 BN PCGS and considered the finest of the Sheldon 11c variety brought a strong $207,000.  Which sounds good, though the same coin did bring $276,000 last January.  Same scenario for lot #2034, the very sexy 1794 S-26 Cent in MS66 RB PCGS ex-Eliasberg (in a cool old holder) brought "just" $126,500 – that's $70K less than it did a year earlier.
But not all the copper was selling for less than it had in recent auctions.  Lot #2043, an 1831 Large Cent in a PF64 BN NGC brought what seemed like a bargain $12,650 – unless you saw the coin; then it seemed just about right.  But this same piece brought $11,500 in a 2005 Stack's/ANR auction.  Same with lot #2065, an 1861 CU Indian Cent in MS68 PCGS sold for $63,250 vs. the  $54,000 the same piece brought in January of 2003.
Lot #2136, the 1918/7-S Buffalo nickel in MS65 PCGS was the finest specimen of this key overdate we have ever seen, and apparently others agreed, as it brought $253,000.
In the silver coinage, lot #2116, a spectacular 1870 3 Cent Silver in PF68 CAM NGC brought an equally spectacular $23,000.
Conversely, lot #2186, the lovely 1802 Half Dime in XF45 PCGS, one of the great rarities in US numismatics, sold for $195,000 – which was just over $100,000 less than the same coin brought in April, 2006.
Lot #2208, a stunning 1796 Dime in MS67* NGC (and looking every bit of that) brought $253,000.  That was about 15% less than this same coin brought at last summer's ANA auction when it sold as part of the Ed Price Collection.
Lot #2325, the really nice ex-Garrett 1823/2 Bust Quarter in VF30 NGC sold for $74,750, which was higher than the $57,500 it brought in 2004.  Conversely, lot #2332, the 1827/2 Restrike in PF66 NGC brought just $63,250, as compared to the $126,500 that same coin brought in July, 2007.
Lot #2415, the finest key date 1815/2 Bust Half that we have ever seen – an MS66 NGC example, nearly broke the 6 figure barrier at $97,750.  But a "burial" (in every sense of the word) was lot #2418, the famous 1817/4 Bust Half that was found in a dirt pile in upstate New York a few years ago and graded "XF Details, Corroded" by ANACS.  It last sold at Heritage in January 2006 for a whopping $253,000 as the delighted consignor acknowledged the applause of the crowd, but here it brought a far less whopping $109,250.  No applause for the consignor this time.
Lot #2504, a 1919-D Walking Liberty Half in MS66 PCGS (pop 1, none finer for both services combined) sold for $253,000, against the $270,000 this coin brought in its last appearance.
But the coin everyone wanted to see was lot #2567, the famous 1804 Dollar in PF58 PCGS sold to an internet bidder (later revealed to be John Albanese) for the tidy sum of $2,300,000 – well above the pre-auction guesses some of the knowledge guys were tossing around at the Heritage table earlier in the day, though about 5% less than it brought when sold about 3 years ago (and thus indicating that marquis coins are still very much in demand).  I guess.
So, what conclusions can we draw here?
1.  Attempting to predict the price of any single item at auction is just about impossible.
2.  Prices overall are probably down 20 or 30% or more on average on most things from their peak of a year or two ago (thought there are obviously exceptions – some are off much more, some are actually up).
3.  Some of the least original, most unappealing pieces in this auction actually sold for more than we thought they would.
4.  Selling coins in large unreserved auctions is absolutely not for the faint of heart.
5.  There are clearly still people out there prepared to pay almost anything (seemingly) for superb high end examples of rare coins, there are just fewer of them, and less lots on which they butt heads.
Now it's off to breakfast (for which I will opt for a completely above-board room service experience today).
Day 4:
Actually, in a last second change in strategy, we DID have breakfast in the Executive Lounge again on Friday.
And then headed over to the show for the 9 AM start figuring things would be a bit slower than the day before as some of the dealer tables started to clear out (though I am honestly not sure some of them were ever occupied to begin with) and less public would be coming in.
And that's pretty much what happened.
We made a couple of sales and a few more purchases, met some new collectors, saw some people we've heretofore known only via the website and email exchanges, picked up our last grading submissions, tried to work out a big deal for 18 coins with another dealer, sold 3 things off the website, and then saw the activity level drop off a cliff (though not literally) late in the afternoon.
Which meant that we ended up spending a lot of the remaining time listening to other dealer's assessment of the previous evening's Platinum Night auction, discussing which coins sold for how much and why, seeing a lot of what other guy's bought, and why they all thought it was an unbelievably great deal.
And maybe it was.
For us, we bid on just a couple of things and bought just 2 coins in the auctions, instead opting to buy a bunch of things privately so we could bring some new fresher things to market that no one has seen before.  Because people seem to like that, such as at this show when we've had really good sales in an environment that other people have described as (and I quote) "funereal".
Though of course the difference between a blockbuster show and a "funereal" one might might be related to one's table location (ours is awesome here), just a couple of transactions (we did have a few unexpected ones), having the right coin someone is looking for at the exact moment when they are looking for it (which happened several times here in Cincinnati), or just plain dumb luck.  But whatever the case, it was most welcome.
And it's not over yet.
Now, we don't expect much on Saturday, but you never know and we will be ready for whatever action comes are way – at least until mid afternoon, when we'll be packing up and heading home.
Our next RR will be posted on Saturday evening from New England (unless my flight is cancelled and I end up stuck in another crummy airport hotel with another coin dealer who smokes and turns the AC down to 62 degrees).
Finito.
Day 5:
Following my dear departed grandmother's tried and true mantra "Don't waste too much time sleeping", I woke up at 3:41 AM Saturday, giving me ample time to write Friday's blog, pack up all my stuff and then watch "The Curious Case of Benjamin Button" (highly recommended) before meeting Dave for breakfast, dumping our bags at the bell desk and heading out for what we hoped would be a decent day at the show.
And it was – as we made some good progress on a few deals, memo'd a bunch of coins in and out, sorted out our NEWPs, collated a giant stack of show paperwork and then, shockingly, as we were literally packing up to head out to the airport, we sold 3 coins to three different buyers (including one epically XL one), putting a really, really positive cap on an excellent show.
Which meant that we only had to haul all our stuff back to the hotel, fight through a suddenly big crowd of tourists (in town for a marathon tomorrow), try to find Dave's missing eyeglasses somewhere in a gigantic hotel, carry my broken suitcase down a flight of stairs and then flag a cab so we could race to the airport just in time for me to get a call from the airline saying my flight was delayed 2 hours.
And as much as that was unpleasant, it could certainly have been worse.
Like a dealer friend we ran into at the airport, for example, who had just realized that he left his wallet in the cab on the way there, meaning he had to try to check-in to his flight and then make it through security with no credit card, no money, and no ID (while on his cell phone on hold with the cab company trying to see if they could find it).  For future reference, apparently the TSA protocol in this scenario is to give you a "full service" security screening, which is evidently designed to humiliate you, and ensure that your day is not just partially ruined.  So write this down:  Make sure you have all of your belongings next time you step out of a cab.
But with all of that behind us, we had a few relaxing moments to sample some of Cincinnati's famous chili (at least that's what we've been hearing about for the last several days) here at Gold Star Chili in the airport with a dealer friend.  But I would say that my chili on macaroni(!) was merely decent, even in the context of airport food, though I caution that I am not a professional food critic, or a chili afficionado, and it might have been really exceptional (I don't think so though).
Anyway, our next RR will be from Atlanta and will be posted here for your reading pleasing on May 13th.
In the meantime, I am officially off duty for the next 24 hours.