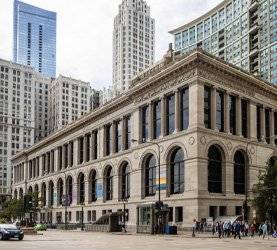 April 4th:  Day 1
Yes, we enjoy the coin circuit.
But we have to admit that the consistent visits to the same cities over and over again (e.g. three in Baltimore and three in Long Beach annually), could be considered by some to be juuuuust a little monotonous.
So we are of course de-lighted to attend a new event, such as this week's CCE in Chicago, right down on Michigan Avenue, staying at a neat hotel, with great restaurants nearby, tall buildings galore and a cool show venue.
And your author checked it all out yesterday, arriving early so I'd have time to zip over to the Heritage office and view all of the upcoming world auction lots (and there were a lot of them) before returning to the hotel for dinner with a dealer friend and then working in the room on two other deals which just will not wait 'til I'm home.
So I am now rested and ready for dealer set up here on Wednesday afternoon followed by a reception at the Chicago Cultural Center right after.
With everything that happens to be described in this space in just about 24 hours from now –
April 5th:  Day 2
It was a slow wind up to the start of dealer set up on Wednesday, allowing your author to sleep in until 4:26 and then visit the lavish hotel gym where I was greeted by a sign announcing "Boxing Classes" at 6:30 AM. That's earlier than I would normally want to get punched in the face, so I instead availed myself of the medicine balls and other old school exercise equipment here, including something that looked like the propeller off a biplane. Hope I was using that right.
And then to breakfast and on to the long communal library table in the hotel lobby where I entered my Heritage coins of interest in My Tracked Lots amidst other people on laptops, stopping only to have some thick green kale juice which tasted exactly like when you were mowing the lawn as a kid and some of the grass would accidentally fly up into your mouth. I don't recommend either of those things.
Then hung out with a few other dealers until we all migrated over to the show venue down the block and hung out some more at the round tables in the anteroom. Before exploding into one of the two elegant bourse rooms in which dealers seemed to have been randomly assigned.
Where I was pleased to find my cases and lights in good order, and no reason at all why I could not set up quickly and then walk around both rooms looking for interesting coins as other dealers set up at varying (but mostly slow) paces.
With my first purchases – some totally cool and frightfully macabre medals – minutes later.
And while I saw other English and German coins of potential interest in the mostly incomplete displays, nothing was sufficiently great or so attractively priced that I had to snap it up right then and there. Probably will though over the next few days after I get a complete view of what's here.
After which I returned to the table to make the first of what would be 3 sales on the day, including one to the first collector visitor to the table.
Heading back out to that anteroom for the CCE cocktail reception at 6, where your author got to multi-task and finalize a deal for a cool new coin I just heard about in Baltimore, received back at the office today in Massachusetts, shouted a bank routing number into my phone and wired the money for while enjoying a chardonnay in Chicago.
Before going to dinner with a dealer friend to discuss a couple of collections while eating, among other things, the best brussels sprouts either of us had ever, ever had.
And then looked forward to what will be a busy Thursday in which I will zip up to my old stomping grounds in Evanston for breakfast, returning here (I hope) just as the show opens, all the dealers are set up, all the collectors are in attendance and there are many more cool coins for us to buy and or sell.
With all of the details to be described here in our next RR on Friday AM.
April 6th:  Day 3
Thursday's plan was admittedly ambitious, as I headed up to Evanston to meet a relative, a round trip escapade that took about 3 hours in heavy traffic and had me back at the show – as predicted here yesterday – just as it opened to collectors at 10 AM.
At which time I began our normal activities working with collectors at the table, scouring the floor for interesting coins, seeing some old and new friends, handing out business cards left and right and generally enjoying myself even though nothing truly epic happened (at least not yet).
Surprisingly, the most looked at coin at our table during the day was a colonial coin, partly because (I guess) there aren't that many in the room and it was something of a novelty here. Which is interesting, and could suggest that bringing an unexpected, unconventional assortment to a coin convention might be the best way to attract attention in a room full of mostly similar coin types. And I'm pretty sure I'm not the only guy who thought of this, since I did see a bunch of early dollars and other US coins here in what is ostensibly a world show.
But as with many things in this business, you never know what the next visitor to the table will want, if the person seeking the exact material you are offering will never find your table, or if the coin you have been seeking for 10 years is buried in some other dealers back case under his lunch.  Literally.  Under his lunch.
Which is, to me, part of the fun, and makes the occasional great find exhilarating and ability to offer unexpected, never-before-seen coins on the website so satisfying.
Another part of the fun here is the stimulating dinner conversation, including on Thursday with a dealer friend and Ute Wartenberg, Executive Director of the American Numismatic Society, though frankly she had my head spinning with discussion of the counterfeiting of ancient coins.  So be careful out there.
As I will be in our search for nice coins in our specialty on Friday, including those offered by some long time customers scheduled to arrive here in the morning.  And maybe sell them a few too.
With whatever we buy and/or sell to be described here on Saturday AM.
April 7th:  Day 4
I have to say I was delighted not to have to drive anywhere before the show on Friday, instead having a leisurely breakfast in the hotel's excellent Cherry Circle Room restaurant, strolling over to the show at about 9:15 and immediately diving right back into the typical dealer routine.
Which today included a few sparks in the form of some neat purchases of coins offered to me by collectors, a few more I had seen on the floor earlier in the show, another on the floor I had not seen before and which might have been previously hiding in a back case, and one big one that was, surprisingly, given the venue, a superb and totally CRO U.S. coin.
We also enjoyed a pretty good selling day, including one expensive coin that we sold by a hybrid partial trade / layaway deal that is not uncommon for us these days and can be a good way for a collector to upgrade into something super-deluxe.
And of course more people asked to see that same colonial viewed so many times before at this show, and the one Morgan we brought with us, and while several people wavered, no one has yet pulled the trigger on either. We also had a couple of people linger at length over a neat Colombian coin in the case, and I get the sense that one / some / all of these may end up selling on Saturday.
Just as we might end up pulling the trigger on some cool gold coins we have been pondering all show, that we'd like to buy, but which are more than we want to pay. With either the seller or your author possibly willing to stretch to make it happen, or both of us walking away and on to other opportunities.
And we know there will be more of them here before we pack up and head home Saturday night from where our last CCE RR will be written on Sunday AM.
EOM
April 8th:  Day 5
Just back from Chicago, we have compiled a smorgasbord of observations about our experience at the CCE:
I do enjoy these elegant, upscale, downtown shows held in lovely venues, but it certainly appeared to me that attendance was better last year in Rosemont in a more accessible hotel where parking was easier, security was less of a concern and more suburban collectors seemed to make the trip. Admittedly, it may take time for a new show like this to gain a foothold. Lots of local advertising would help too.
Any coin show which has dealers arranged in two separate rooms – as this one did – is diminished from both a wholesale and retail perspective in my experience, and so I was pleased to learn that next year's CCE will be moving a few blocks to the Palmer House Hotel and into one, single bourse room.
My Uber driver on Friday night claimed to have been the drummer for Puerto Rican boy band Menudo in the 1980's. If he was making that up, I will say that it was an elaborate and well-researched ruse.
A significant number of attendees at this show were not actually coin collectors, but rather people taking a tour of the lovely Chicago Cultural Center and viewing the ornate architecture. I guess I can't blame them – it was very, very nice: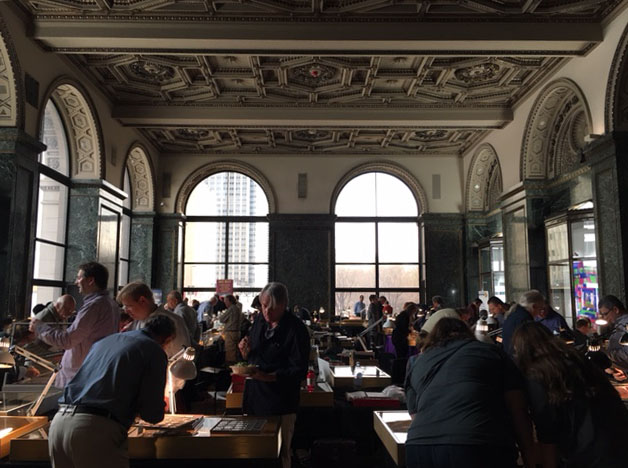 Nearly everyone who came to the CRO table during the show was actually at least familiar with the website and knew who we were. So I guess years of attending CICF and dealing in world coins that circulated in early America has us on the map.
I have but one complaint for the otherwise excellent Chicago Athletic Association Hotel: Having no coffee maker in the room, and making it available in the lobby only after 6 AM isn't going to work for those of us who are early risers. I can't be the only one who feels this way, right?
I continue to be surprised by the lack of superb, high-end world material at these shows. Which is not to say that they do not exist, but that they are not out on display at anywhere near the quantity of top U.S. coins seen at a typical FUN, Baltimore, Long Beach or ANA show.
There is a higher percentage of raw coins at these world shows, and the average quality of those coins is objectively low, with cleaned and damaged coins prevalent. And not all of them are priced accordingly.
I was disappointed not to see a super-deluxe anchor world consignment in the Heritage auction this year, but still found plenty of cool coins to bid on, and actually won several I figured I wouldn't. Including a coin we last owned about 6 years ago and had previously sold to a young fellow named Q. David Bowers.
My favorite purchase at the show was a coin offered to me by a collector-attendee on Saturday.  Actually, he came to offer me a different coin which I did not purchase, and only saw the second one when I asked if he had anything else to show me.  Hey, it pays to ask.
For those scoring at home, I ultimately did not buy the gold coins referenced in yesterday's RR. If I like them more I'd have stretched more, but I didn't, so I didn't.
As a general comment, I continue to see many more dipped silver coins than I would expect at these shows. One could conclude that more collectors of world coins prefer untoned pieces, but I really doubt that. Certainly the people who came to our table were looking for original skin, and that is what we will continue to offer.
Including on Tuesday's Early Bird, which I am about to start working on as soon as I finish typing this sentence.
The End