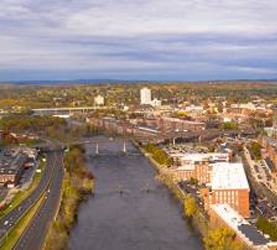 Prologue:
We'll be heading up to Manchester today for the traditional late afternoon NH dealer set up during which we'll be buying, selling, trading and of course schmoozing with what is always an interesting mix of national and regional dealers.
And if this show is anything like past events here, we'll find an equally interesting mix of US and world coins, including many new items fresh to the market which Team CRO will be attempting to snap up instantly (or even faster) just like we've been doing for the past couple of decades.
Of course we can't let those other guys have all the fun, so we'll also have a of cool new, never before seen coins with us making our table #802 a must see at this show.
So if you are in the area, we hope you'll stop by and say hi.
But if you can't make it, you can still follow along with all of the action in our Road Reports posted daily from the show.
Starting tomorrow morning.
April 6:  Dealer Set-Up
Arriving at the show hotel minutes before 3 PM, Team CRO immediately stormed onto the bourse floor and quickly set up our typical two (2) bourse case local show arrangement, clicked on the lights and declared ourselves open for business.
And then began showing coins to various dealer and collector attendees, selling two like lightning and putting us in a good mood right off the bat.
After which your author began my usual process of touring the room looking for cool CRO style coins as other dealers variously arrived and started setting up their own wares.
Finding a few coins of interest at various tables, including a bunch of neat US coins, a couple of tokens and one world coin of a type I'd never seen before.
And then returning to the table to find MaryAnn writing another invoice and then showing another few coins to another group of visitors.
In and around which we schmoozed with other attendees, had a complimentary coffee, discussed a few partner coins with other dealers here and generally had a productive and entertaining afternoon here in NH.
And we'll expect it to be much more so on Friday as the public comes in at 10 AM.
With whatever happens to be described right here on Saturday AM.
Until then, then –
April 7:  TGIF
With the schedule indicating that the show opened to the public at 10 AM on Friday, your author enjoyed a leisurely breakfast and then strolled into the show at 9 where I encountered a completely full room teeming with activity and a waiting customer who greeted me with an "Are you OK?".
Thinking quickly I responded with "Huh?" before coming to the realization that I was in fact late, since it turned out that Early Bird attendees at this show were actually allowed in at 8(!).  Sorry about that.
We made up for lost time though, quickly doing a couple of deals that would turn out to be the first of many on an extremely crowded and active day here in NH, with a long list of long-time customers stopping by the table, but also people we've never met before who all had one thing in common:  They were s-e-r-i-o-u-s-l-y into coins.
So we did our best to accommodate them, talking coins, showing coins, selling coins, trading coins, buying coins and taking coins on consignment from 9 AM until late in the afternoon.
And while we showed a wide variety of coins of all types in all series, our sales had one thing in common:  Every single coin we sold here on this day was solidly into the 4-figures and a bunch were much higher than that.  Which I would describe as surprisingly robust for a regional show like this.
With our last deal of the day the sale of three gold coins, followed by dinner with some long time coin friends at the Japanese restaurant across the street which was also surprisingly robust (in terms of the massive amount of wasabi they put on everything).
After which your author (now with extremely clear sinuses) headed out to get some rest before doing it all again on Saturday where I will try hard not to be the last dealer to show up in the AM.
To find out if I am, check back here on Sunday for our final installment of the NH RR.
April 8:  The Exciting Conclusion
Yes, unfortunately.
We were in fact the last to arrive again on Saturday, but we weren't too late, and as far as I know (and as confirmed by talking to our table neighbors David Kahn Rare Coins) we did not actually miss anything.
So we quickly prepared the table and got right back to it, first by selling a couple of coins a long time customer had texted us about the previous evening and which we had ready for his arrival.
Beginning another good run for us on this day with more strong sales of colonials and world coins at a show where we would not really have expected that and thus did not bring too much of either category.
That's always a challenge for us at any of these shows, since we can't bring everything and have to make some educated guesses about what will be most in demand.
And while we did not get the category mix just right here, we also guessed wrong on the price range.  We assumed some of our less expensive coins would be most in demand and so we brought many of those, but that turned out to be totally wrong with our average sale here considerably higher in value than it was for us in Baltimore.  Who knew?
Including our last sale, a wicked Pine Tree 3p which we sold to a serious local colonial buyer we somehow had never met before.  Which is a win-win in our book, since we of course want to sell coins at these shows, but more importantly we'd like to meet up with existing customers and find new ones.  Success on all counts.
For which we thank show organizer Ernie Botte for another excellent and very well attended event here.
And now back home we'll recharge, reload and get ready for our next event which will be another local one in Devens, MA on the 23rd.
Until then, then –