August 27, 2019: In Memory of My Friend Michael Luck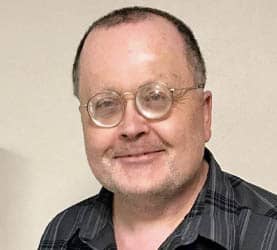 CRO lost a close friend of the firm a few days ago.
Michael Luck, long time customer, advisor and numismatic savant is no longer with us.
I first met Michael at a Baltimore Show in 2005.  At the time he had corresponded with my former partner Dave Wnuck by email and spoken to him by phone, but had never before met Dave (or me) in person.  I remember Michael walking up to the table, asking me if I was Dave and in the same breath asking which Pine Tree Shilling die was re-engraved at the Hull mint to create the Noe-3. I later realized he was merely testing me; I guess I passed when I answered Noe-2.
Over time we developed a good rapport, talking a couple of times a week about the coin market, new things he had seen, reference books he had read, activity on other coin websites and potential coins he thought I should buy from some source or other.
I'll always remember those calls for three reasons:
The always interesting, often obscure numismatic topics we would cover
His incredibly deep and detailed knowledge of so many coin types and series, from ancient to modern, including U.S. and world issues
The fact that Michael had an insatiable appetite for numismatic discussion and unbelievable telephone stamina. If I did not eventually say something like "OK Mike – I have to run to the post office before they close" he could easily keep going for hours. Maybe longer.
In between those calls I could expect an email every couple of days with a link to those coins he found and wanted to show me, often on sites I had never heard of or visited before. Honestly I'm not sure how he found them.  Some of which I bought and paid him a finder's fee, others I passed after further discussion with him. I always appreciated it, and it was often fun and frequently good business for both of us.
Michael also played a vital role for CRO from 2012-2017, acting as my last minute attribution consultant on Early Bird coins, and he never failed to come through in a pinch.
And through the years we'd continue to meet at an occasional Baltimore Show, which he would attend with a numismatic friend from near his home in Rochester, NY.
Unfortunately Michael's health declined through the years, and with it his traveling became much less frequent.  And while we continued to speak on the phone and exchange many emails, I had not seen Michael in person in years now.
Our last conversation was just before the ANA show, during which topics bounced from our new website design to the coinage of India and finally to his old favorite Massachusetts silver coins and specifically the Noe-3 Pine Tree Shilling that was about to be sold in Heritage's ANA auction.
I had no idea then that would be our last conversation. And while I will miss him greatly, it does make me smile to think that after all that time our many conversations had come symmetrically full circle.
RIP my friend.