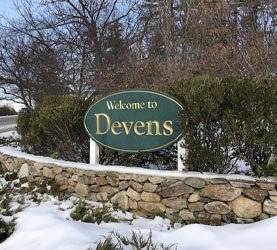 On a brisk and icy but sunny Sunday morning team CRO positively barreled into Devens, MaryAnn's Xmas baklava in tow, for the last show here this year.
And though we got here as early as we always do, we were surprised to find the bourse floor already bustling with dealer activity.
"Hmmm", one might have wondered, "what did we miss?"
At a minimum the answer turned out to be a couple of coins we saw in a dealer friend's case, since he told us he had just bought them on the floor a few minutes earlier.  And while they weren't exactly for us anyway, we were still a bit disappointed to not even get that first shot.  Oh well.
The good news is that we managed to find some cool things here from other sources, including this neat group of old toned CBHs: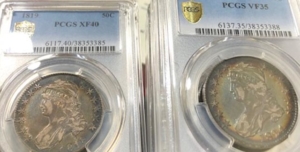 And this cool old-holdered 1838 Dime we're pretty sure we last owned about 10 years ago: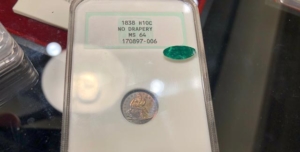 Then finalized a deal started last week, briefly thought we had finally found a long sought want list item for a customer (nope, false alarm), figured a collection with another dealer, sold a couple of colonial coins, delivered a giant box of coins to a different dealer, wrote a bunch of checks, got a few in return and then packed up and headed out so we could officially begin the CRO Holiday Week.
Which for us will be a lot like every other week, with cool coins coming and going and us in the office and available, as always.
So if anyone has any numismatic business to discuss, you know where to find us – and if instead you are taking time off, that's good too.
Whatever you're doing, we wish everyone a happy and healthy holiday season!