December 27, 2008: The Year in Review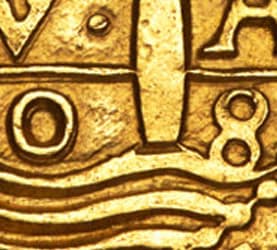 It's time once again for Dave and me to reflect back on another year of traveling to coin shows and auctions, meeting a lot of nice people, buying and selling cool coins, visiting new cities, using just under 2 miles of packing tape, waiting for hours at various airport baggage carousels, filling out grading forms, etc. etc.
And it was a most interesting year in which we bought and sold eight significant collections and handled literally thousands of federal, colonial, world and esoteric items of all shapes, sizes and prices points, from the mid six-figures to an item we sold on Ebay for $1.07.  I'm not kidding.
In total, despite a 2nd half of the year economic meltdown of impressive scale (and forgetting for a moment that $1.07 sale), this was our best year ever by a considerable margin, both in terms of our financial performance, and in the number of utterly fascinating, wonderful, enjoyable, disgusting and simply unbelievable things that happened to us in 2008.
And so, without any further delay, let us begin:

Coolest Coin Handled
Based on some of the absolutely epic things that passed though our doors again this year this should have been a tough call, but it wasn't really, since only one of those coins was unique.  U-N-I-Q-U-E.  As in one (1) known.
That would of course be the 1670-A French Colonies Double Sol, one of only two unique Redbook listed colonials in private hands (the other being the 'Wheele Goes Round' Higley copper). Of course, this piece doesn't get the publicity of, say, an 1804 Dollar, which trades hands every year or two with much fanfare, because most people have never seen or heard of a Double Sol (even though it is the first coin of any kind on which the name 'America' appeared).  The last time this piece traded hands was in the mid '90s, and, since we placed it in the collection of a serious specialist, it might be decades before any of us see it again.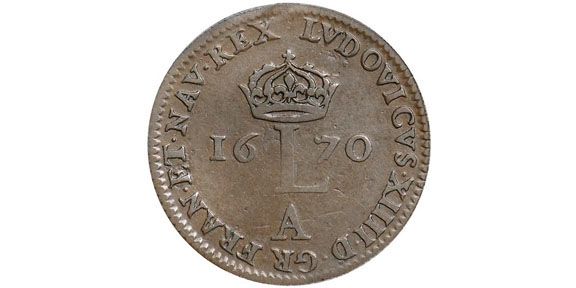 Most Horrendous Table Location
I don't know who we ticked off at the ANA, but despite doubling the size of our table (and doubling all the costs that go along with doing that), we were relegated to a spot at the ANA in Baltimore which could best be described as 'an extremely bad spot'.
If we stood on a chair we could see the real coin show going on in the distance, but just barely.  And it definitely impacted our results on both the buying and selling side, turning what has typically been a rip-roaring affair for us into a merely pretty good event.  But don't worry – we've got some ideas in place for 2009 . . .
Best Coin Pedigree Traced
We had our fair share this year, including one six-figure coin reconnected to its 1885 auction pedigree.  But our favorite is the gem unc. Massachusetts Cent described only as 'a coin that has been in an old time collection' in Stack's October auction, but which was actually one of a group of superb Massachusetts colonial silver and copper coins divested by Boston's Essex Institute museum and sold in Stack's own sale of the same name in 1975.  That's cool.
Most Indignant Waiter
That would have to be the guy at the Sheraton Grand Hotel in Irving, TX who served Rick Burdick, Tom Turissini, Rick Gross and me dinner during the EAC show, and who greeted our request to substitute rice for potatoes with slightly less enthusiasm than the 'Soup Nazi' on Seinfeld.  Don't even ask what happened when I tried to order a Chianti.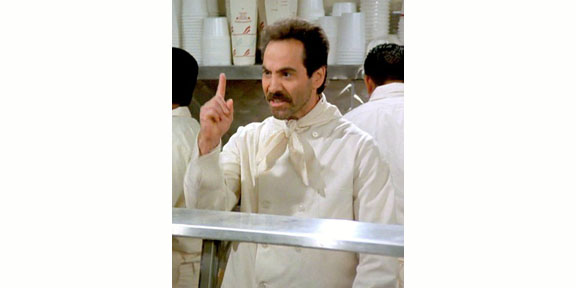 Most Shocking Auction Price Realized
Any coin that sells for just under $700K should be a strong contender in this category, and it was in this case.  We speak, of course, of the MS66 RB 1796 Large Cent sold by McCawley-Grellman / Goldberg's as part of the Naftzger Collection in September.  Now, it was a really, really nice example of this common variety 1796 Cent in your author's humble opinion, but we still find it a bit hard to fathom that this coin is now the single most expensive early large cent ever sold at public auction.  Think about that.  A 1796.  For more than any Chain Cent, or 1793 Liberty Cap, or Strawberry Leaf, or Starred Reverse, or Jefferson Head (etc., etc.) has ever realized at auction.  Ever.
Most Interesting Collection Acquired / Best Eye Exam
That would be the die-variety set of Fugios we bought from a specialist collector in April.  Great stuff, but I can trace my need for reading glasses directly to the night I spent hours with these coins squinting at the relative positions of the letters in 'Mind Your Business' attempting to identify the Newman 14 obverse.
Finest Numismatic Breakfast
We can't top the one organized by a Florida collector at the ANA which included about a dozen heavyweight collectors (measured in numismatic knowledge, not bodyweight) at the Renaissance Hotel in Baltimore.  Somehow Dave and I got invited too, which was a complete and total hoot.
Most Disgusting Grade Received
We're going to have to go with the important and well-pedigreed CT copper we bought several months ago for a not inconsiderable sum.  It had been described as 'Unc.' in the Ford catalog, was by any reasonable standards at least high AU and yet managed to come back from the grading service in a shiny new XF45 holder.

Least Disgusting Grade Received
That would have been in Long Beach in September, when we bought a spectacularly original, lustrous world coin in an NGC AU58 holder, submitted it for cross-over at the show and were stunned to get it back in a (well-deserved) PCGS MS62 holder.  Now, I've seen one or two up-crosses in my life, but never an AU to unc. cross in the holder.  Ironically, that coin ended up with one of the numismatic greats in our hobby for his personal set, and he most likely cracked it out of the holder to enjoy it raw as soon as he got it home.
Most Polarizing Numismatic Event
No, not CAC (that was 2007).  The 2008 winner has to be the new NGC pronged holder, which has engendered a 'love it or hate it' response (and which has caused a number of numismatic photographers to have nightmares about being attacked by giant white prongs).
We, on the other hand, are having only pleasant dreams these days as the year has ended quite nicely thank you.
But it is now time to look ahead, as we gear up for the Orlando shows and look forward to more healthy numismatic fun in 2009.
All the Best!
Dave and John