December 30, 2019: The Year in Review
Faster and faster every year we find ourselves racing toward Dec. 31st, and with it, of course, the publication of our annual TYIR article during which we recap the year's events in one giant profusely illustrated extravaganza. Like this one, for example.
And even though we are well practiced by now (with 12 years of past TYIRs all archived at the bottom of this page for posterity), it's not getting any easier. Mostly because this year – like all other years – a lot of stuff happened. Like what? Well, we handled thousands of cool coins, attended what we believe is a new CRO record 21 coin shows, bid in 291 major, minor, online, international and rinky-dink numismatic auctions, met a lot of new and old friends, suffered only one (somewhat) debilitating coin-related injury, handled 19 intact collections, received exactly 73(!) gold stickers on CAC submissions, took over 2.2 million Fitbit-verified steps, etc., etc.
A series of numismatic activities from which we can extract the following highlights:
Coolest Coin Handled
In another epic year in which we bought and sold rare and condition census colonials, choice, original, often old-holdered, frequently beautifully toned, and many times gold-CACed US type, our requisite choice original Pillars and Portraits and a veritable boatload of cool esoterica including, amazingly, 6 Choice and Gem Good for a Scent Tokens, choosing just one piece proved very difficult. But when all was said and done we're going with this red and brown unc. 1787 Vermont Copper which is the only RB piece of any type in this entire series graded by either service and the only one we think could ever rightfully earn that designation: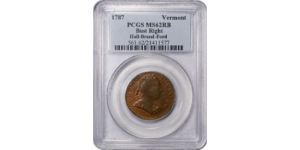 Cool and looooong provenance too, having been plated in Chapman's April 1904 sale of the John G. Mills Collection, then part of the Thomas Hall and Virgil Brand Collections, later plated in the 1955 Redbook before last trading publicly in the Ford sale at Stack's in 2003.
But, as we have now said in this space for the last dozen years, coolest does not necessarily mean most popular, that honor would go to this much loved type in this immensely popular bell-and-whistle adorned package: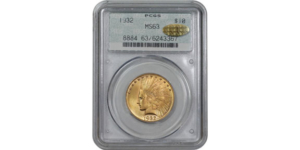 Spotted Dik-Dik
That would be this cute little guy spotted behind a dealer's table at the Early American Coppers Convention in Dayton, OH in May: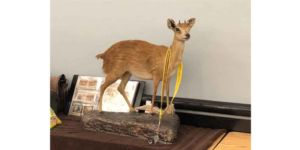 Interestingly (and as noted in our Road Report from that event), when I asked the owner for a price on this fine speciman he told me he "had to look it up". One might have thought that the price on an item like this would have been more memorable, but apparently not.
Furthest Hat
This year's winner comes to us on a good customer cranium in Prague, Czech Republic (photographed in an intriguing CRO embroidery side view):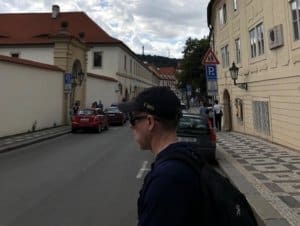 An impressive 3,901 miles from our office here in suburban Boston: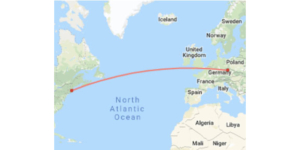 Most Magnificent Coin Dealer Outfit
While your author always tries to look his best, he was admittedly non-competitive with this tulip-blazered world coin dealer at the FUN show in Orlando in January: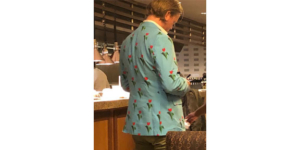 Editor's note: I could not confirm with certainty from my vantage point, but I do not believe this gentleman was wearing the fantastic matching tie available at fine stores near you: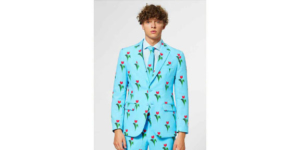 Biggest Numismatic Winer

Believe me, there were many, many homonymic candidates for this honor, but in the end one clear Winer winner – Pence Vineyards in Santa Barbara, CA which uses actual coin motifs on its varietal labels: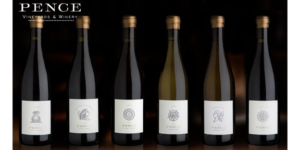 And we're not talking mainstream motifs like those giant Indian Head Cent novelty coasters – oh no, here we have the sun dial and reverse rings from a Fugio Copper, the all-seeing eye from a 1783 Nova Constelatio Blunt Rays Copper, the Rose motif from the reverse of a Rosa Americana coin and Ms. Liberty from 1793 AND 1794 Half cents: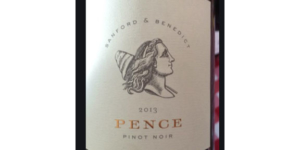 Who knew?
The Do Not Judge a Book by its Cover Award, Steakhouse Edition
That would have to be The Pine Club restaurant in Dayton, OH which looks from the outside like your standard dive bar: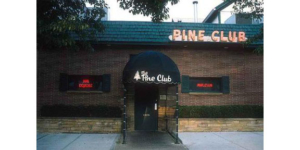 But which inside is an elegant, old school, pine paneled steak house said to be one of "The World's 10 Greatest Old Dining Institutions." Is that true? I have no idea, but I have been to some pretty good restaurants around the country and in Europe, Asia, Oceania and South America that may also be worthy of some consideration. Undeniably top notch onion rings though.
Unlikeliest Coin Purse Find
We are frequently asked to appraise collections for local banks and lawyers, usually involving large piles of wheat pennies, every-family-seems-to-have-a-few circ. Morgans and an occasional $2.5 Indian in a bezel on a charm bracelet, and frankly the call we got in July seemed to be more of the same.  But in a little leather coin purse we were shocked to find a dozen toned high AU Peace Dollars the likes of which we hadn't seen before in this sort of assemblage. Every single one of which graded and CACed and looked about like these two (the only ones we had the chance to photograph before they were all gone):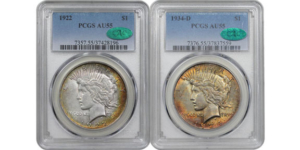 Most Prolific Non-Rogue Trader Award 2019
As has been well documented on this site through the years, Team CRO is always up for trading anything in our inventory in exchange (in whole or in part) for any other numismatic items that make sense in a win-win deal. With our largest deal this year taking place in January when we traded one rare colonial coin for cash considerations and 14 colonial and world issues of varying quality (a few of which ended up on the site, the remainder were consigned to various auctions or sold on Ebay). Indicating once again that we will take pretty much anything in trade (even if it is not exactly a CRO coin) as long as we can agree on the values.  And we're betting we can.
Latest Snow Man
That would have been the one just outside our hotel during the unexpected and extreeeemely unwelcome freak snow storm at the CSNS show on April 27th (said to be the latest accumulating snow in Chicagoland since 1967!).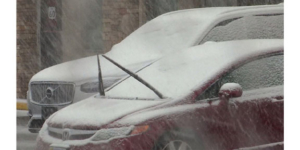 And while I don't remember that previous event, it couldn't have been any worse than this one which resulted in hundreds of cancelled flights (including ours) and forced us to stay an extra night at an airport hotel with other unprepared guests, many of whom demonstrated their unpreparedness by parading around in shorts and flip flops. The silver lining here is that we got to have an impromptu dinner with some also delayed dealer friends at Gibsons, making this an "all's well that ends well" situation of the highest order.
Best Local Show Purchase(s)
This is always a fun one for us, since of course what we do at every local show is look through the boxes and display cases of local dealers hoping to find something great. And we were fortunate to accomplish that on a few occasions this past year, with this cool, all original 1795 Flowing Hair Dollar in a PCGS Rattler slab right near the top: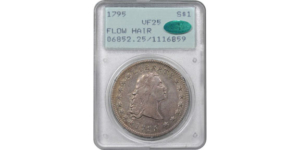 But that paled in comparison to this astonishing 1787 Connecticut / Vermont Copper M.1-l / Ryder-39 which ended up grading AU55 at PCGS: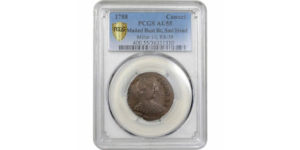 For those scoring at home, this is a High Rarity-5 variety which pairs a Connecticut obverse with a Vermont reverse, is thus rightfully part of both series and enjoys considerable demand from collectors of each. Unfortunately this issue routinely come well worn with problems, and we had never seen one better than ~F15 before this(!).
Hottest Travel Update
That would be the message I received on my car navigation system while en route to meet a local customer in June: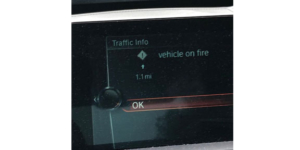 I honestly didn't know that was even a thing on the nav system, but was glad to avoid the huuuuge backup, take the sideroads, get to my meeting with minutes to spare AND not burst into flames in the process.
The Coin We Wish We'd Kept
Another tough choice, but the one that comes to mind is this charming, stone cold original Moffat $5 which we bought and sold at the LB show in September: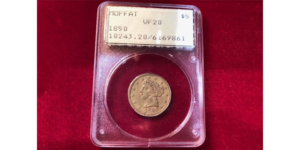 Pretty sure that would have been Gold CAC #74 had we tried it, but it was looooong gone before we could.
But of course that sale helped make 2019 another excellent year for CRO, for which we owe our sincere thanks to all of our many numismatic friends / customers / colleagues who make this all possible.
All the best in 2020!
John & MaryAnn