December 31, 2009: The Year in Review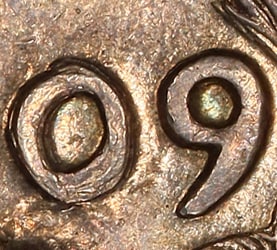 In the most vivid illustration yet that 'Time Flies', we have now reached the end of 2009, our 4th full year together as CRO and, by any objective (or subjective) measure, the best one yet.
By my count, we attended 19 coin shows this year, participated in 81 auctions (including the international events and a bunch of small 'secret' ones), went to 14 numismatic parties, drove in over 100 different cabs and became stuck in only one elevator.
And through it all, we had as much fun as is possible to have while dealing in coins, met a lot of great people, ate considerably more than our fair share of extremely delicious things, pored through old auction catalogs, blogged extensively, got annoyed by a bagpiper (see below), bought and sold some spectacular coins and, because of (or in spite of) it all, managed to register our highest sales totals ever.
And while we can't recap every single thing that happened this year (actually, you can read about a lot of them in this year's Road Reports), there are a few highlights which we feel are particularly noteworthy as follows:
Coolest Coin Handled
In a year in which we sold a Maryland Denarium, a Bar Copper in MS66, a high grade 1793 Liberty Cap Cent and a slew of other fantastical things, we believe the coolest single piece was the 1776 Continental Dollar with the Ornament After Date, tied for finest of just three known, only two of which are in private hands (with the third example permanently impounded in the museum at Colonial Williamsburg):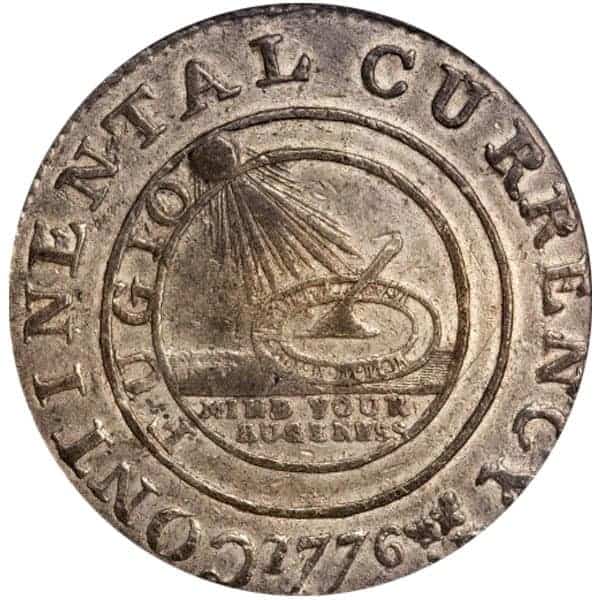 Worst Musician
That would have to be the mysterious and very loud bagpiper who marauded through the halls of the Marriot Hotel in Baltimore in March pounding on doors and shouting at 6:30 AM in an apparent attempt to wake up his over-sleeping band mates (and startling your author in the process).
Most Shocking Auction Price Realized
It might not have been shocking to everyone else, but it was to us. We speak of lot #128 in Goldberg's September auction of the Dan Holmes Collection, Part I, the 1795 S-79 Reeded Edge Large Cent graded VG10 [PCGS] which brought the extremely healthy price of $1,265,000. Now, that is surely a very rare coin, but we struggle with the idea that this relatively low grade example of an edge variant is now not just the most expensive Large Cent ever sold (E-V-E-R), but is actually the most expensive copper coin of any kind. Think about that for moment while enjoying an image of this piece: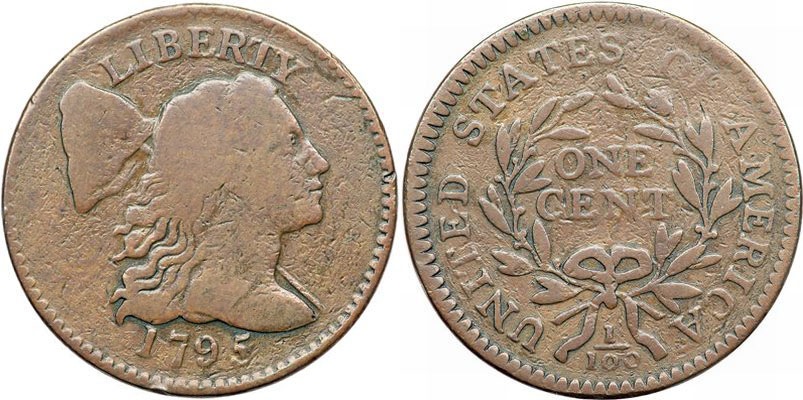 Best Argument for Requesting Two Hotel Rooms
Despite what the title may suggest, this one does not involve Dave and me, since we always get our own rooms and frequently stay in different hotels. I refer instead to my trip to Baltimore in March during which I was sitting at the gate ready to fly home when I was notified by Delta that my return trip was delayed 24 hours. With little choice, I decided to get a hotel at the airport for the night and, feeling sorry for another dealer who was booked on the same flight and who planned to sleep on the floor of the airport, I invited him to share the room. Now, he's a nice guy and all, but I started to think this was a bad idea several hours later when he set the thermostat at 62 (only because it didn't go any lower than that), stripped down to his underwear and started smoking, while your author averted his eyes and huddled by his laptop wearing a parka (sorry – no photos of this one).
Most Unexpected Provenance Rediscovered
There were actually quite a few during the year, but the most surprising to us was a fantastic 1786 Vermont Landscape copper originally purchased from a very knowledgeable long-time collector who said he had acquired it "from a flea market in Erie, Pennsylvania in 1960 from a man named Sikes". We figured that was the end of the story, so we were very surprised to later find this same coin plated in Henry Chapman's storied 1918 sale of the Allison Jackman Collection.
Least Appetizing Dessert
That would be the dark chocolate canolies at the otherwise excellent Wildwood Restaurant in Portland, Oregon in March, presented here in an eye-witness cell phone image with no amusing comments whatsoever: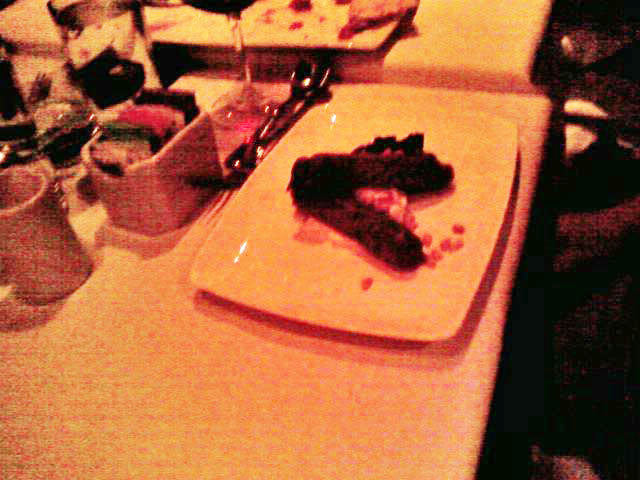 Best Numismatic Shindig
That would have to be the fantastic party held at the stately home of Larry Goldberg right before the Dan Holmes auction, an event whose lavishness can perhaps best be measured in the number of valet car parkers present (since there were eight of them).

Most Compelling Reason Not to Eat Sushi
As has been well documented on this site, Dave and I have been to known to scout out some fine sushi restaurants during our travels, visiting some of them multiple times per show. But sometimes it doesn't work in your favor, like the time we both ordered an innocent looking spicy tuna maki appetizer at Roy's Hawaiian Fusion restaurant in Los Angeles during the ANA and became violently ill that evening. Next time we go there, we are both having soup.

Unlikeliest Unlikely Source for a Rare Coin
During a year in which we acquired one very rare colonial variety from a collector in England, discovered a rare CT copper in a bargain-priced group lot in a non-descript auction and bought a really nice uncirculated 1914-D Cent in an antique store, the unlikeliest of unlikely sources would have to be the numismatic appraisal Dave did in the spring which included a bunch of tokens with no numismatic value, a large bin of clad coinage of the sort one would use to feed a parking meter, a Kennedy Half Dollar on a key chain, and a 1795 Flowing Hair Dollar which we later sold for over $10,000 on behalf of the very, very surprised owner (I don't think she was as surprised as we were, though).
Which is precisely the sort of numismatic experience that makes this job such a hoot, and has us enthusiastically looking forward to another year of exciting coin dealering in 2010.
Which for us begins in Orlando, next week.
But before then, we're going to kick back and celebrate with our families, and wish all of our friends and colleagues a happy and healthy New Year.
All the Best!
Dave and John