December 31, 2015: The Year in Review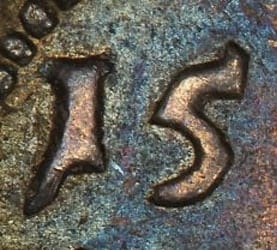 Celebratory trumpets blare forth, it is time to once again revel in another excellent CRO year which started waaaay back in early January in Orlando and finished here in the office 6 minutes ago when we received what is presumably the last order of 2015.
And it was extreeeemely busy in between, as we bought, sold, traded, graded, photographed, lost (and then found), schlepped, stacked, displayed and twirled a typically diverse selection of exceptional numismatic items at shows all over the country, bid in over 200 large and small auctions, handled a slew of finest known coins and a slew and a half of highest graded coins (many of which had been off the market for decades), graded 2,233 coins, had 396 new people click on the gold Early Bird button on our home page and add their name to our mailing list and, overall, enjoyed another stellar year in numismatics from which we can extricate the following highlights:
Coolest Coin Handled
In a year in which we were pleased to offer the finest known 1796 Myddelton Token in Silver and many other condition census colonial coins (many pedigreed to the Norweb, Garrett, Eliasberg and other notable collections), beautifully toned U.S. type, way more than our fair share of gold stickered gold coins, and myriad magnificent world coins, we're going to have to go with this exquisite, über-gem, gold-stickered 1837 No Stars Dime: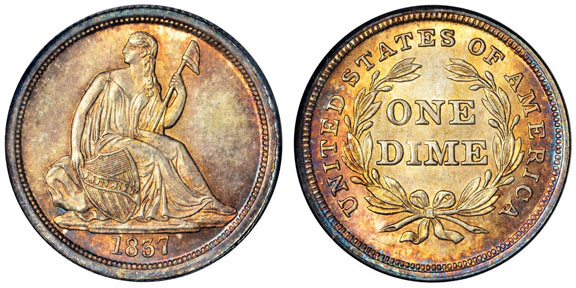 Housed in one of about 20 surviving ca. late 1987 original NGC black slabs (with the label on the back, which explains why the coin inside appears to be upside down and backward in the photo below) and notable as, in our view, the single most desirable coin in any of these holders.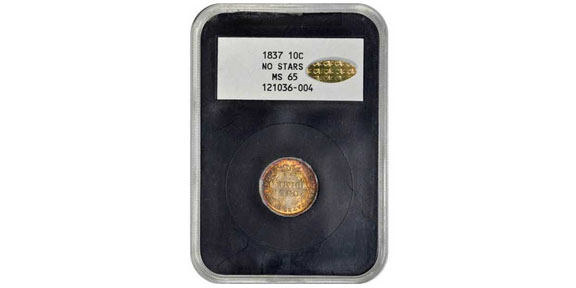 But while that was the coolest coin, it was not the most popular, that honor goes to this recent 1921 Peace Dollar graded MS64 by PCGS and verified by CAC which was ordered by (as of yesterday) 20 people – a new record for any coin ever to appear on our site: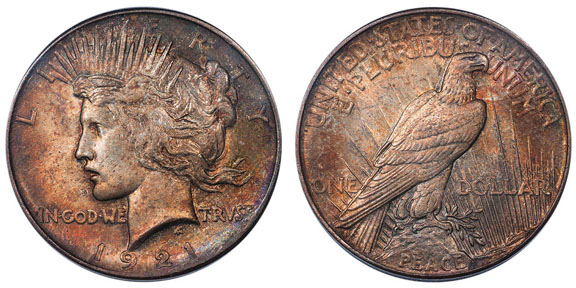 Alas (and as we always say), every CRO item was one of a kind in our inventory in 2015, and was sold on a first come, first served basis.
Positively Most Positive Trend
This year we observed a noticeable uptick in sales (not restricted to any one category) to younger collectors, a most encouraging development in our view and one which gives us considerable optimism for future years.
The Drinking from a Fire Hose Award
What if two collectors – let's call them Mr. Partrick and Mr. Kendall – painstakingly assembled world class collections of Massachusetts silver coins over a period of 5 decades or so, sifting through the best of what could be acquired during that time, outbidding lots of other serious collectors (including, frequently, each other) in countless auctions in the US and Europe, and then both collections were suddenly sold at the same time?
Well I have great news for you – we do not need to hypothesize about this since this little case study is what actually happened with the Partrick and Kendall sales in the first quarter of 2015. The result? An inevitable and incredible glut which most notably saw a flood of 12 New England Shillings on the market in a few short months and the price of same dropping to, in some cases, ~50% of recent levels:
The 2015 Numismatic King Tut's Tomb Award
With this year's clear winner the 1995 American Eagle set in neatly matching PCGS oversized Regency slabs:

Why? Well, in a series of transactions which would have made George Edward Stanhope Molyneux Herbert proud, this set was offered by us twice this year a few months apart, ordered by two different enthusiastic long-time CRO customers, both on layaway, who both then proceeded to vanish never to be heard from again. The only time that has ever happened with any item ever ordered from CRO, and on this item it was 2x: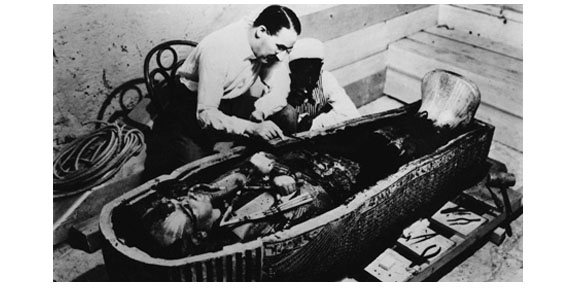 Still no idea what happened there, hope everyone is OK.
Land of the Lost Dinner Award
As has been well documented on this site, your author and many of his coin cronies enjoy trying new restaurants while on the road at shows, often relying on local experts for recommendations in unfamiliar cities.
Such as in Portland, OR in March, when one epic epicurean suggested an elegant seafood restaurant called Roe. And while the name and address is about all you need in most cities, that would not be the case here. Since it turned out that the aforementioned Roe is actually hidden inside the seemingly unrelated casual joint seen here: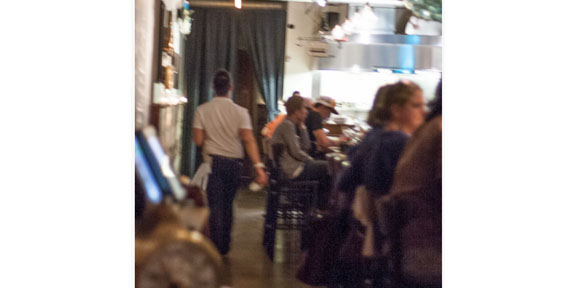 You just have to look for the signs which do not exist, wander through this restaurant, down a hallway, past the guy in the baseball hat at the bar, through that non-descript green curtain and stumble into it.
Also not labeled: The men's room door there (though we do not know why that would surprise anyone).
Good food though.
Best Anti-Cherry Pick
In the numismatic world, the term to Cherry Pick generally refers to the search for a rare die variety being offered unattributed in an auction or dealer inventory, which can then be swiftly acquired for 'type coin' money, and which then represents a wicked windfall for the buyer.
So then an Anti-Cherry Pick would be when your author deftly buys a rare die variety without even knowing it and then, oh, I don't know, sells that coin for type coin money on an Early Bird Notification or something.  Like this superb, original 1876 Trade $1 which we listed in August as just a lovely example for type: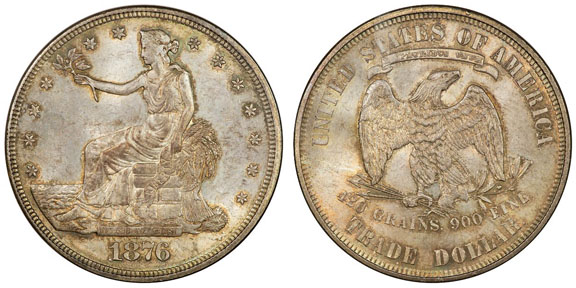 Of course, it turned out to be an extremely rare and valuable Type II / II variety, as characterized by the 4 fingers on Miss Liberty's outstretched hand and the ribbon ends pointing downwards on the obverse, and the missing berry under the Eagle's claw on the reverse (as explained to us by the 2nd, 4th, 5th, 7th and 8th people to order it that day).
Oh well, I'm pretty sure we won't make that mistake again.
Most Underwhelming Overlap
Given the state of the numismatic market in 2015, with a relatively limited number of major shows that are attended by all of us on the national circuit, it is inexplicable that two of them – namely the FUN Show and the New York International in January – are scheduled to occur at the exact same time: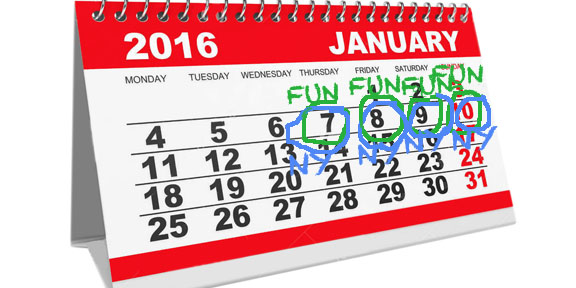 Now, I don't know how many people would attend both if they could, but we certainly would have in 2015, all years before that, and all years going forward and we have to believe both shows (and the myriad surrounding auctions) would greatly benefit from not directly competing with one another.
So let's all hope that one day scheduling logic will prevail.
The Coin We Wished We'd Kept
After reviewing everything, our conclusion was that it would have been this incredible 1724 Hibernia 'Trident' pattern, by far and away the finest known example of an incredibly rare issue with a totally cool design and bearing the impressive Norweb provenance: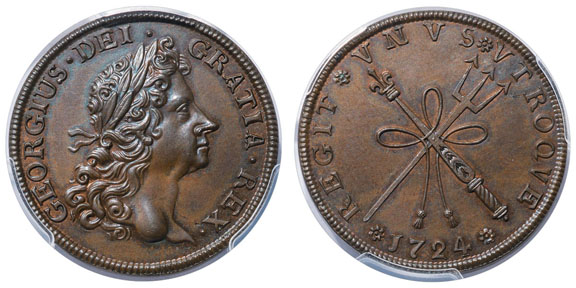 Alas, that sale and all others added up to another wonderful year at CRO for which we thank our friends, colleagues and, of course, our loyal customers without whom none of this would be possible.
All the best in 2016!
John & MaryAnn