December 31, 2018: The Year in Review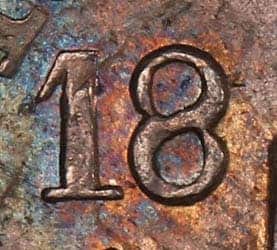 Like lightning (in a good way), Team CRO has watched another exciting numismatic year fly by, complete save for one final act:  The posting of our annual TYIR article in which we recap the year through a series of highlights beginning right now.
And, as is the case every year, it proved a very difficult challenge, since (among other things) we attended a total of 20 shows in 2018, bid in well over 100 auctions large and small, sold coins to 121 new, first time CRO customers, gave away hundreds of hats, graded several thousand coins, lost three (3) iPhone chargers, sold 99 gold stickered coins, bought 22 intact collections, etc., etc.
A series of activities from which we gleaned the following highlights:
Coolest Coin Handled
It was pretty tough to narrow this down to a single item this year since we sold some utterly epic coins in each of our four categories, namely Colonial Coins, U.S. Coins, World Coins Used in Early America and Esoteric Numismatic Items.  But after careful consideration, we have decided to go with this spectacular 1807 Turban Head Quarter Eagle graded AU50 by PCGS, housed in an OGH, gold-stickered and with superb, original color:

And while all of those attributes surely made this an extreeeeemely desirable item, the fact that this issue normally comes cleaned, unoriginal and unappealing elevated this fantastic example to the coolest coin of 2018.
As is always the case, however, 'coolest' does not necessarily mean 'most popular', with that honor shared by this neat, albeit discordant trio:


Alas, each was snagged by the first person to order it, leaving a slew of disappointed collectors in their respective wakes.  Hey, you gotta be quick.
Double Take Award
Given of course to honor the least expected thing seen at coin show this year, of which the candidates in 2018 included a set of Chinese coins made into a tiny dinette set and a framed letter signed by Alexander Hamilton's son which also included locks of hair belonging to Alexander Hamilton and George Washington.
Amazingly, these two decidedly different but equally wacko items were both at the same show in Chicago in April.  Even more amazingly, neither could be considered the least expected thing we saw at any show – that honor instead goes to this little guy:

That's correct – an adorable little 120 million year-old infant T-Rex skeleton shown to us by another dealer in Las Vegas (which he apparently keeps in his office instead of a dog).
Unhealthiest Meal
We're going to have to go with breakfast at Café Du Monde in New Orleans in May during which team CRO felt obligated to order beignets buried in their traditional metric ton of powered sugar:  

Still, we can at least take solace in knowing that this was considerably healthier than the breakfast we watched two strangers eat at Philadelphia's Reading Terminal Market in August at the ANA, as they mowed down a box of a dozen donuts at Beiler's Bakery in not more than 7 minutes.

The American Airlines Customer Service Award
This used to be titled the "Worst Customer Service in the History of Mankind Award", but after our experience in April, we have decided to properly recognize the one company who went above and beyond to 1) Shaft their customer (i.e. me), and 2) Exhibit not even the slightest hoot about it, at all.

I speak of course of our debacle at O'Hare airport in Chicago while en route to the EAC show in Traverse City, MI, during which AA changed our departure gate to a new one on the opposite side of the terminal forcing us to schlepp 5 miles, where we arrived to discover that they changed it again at the last minute to a third gate so far away we could not get there before the flight left without us on it.
For which they took no responsibility at all, then charged us $1,037.01 for a seat on the next flight 3 hours later.  I still can't get over that, but will attempt to do so by vowing to never again fly on American Airlines, ever, in protest.
Best Local Show Purchase
There were a number of interesting possibilities here, but the winner has to be this choice, original, golden brown, long off the market Bar Copper acquired by us raw at the New Hampshire Coin Expo:

That subsequently was graded AU55 by PCGS and was sold by us at the aforementioned EAC show in Michigan a few weeks later.
Lost and Found Department
We speak here of course of interesting numismatic provenances long since separated from coins (i.e. lost) and then 'found' again during the course of our research.   The most interesting of which this year was this epic, finest known 1721-B French Colonies 9 Deniers sold in a Canadian tokens auction which we later ID'd as the Breen Plate Coin and had slabbed like this: 
That wasn't exactly a shot in the dark, since we figured a coin that good (15 points better than the next best one ever graded) probably was traceable, somewhere.
The Déjà Vu Award, Part II
In what has become somewhat of an SOP here at CRO, we enjoyed a profound sense of "Are you kidding me?  Not this again!" as we tried fruitlessly to depart the FUN show in January, only to once again have our flight cancelled for the 2nd year in a row:

Forcing us to join the massive queue of irate travelers trying to retrieve our luggage while simultaneously attempting to rebook a new flight for the next day with one hand and desperately searching for an airport hotel room with the other.  Here's hoping we can avoid the cancellation trifecta in 2019.
Best Evidence Yet that Sleep is Overrated
Given that there is a large figurative WELCOME mat parked outside of this website 24 hours a day, we've always felt that we need to be available whenever customers call or email.  Which is why we post our business hours as 7 AM to 11 PM east coast time everyday.  Of course that doesn't mean we are unavailable at other times as needed, such as in September when we began a conversation with a serious west coast collector at 11:45 PM and concluded with the sale of a 6-figure item just before 2 AM.
The Coin We Wish We'd Kept
We handled a lot of really great coins of all kinds through the year, but I regret not holding onto this epic 1589 Dutch Lion Daalder, the finest, sharpest, most original example we've ever had of this type which circulated in early Dutch controlled New York:

This was actually the third time we've owned this coin, and the third time I've felt that way when someone snagged it.  Oh well.
But of course that sale helped make 2018 another banner year for CRO, for which we owe our sincere thanks to all of our many numismatic friends / customers / colleagues who make this all possible.
All the best in 2019!
John & MaryAnn