December 31, 2021: The Year in Review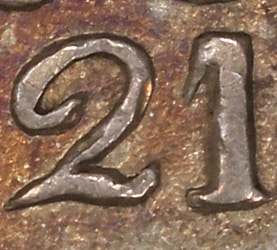 2021:  The Return to Normalcy!
Is a title I wish I could have written here.  Alas, we didn't quite get there this year even after it really felt like we were moving in that direction starting with the NH Expo in April, then another in June followed by a more or less full show schedule in the always lighter 2nd half of the year.
Which added up to a mere 7 shows in total in 2021.  A far cry from the 20-something we'd expect in a normal year, but hey, we took what we could get.
And, it turned out, we got a lot, buying and selling like crazy (mostly online) in what unexpectedly (to this author) turned into about the most robust coin market we've seen in a decade+.
So of course we joined right in, participating in 298 auctions of all sizes in the US and abroad, buying a bunch of collections, scouring the numismatic landscape for cool coins to buy privately, doing 21 appraisals, launching 14 Early Birds containing our usual 51 coins each all adding up to one of our best years ever in annual sales volume.
From which we have identified the following numismatic highlights starting right now:
Coolest Coin Handled
Choosing from another list of totally cool and richly varied items handled by us this year, including our usual high end colonials, select US type, our usual quotient of epic toners, old holders and Gold CACs, lots of fantastic world coins and more than our fair share of odd, unusual and interesting tokens, narrowing it down to just one again proved to be very difficult.
But after much deliberation we arrived at this epic, Choice Unc.+, red brown New Jersey Copper pedigreed to the King of Coins, Louis E. Eliasberg: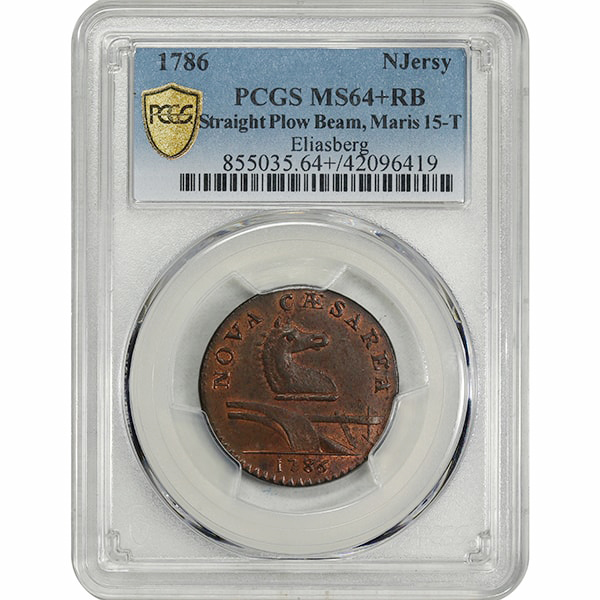 Of course our readers will know by now that 'coolest' does not necessarily mean most popular.  That honor would go to this 1861 Liberty Seated Dollar: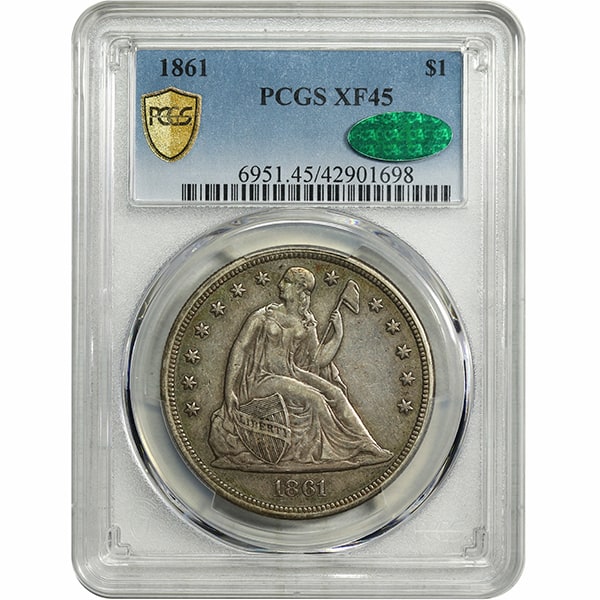 That coin appeared on our October 12th Early Bird where it ultimately received a grand total of 9 orders.  That's a lot.
Best Numismatic Hairdo
As always this was a difficult choice this year with many worthy candidates from the CRO inventory and that lady we saw outside the LB show with green hair (not that there is anything wrong with that), but after careful consideration we're going with this Rising Sun / Fright Wig: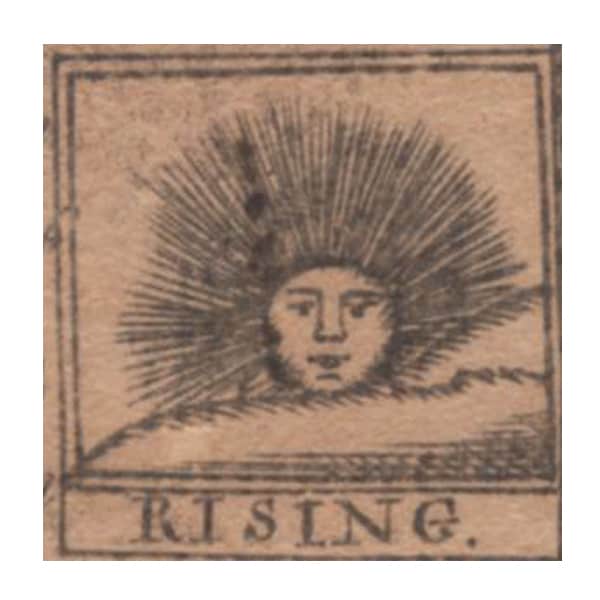 As seen on the Choice Uncirculated 1779 Massachusetts 5s 6p note engraved by some guy named Paul Revere that we offered on our March 30th Early Bird.
The "You're in the Money" Award
Entrants this year included a number of collectors we know who made massive and unexpected windfalls on auction consignments in 2021, and a dealer friend who ended up making 10x his money on an unattributed world coin he did not actually want to buy at all.
But the clear winner this year has to be this guy we saw in a delightful $100 bill suit at the ANA in Rosemont: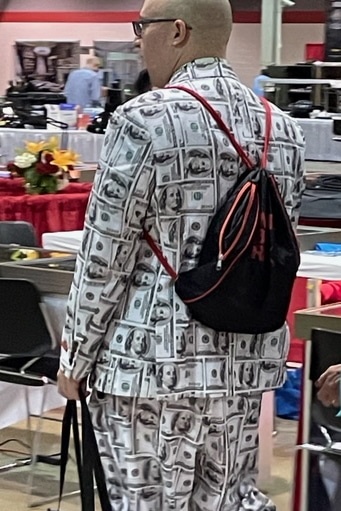 Ironically, you can actually buy a similar suit for under $100 based on my cursory internet search: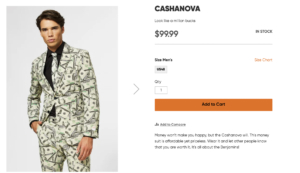 Note though that price does not include tailoring.
Best Kept Secret Coin
During the course of a typical year Team CRO handles many coins that do not make it to the website.  And while some are simply unworthy, and others are mundane and not that interesting, a few were a-b-s-o-l-u-t-e-l-y epic.
Such as this stunning MS66 Argentina Sunface 8 Reales which first surfaced in a German auction in June: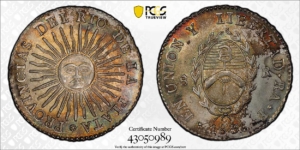 A coin which we ended up buying and selling in 2021 while sworn to secrecy.  Until now.
Furthest Hat
Closer to home than last year, but still not that close, this year's winner is this limited edition maroon and white model perched on a good customer head in La Jolla, CA: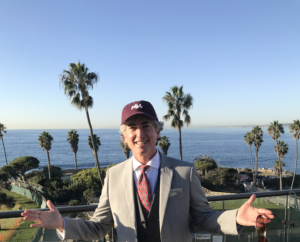 That's a tidy 2,565 miles from our office here in Weston.
Lost and Found Department
We are always pleased to include news of an interesting, long lost numismatic provenance we were able to reunite with a coin.
Like this fantastic 1820 North West Company Token which we bought unattributed in March, but knew to be the 1907 Matthew Stickney specimen as seen in this ooooold catalog photo: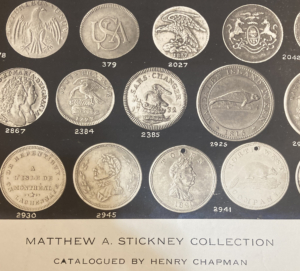 Which PCGS later slabbed like this: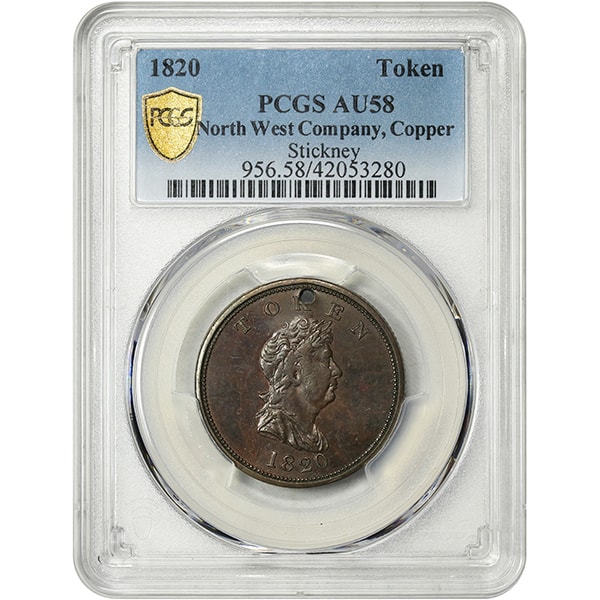 How cool is that?  Very.
Most Special Delivery
As an online business we of course ship a high volume of packages through various means in an average year, and even more than that in these 'covid' times of 2021.  The overwhelming majority of which get where they're going on time.
But then there are the special cases, none more so than our shipment of a gem 3¢ Silver to a customer in the Midwest which went off without a hitch and then showed on the tracking # as delivered on time.  Which I thought was the end of our story, until the customer informed me 14 days later that he never actually got it.  Gulp.
Which after 42 phone calls we learned was because it wasn't delivered to the customer's address as intended, it was inexplicably delivered instead to a completely different address where a used car dealership resides and actually signed for by the owner: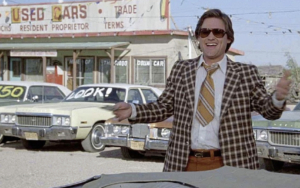 Where it even more inexplicably (in a good way) sat unopened for 2+ weeks until our customer drove over there and got it himself in a sort of DIY delivery we sure hope does not become the norm.
Still, all's well that ends well.
Pleasantest Travel Surprise
When we found out that we could no longer take a direct flight to the Baltimore show this fall and instead would have to fly through Washington Reagan, we were of course extreeeeemely disappointed by the inconvenience and long drive we'd need to make.
Until we discovered this awesome sushi restaurant in the terminal which kind of made things OK:
Definitely beats that awful burger joint we used to have to eat at in BWI.
Best Local Show Find
As has been well documented on this site through the years we always scour the bourse floor looking for cool coins at every show.
And while one would expect to find the most interesting material at the biggest venues, sometimes we've been really lucky at even the smallest events.
Such as earlier this year when we found this stone cold original piece of early gold at a local dealer-only affair where we really, really didn't expect to see anything like it: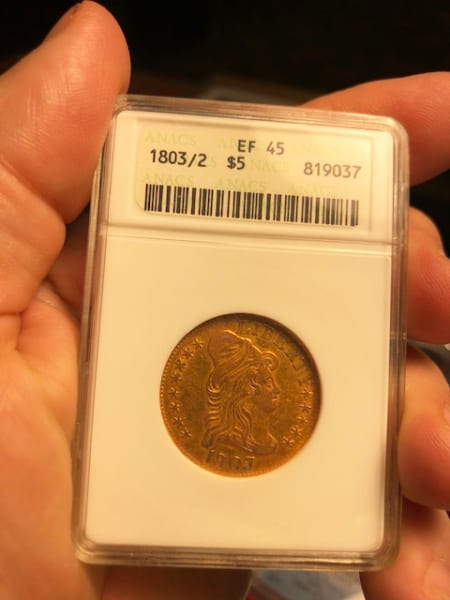 Best Appraisal Find
The no question winner of this category is of course this piece discovered in an otherwise utterly typical appraisal containing circulated Morgans and 20th century world coins brought back from family vacations: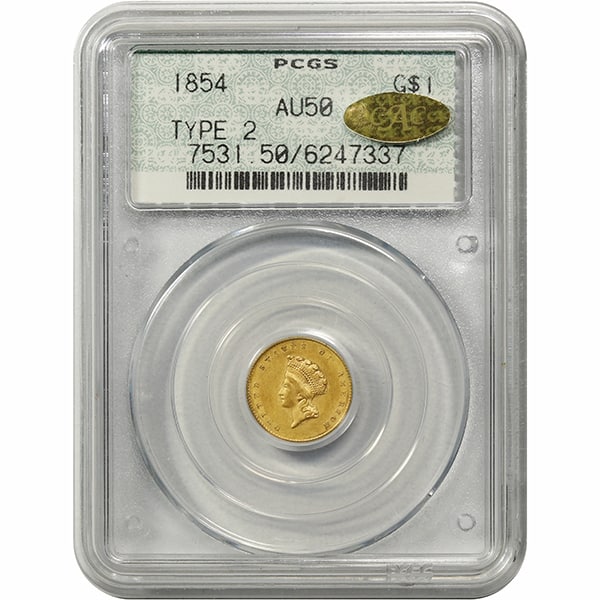 For those scoring at home that is the only Type-2 G$1 of any date or grade documented to survive in one of these old PCGS Doily holders.
The Coin We Wished We'd Kept
This is never an easy call, but I think we've got to go with this lovely, golden brown, problem free, thoroughly CAC-ified Chain Cent that we sold at the LB show and have regretted ever since: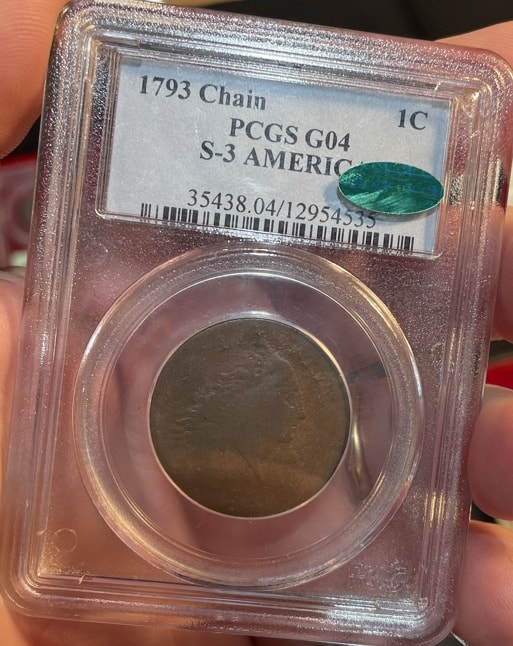 But that sale like all the others contributed to a great year in trying times for which we thank our numismatic friends, customers and colleagues who allow us to do what we love while trying our best to spread good numismatic cheer to all.
All the best in 2022!
John & MaryAnn