February 1, 2012: Rosen Numismatic Advisory Crystal Ball Survey, Part I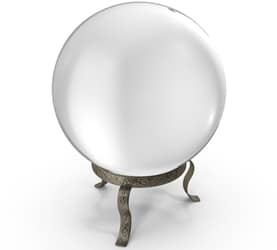 We are herewith pleased to present the 35th Annual Rosen Numismatic Advisory Crystal Ball Survey, Part I, a forward-looking questionnaire sent to a group of numismatic industry heavyweights including John Albanese, founder of Collector's Acceptance Corporation (CAC), William Paul of American Heritage Minting, Laura Sperber of Legend Numismatics, Scott Travers of Scott Travers Numismatics, Doug Winter of Doug Winter Numismatics and our own Dave Wnuck.
The questions and Dave's answers are listed below; if you want to read what the other respondents had to say, please contact Rosen Numismatic Advisory publisher Maurice Rosen at mauricerosen@aol.com to obtain copies of back issues and to subscribe to the newsletter.
And so, without further ado, let us proceed:
Question 1:  What is your outlook for the coin market in 2012/2013?
Dave's Response:  We will continue to swim in molasses. Beautiful, fresh, high end and original coins will continue to set records, while the ordinary "stuff" will languish even more than it has been in recent months. Note that the beautiful & fresh coins make up only a small percentage of the coins sold in a particular year. Less than 10% — that is for sure. By extension that means that 90%+ are going to soften further, until the whole market is acted upon by an outside force, namely fresh demand from newly minted hard money investors. That will come, but perhaps not for another year or two. Long term I am very bullish, as demographics and inflationary forces are strongly in our favor.
Question 2:  What areas of the market will be the strongest in 2012/2013?  Why?
Dave's Response:  Generic gold in top grades. They did not participate in the dramatic run-up in gold, and as these higher precious metals prices permeate the marketplace, the investors, speculators and telemarketers will again create demand. As I write this, generic gold is deader than dead. But that will change – and that change will come within the next year. Also, collector-oriented coins will continue to be strong. By that I mean rare dates and rare die varieties in series heavily collected by serious numismatists: early copper, colonials, dated seated coins, etc.
Question 3: What areas will be the weakest? Why?
Dave's Response: Super-grade moderns. The bloom is off the rose on many of these coins as more and more top grade modern coins are graded. Premiums have been dropping and will continue to drop. Yes – there are a few exceptions here. But this should not be a surprise to anyone. Overgraded coins in all series. At long last, knowledge is once again king and the market regains its sanity. Huzzah! A beautiful, original proof 65 seated quarter should always be worth more than a dipped out, burned out coin in a proof-66 slab. The only thing that amazes me is that the old system stood for so long, whereby the higher slab grade always sold for a higher price than a more eye appealing but lower graded coin. After all, coins are purchased and cherished by human beings and not robots. I hate to say it because it is an area I enjoy as a numismatist, but I think pattern coins will soften from current levels. A major collector in this area has bought out many of the collections of the other active collectors, and so this already thin area will be even thinner going forward. The silver lining in all of this is that in after a few years of softening prices the pattern market will be overflowing with good deals again, and the cycle will regenerate.
Question 4: A) What new collecting trends are emerging that look to make investments there worthwhile? B) Which specific issues look appealing?
Dave's Response: In a more speculative vein, commemorative gold is quite oversold. I especially like the Sesqui in MS64 and both the Lewis & Clark's in MS65. I also like the 1908-1915 2.50 Indians in MS63 and MS64. These are tough to find when telemarketers need them (which they do not, at present). Note that the high end of the early large cent market has exploded over the last 10 years. These huge price gains occurred even though this was an area that many coin investment experts said was too esoteric to successfully invest in. There currently is a similar market poised for the same type of growth in the next 5-10 years. It is also populated by a solid core of serious collectors. That area is… top end colonial coins. The services only started slabbing these coins in 1998. Prior to that, non-specialists were scared away by the risks of buying uncertified examples of these crudely fashioned coins. But sophisticated investors have yet to discover that the great rarities of this era are available at fractions of their federal coinage counterparts. It is akin to buying Old Master paintings at a discount.
Question 5: Unfavorable markets bring out the most complaints. What are the common themes you hear and how do you respond to them?
Dave's Response: Why do NGC CAC'd coins often bring less than PCGS CAC'd coins? Sometimes great deals are to be had in this area. Quite often though, the best of the NGC graded coins have been crossed to PCGS holders, leaving many coin buyers with the mistaken impression that NGC grades more liberally these days than PCGS. That is not the case; the services are comparably strict these days, and have been for some time. Past sins (i.e. ridiculously overgraded coins trapped in their slab tombs) continue to perpetuate this bias, though.
Question 6: Many believed that new investors first buying bullion would later buy numismatics. How has that been working out?
Dave's Response: Too soon to tell. I think there will in fact be that movement by some new bullion investors – and it won't take many to really move our tiny marketplace. But – these folks want to see some price rises first before they jump in. It is akin to the old joke where the man says to the wood stove: "First give me heat, and THEN I will give you some wood!" Listen, how many of the folks reading this would have guessed that their friends and neighbors would become precious metals investors, as many have in recent years? Granted, most of those are invested via mutual funds and perhaps Exchange Traded Funds, but there has quietly been a sea change going on out there in the retail investing world. Precious metals were long considered fringe investments by most, but now no one bats an eye at it. I believe the largest Exchange Traded Fund in the world trades gold bullion. The ramifications of this attitude shift have yet to be felt in the rare coin market.
Question 7:  What shifts in demand have you seen in light of the recession and poor economy?
Dave's response:  Fewer six figure coins, and even fewer $20,000 and up coins are being sold than in the prior few years. Conversely, the $1 million plus market is stronger than ever, but that is affected mainly by the presence of a few aggressive, active players. A good portion of our business is done in colonial and early American coinage. We have seen a broadening of the demand base each year for these coins. 10 years ago they were the exclusive province of hard core collectors. We have seen new demand each year from collectors (and other dealers) for the more popular types. The floating supply of such items is thin, so that is why you have seen prices of some of these items hold up or even increase while most other areas have softened.
Question 8:  Premiums on circ. to Gem Unc. generic gold type collapsed in 2011. What is necessary for premiums to recapture higher levels, or do you doubt that happening? Please explain in detail.
Dave's Response:  Telemarketers have to start promoting this area again. Insiders in this business tell me that the telemarketers aren't going to play in this area going forward, but I have a hard time believing this.
Question 9:  My annual report on NGC and PCGS: A) How have they been grading coins this past year? B) What changes/improvements would you like to see?
Dave's Response:  A.) Both PCGS and NGC have been grading consistently and strictly over the past few years. This tightening of standards seems to have coincided exactly with the announcement that CAC was coming on the scene. B.) I would like to see PCGS and NGC step up efforts to buy up the most egregious of their mistakes. Use specialists in the various series to help identify when these coins show up on the market. The financial hit they take now should be offset by the long-term strengthening of their brands.
Question 10:  A) Given the likelihood of greater government encroachment in our lives, what new regulations might our market face? B) How can investors today best prepare for them?
Dave's Response:  The area that most worries me is the possible imposition of a tax on internet sales. The retail coin business has largely moved over to the web, and this could pose a threat to the robustness of the rare coin market.
Question 11:  Two sophisticated investors come to you for a portfolio for the long term, one investing $25,000, the other $250,000. How would you construct those portfolios?
Dave's Response:  $25,000: No Motto Proof 65 Seated half; Pre-1916 $2.50 Indian in MS65; Fugio Copper in MS64; 3c nickel in Proof-67; Shield nickel in PF66; 1872 2c in MS65 Brown. $250,000: 1652 Pine Tree Shilling in MS64; 1795 Flowing Hair Dollar in AU58; 1916-D Mercury dime in MS65FB; 1795 $10 in AU58; 1793 Half Cent in Choice AU.

Question 12:  What are your Best Buys among U.S. Type Coins, Mint state and proof?
Dave's Response:  No Motto 25c and 50c in PF64 and 65 are good values, as are PF65 and PF66 Morgan Dollars.  I can't believe how cheap Seated Quarters and Halves in gem & superb uncirculated have gotten. And a well-chosen group of under $1,000 MS65 seated dimes seems like a no-brainer at these levels.

Question 13:  What are your Best Buys among U.S. Gold coins?
Dave's Response:  I finally feel comfortable dipping a toe back into the early gold market; I was uncomfortable with the levels these had risen to. The 1795 $10's in AU 50-58 and 1795-6 Small Eagle $5's in the same grade range are actually good buys now. And MS63 – MS65 pre-1916 2.50 Indians are a great speculative play.
Editor's note:  Part II of this survey will be posted here in our Coin Commentary on or around March 1st.  So you might want to check back for that.