February 18, 2009: Notable Numismatic Quotables, Part I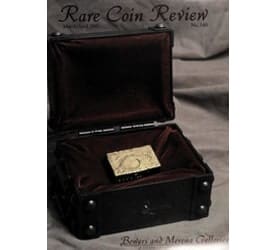 Over the years we've heard and read a number of interesting and thought provoking numismatic quotes from a variety of sources (actually, we've come up with a few on our own, too).  Fortunately, we've jotted them all down and saved them in a large box so we could post them on the site starting with this Coin Commentary:
"A very significant piece which would probably be more popular and costly if it weren't so rare!"
— Q. David Bowers describing a rare colonial in Bowers and Merena's Rare Coin Review #140.
"Uncirc. Red gem. Ex. Rare so fine."
— The renowned cataloger of Hans Schulman's April 1955 Auction describing a landmark New Jersey copper from the Jacob Spiro collection (which would bring a new record price for the issue in the sale).
"About Uncirculated. Cleaned to simulate mint color."
— Stack's cataloger Michael Hodder describing the exact same coin above when it came to market again in the Ford sale in October 2003 (and just one of many, many examples of extreme differences of opinion about the same coin we've found in years of researching old auction sales).
"There is no Santa Claus in numismatics."
— Lee Hewitt, founder of The Numismatic Scrapbook Magazine.
"Does the actual look of the coins play any part in your decision making process?"
— Me, in response to a collector asking if it is better to acquire a PCGS graded MS70 modern coin for $200, or an NGC graded MS70 example of the same issue for $65.
"When the time comes to sell, you're not going to be selling to the grading service. A collector will need to like the coin and buy it."
— Dealer Andy Lustig, on the PCGS chatroom, October 2004.
"Hold out your hand . . . say thank you."
— 80 year-old dealer G. Earle Riley at the Syracuse Stamp & Coin Show in 1969 as he handed me a Liberty Seated Half Dime as a gift (thus starting my lifelong interest in coins).
"The opportunity to buy a rare coin is often rarer than the coin itself."
— Attributed to noted dealer Lester Merkin in the 1960's.
"If you give someone too long to think about outbidding you, they probably will."
— Unknown (referring to the benefits of snipe bidding on Ebay).
"There truly exists a wonderful and satisfying world of numismatic adventure – the world of the connoisseur, where one can learn to really enjoy and appreciate what one owns or what exists by being fully aware of its history and background. Nothing in numismatics is more rewarding."
— John J. Ford, Jr., in the final paragraph of his forward to QDB's "Adventures with Rare Coins".
"I regard US coins as poor values for the money at current price levels."
— Anonymous.
"What discretionary / luxury items are 'good values' these days, or have ever been considered 'good values' at any time in human history?"
— Me, in response to anonymous above.
" . . . valuation of (expensive coins) is really murky. If we are talking about coins with really low pops, valuation has a lot more to do with who needs what, rather than what a lower grade coin might have recently sold for."
— Coinosaurus, on the PCGS chatroom, June 2005.
"Most coins are not perfect or original. Coins that are especially old, scarce, and or valuable deserve to be in holders, should their owners so wish them to be. The way that some imperfections have become acceptable while others are not acceptable is capricious and often irrational."
— RYK, on the PCGS chatroom, April 2008.
"In our experience, the best, most desirable coin is often not the highest graded."
— CRO.