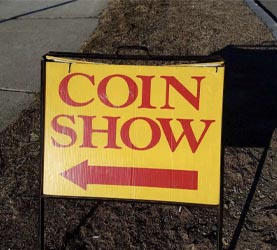 In weather sufficiently wet, gray and miserable that your author once again questioned why we have not yet moved to Tahiti, Team CRO was up and out early on our way to the first Devens show of the year.
And, as has been the case here of late (and despite the rain), the local collector community turned out en masse, filling the aisles pretty much start to finish, looking at lots of coins, buying some, trading for others and generally making numismatic hay left and right.
Which in and of itself would have been sufficient to make this an excellent event for us, but here, today, it was but half the story.
The other half was us buying up a storm of cool coins we frankly never would have expected to find here, like this wicked Flowing Hair $1 in a circa late 1980s PCGS Rattler slab, for example: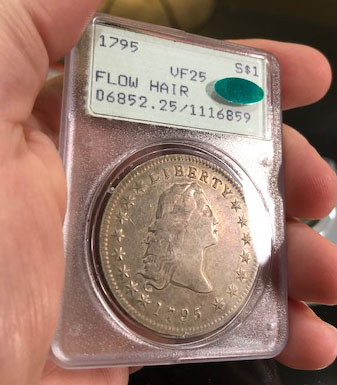 One of dozen coins we would vacuum up on the premises, the last of which happened at about 2 PM just as we were packing up to head home.
Where we will now have just about 24 hours to file the paperwork, process the NEWPs, repack the inventory, tie up every possible loose end and then head off to the Whitman Baltimore Expo.
From where the next installment of the RR – the Baltimore Prologue –  will be posted on Tuesday.  So you might want to keep and eye out for that.