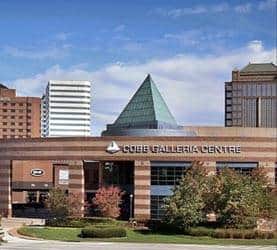 Prologue:
After a tremeeeeeeendously long hiatus between shows (i.e. an entire 2 days), we are delighted to be back on the road, this time to Atanta for the first time since way back in 2014.
And frankly we're not sure what to expect here this time.  On one hand, recent shows have been stunningly busy and active.  On the other hand, major shows in consecutive weeks is, well, a lot.
My personal feeling is that a lot of the guys who were not in LB will be here and loaded for bear, and Team CRO will be poised to take advantage of whatever opportunities that presents.  Plus we'll have a lot of cool new stuff with us, including a crusty old document unlike anything we've offered in y-e-a-r-s.
Of course we also have many customers from this area, and if this event is anything like last year's ANA National Money Show in Pittsburgh we can expect a bunch of locals to make the trip to the Cobb Galleria Centre.  Here's hoping.
And if they do, or even if they don't, we'll be posting all about whatever does take place right here in this space first thing on Thursday AM.
Until then, then –
February 26th: Day 1
Up at 3 AM on Wednesday, Team CRO was out the door at 4, on the plane at 5:25, in Atlanta at about 8:45 and standing in the check-in queue at the show hotel by about 9:30.
At which point we were told (not surprisingly) that our room was not ready yet, so we ditched our bags with the bellman and headed straight to Kagin's lot viewing in the connected convention center.
Where we plodded very, very slowly through the auction with the help of a viewing assistant who was at no time in danger of breaking the sound barrier.  We're just glad this wasn't a larger sale or we might still be there waiting for our next box.
As it was we impatiently finished up around noon, just as we were called by the front desk and informed that our room was now ready, so we dashed back to the hotel, picked up the bags, got our keys, opened the door and were hit directly in the face by a very strong smell as if someone had just prepared a large vat of in-room boiled cabbage.  Which of course was not going to work for us, so we arranged to switch rooms, had an excellent salad for lunch in the lobby real fast and were back at the show for the start of dealer set up crisply at 1.
Putting out our wares as efficiently as possible and then beginning the first of many circuits of the room, visiting tables that were in various states of readiness, some with all of their coins out on display, others in process, and some guys still wandering around looking for light bulbs and electrical outlets.
And with particular attention focused on guys we did not see in LB a few days ago, we found a lot of cool new coins, including about 10 choice U.S. type coins, a few old holders, a gold sticker or two, 5 high end tokens from 3 different sources and some very choice old gold.  All of which we logged in to our super deluxe new inventory system and then placed in the back case where they will join some future EB down the road.
Then finalized a deal for a high end early gold coin by phone, talked to a potentially new colonial customer and eventually packed up and headed back to our new, fresh-scented (and much larger) hotel room before catching an Uber to dinner at an excellent restaurant called Soho with some dealer friends.
From where we returned to the hotel just in time for the fire alarm to go off so we could be evacuated into the surprisingly cold parking lot by hotel staff who best I could tell had never once conducted a preparedness drill and seemed utterly confused by the whole process.  It did not help that most of the guests didn't seem to be taking this too seriously as a whole bunch came down using the elevators (the avoidance of which is usually covered in fire drill planning 101), many brought all of their luggage, and fully 50% seemed to be carrying booze with them.
Fortunately, it turned out to be a false alarm, so we all eventually headed back in where we hoped to get enough rest to be ready for a full day on the bourse on Thursday followed by the aforementioned Kagin's auction Session 1 right after.
And then blogging all about all of it right here in just about 24 hours from now.
EOM
February 27th: Day 2
Admittedly, and based on that late night fire drill on Wednesday, your author had a lot of trouble getting up on Thursday morning, hitting snooze about 117 times before finally dragging myself out of bed and directly to the coffee maker.
Eventually perking right up, blazing through another RR, reviewing Kagin's auction lots, answering email, talking to a couple of customers, heading to breakfast in the lobby and finally making it to the show at about 9 so we could be ready for the first appearance of John Q. Public at this event.
And while attendance was hardly robust on this day, we did see many of our local customer friends and dealer contacts and did some decent business at the table selling some US coins, some Wildman Talers that never made the website, one colonial and a box of odds and ends that we were looking to wholesale.
We continued to buy pretty well too, including a stack of old holdered US coins from a local dealer, more high end gold and a very cool toned raw world coin from another dealer who had no lights at his table.  None.  Honestly, he might have had other things I'd have wanted too, but I just couldn't see them well enough to find out.  So if you are an aspiring young coin dealer weighing the "Should I have lights at my table?" question, I say go crazy and give it a try.
Since I used our own lights extensively, including the one mounted to our back table / impromptu office where I was studying various coins offered to us by other dealers and attendees.  Most of which, unfortunately, did not make the cut, including a particular Vermont Landscape copper which I have seen and been offered countless times (it may be the one coin we have been offered more times than any other – perhaps on a dozen different occasions through the years, by all different dealers) and which I have always rejected (as I did here) for having an unsightly planchet flaw.  Oh well.
Still, we always appreciate every offer and try to buy everything that looks like a CRO coin.  So if you are contemplating coming to the show Friday and offering us a different Vermont Landscape on a nice planchet (or anything else cool), we hope you will.
Anyway, before we knew it it was time to pack up, so we did, heading to dinner at Pappadeaux for some fantastic shrimp and grits while simultaneously (and rudely) bidding in the Kagin's auction on my phone.  That worked really well, as we snagged the two coins we really wanted, while skipping another one which looked really good from a distance but which, in my opinion, had light graffiti on it.  Bummer.
And then finally turning in for what we hoped would be a quiet, restful evening allowing us to prepare for what we hope will be a loud, busy Friday at the ANA.
So check back here first thing on Saturday AM to find out if it was, and if it was.
February 28th: Day 3
Everything went swimmingly on Friday as Team CRO was back on the bourse floor at 9 ready for whatever the day might bring.
And it turned out that it brought more of the same on a day in which we saw many local customers (as expected), but also some who had made the trip from surprising distances, including Arizona and Pittsburgh and Washington D.C. to name but a few (with one especially clever collector routing a business trip through Hartsfield Airport here in town so he could just sort of accidentally pop into the show all sneaky like).
With some buying a coin (or two), others offering us something and generally the wheels of commerce moving here, though not so fast that we had to lubricate any bearings or anything like that.
Somehow we managed to keep finding cool coins to buy though, including things we don't often find like choice, original Capped Bust Quarters from a variety of different sources – including one from a guy we have known for years but from whom we cannot recall buying even a single coin, ever.  Until Friday.
Also neat:  MaryAnn bird-dogging a cool, toned ancient coin while delivering a check to a different dealer, then returning to buy it a few minutes later.  Team CRO indeed.
Now part of a NEWPs pile large enough to necessitate us purchasing some additional boxes to get this stuff home (one of the pitfalls of a show where there is no on-site grading and thus no steady inflow of boxes like at a LB or Baltimore.
But we made do, eventually sorting things variously for photography, or CAC, or grading, then actually submitting some of that last group here, while planning to take others back to submit later in larger groups of similar items such as raw world coins.
All making for an impressive group and frankly surprisingly robust haul here which we were admiring just as it was time to pack up and head out for a quick dinner before returning for the Kagin's auction sessions 3 and 4 in the evening.
Where we snapped up some more extremely cool tokens and then did some real damage in the Ken Hallenbeck Collection of Traditional Money.  Yap stone count:  2.
And while we were delighted to participate in that sale, and win pretty much everything we targeted, the real question is now how do we actually get some of this larger stuff back to the office?
Fortunately we still have Saturday here to figure that out, to sell a few more coins, to add to our numismatic NEWPs boxes and generally make whatever hay can be made before packing up and heading home in the late afternoon.
From where we will be posting our last RR of this show on Sunday AM –
February 29th:  Day 4
After a quick breakfast jaunt to the Marietta Diner with local relatives on Saturday, we headed to the show at about 9:30 and were 100% ready for the anticipated public weekend onslaught.
And I have to say the public really did come out in force, making this the busiest day of the show from our vantage point. With many people coming to the table, looking at coins, asking questions, showing us things they brought, etc.
But I would characterize most of these interactions as exploraratory, as we shook lots of hands, handed out many cards, directed people to the website and hoped that some of this activity will lead to business down the road which is an important component of any show.
It didn't lead to much in the way of immediate business, though, as in total we managed to sell just a single coin during the day, while buying just one from a show visitor and one more on the floor.
In and around which we picked up our auction winnings, collated them into the appropriate (and almost overflowing) photography and CAC buckets, dropped a couple off at PCGS and eventually packed up and headed to the airport for our flight home.
Where we can now look back and say that while this show was hardly a barn burner, it was still well worth attending, with enough sales, a surprising number of purchases on the floor, some good auction buys, a few new contacts, a couple of larger pending deals and the deep satisfaction of knowing that if we had not been here we'd always wonder if we missed something really good.
And now, after an exhausting 2-week travel binge with many late nights and early wake up calls, we look forward to sleeping in on Sunday before diving back into our next EB which will go out on Tuesday.
So you might want to keep an eye out for that –