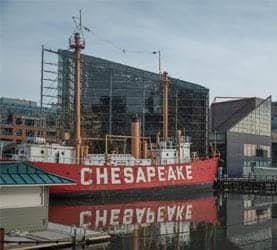 Prologue
In a new twist for Team CRO we did NOT take the earliest possible flight down here on Tuesday, instead opting for the more relaxed 11 AM alternative.
And that worked surprisingly well, allowing us to avoid the peak of the high winds which had hit the Boston area like a right hook on Monday, but had conveniently mostly diminished by the time we arrived at the surprisingly uncrowded airport, boarded our unusually empy flight and were off to BWI.
Where we landed at about 1, were off the plane through baggage claim and in a cab about 10 minutes later, at our hotel at 1:30ish, done with lunch by 2 and at S-B lot viewing soon after.
Where your author grabbed the last remaining catalog (this will become important later), pored through thousands of lots, crossed out most, circled some, wrote copious notes on coins on which we are representing customers and generally accomplished everything we had hoped to on this day.
With one minor snafu, when your author took a brief break, returned to my spot and discovered that my catalog (which I had left at my viewing spot with all of my other belongings, as always) was missing a few pages.  At first I thought this was some sort of catalog printing error, but the viewing assistant who was helping me said "no", some guy came by and "ripped out a bunch of pages".  That's the first time I can ever recall that happening, and yes it ticked me off.  Maybe the guy didn't realize it was mine and couldn't find another?  No idea.  Fortunately, this was in a section I did not care a lot about and had not viewed yet, if it had been, or if it involved pages I had already written on, I'd have had Stack's-Bowers pull the security camera footage, ID'd the guy theatrically like in one of the Poirot detective shows on PBS, demanded my pages back and then humiliated the guy here publicly using extreeeeemely flowerly language.
Instead, I finished up uncontroversially, packed up and headed to dinner with a dealer friend before calling it a semi-early evening.
Allowing us to be ready to go on Wednesday for a second look at a few key lots, a tour through the wholesale rooms, a visit to PCGS to drop off some submissions and then the start of the first auction session at precisely 4 PM.
So we should have plenty of blog fodder for the next installment of the RR to be posted right here in just 24 hours from now –
Until then,
February 27th:  Day 1
We set the alarm early on Wednesday, knowing we'd need to get a fast start to accomplish everything on our jam-packed numismatic agenda.
Fortunately, our hotel room next door neighbor was extreeeemely helpful in this regard, first by blasting his TV at 4:12 AM to make sure we were awake, then by making loud farm animal noises for the next 2 hours interrupted by the intermittent loud crackle of what I think was a walkie talkie to make sure we didn't fall back asleep.  About which I can make three comments:  1) This is 100% true, I swear it, 2) I have absolutely no idea what the heck was going on in there, and 3) I'm not sure I want to.
Whatever it was, it was sufficiently annoying that I inquired at the front desk about changing rooms, literally the first time I have ever done that in 30+ years of world traveling, including the time I found a rat in my room at Brown's Hotel in London (that's also absolutely true).  But the clerk assured me that that guy had left minutes earlier, so we decided to stay put.  So check back in here at 4:12 AM tomorrow morning and see if he actually did.
Anyway, our early start allowed plenty of time to hit the gym and then eat breakfast while seated at a table in the restaurant (as opposed to doing so while running to the convention center).
Which is where we headed next, zipping through some of the wholesale rooms (which were already going gangbusters at that time) before parking ourselves back at the lot viewing room to re-look at a bunch of coins of interest while also zealously guarding our catalogs from would-be page rippers.  A process that took about 2 hours, including a bunch of waiting time for the boxes we needed and once again illustrating why we typically fly here early on Tuesdays to avoid the rush.
Fortunately, we confirmed everything we had thought on our first run through the lots, and didn't have to change any of our bidding plans.
Then raced on to the security room to dump our inventory right as they opened at noon, save for the coins we'd be walking over to the PCGS pre-show submission room at the Marriott which would be our next step on Wednesday.  Then eating lunch efficiently in the lobby restaurant there while simultaneously talking to a bunch of customers on the phone, before racing back to the convention center to meet with another dealer to talk about an upcoming deal.
And then walking all the way back to the Sheraton at about 2:30 to enter our bids, finally returning just minutes before the start of the first Stack's-Bowers auction session at 4 PM.
Phew, I'm exhausted just typing all that.
The good news is that the actual auction went very well, with us buying much of what we wanted from another group of nice, long-off-the-market colonials, while exercising excellent restraint not to chase others that were either too much money or things we didn't really need.  It also moved at a brisk ~100 lots-per-hour pace, about twice as fast as I personally feared, allowing us to finish up at a reasonable hour and then have a late dinner afterward at the Hilton with some dealer friends before one last, long walk through the convention center back to the Sheraton.
Where we talked to a couple of west coast customers, sent out 42.5 emails and then finally called it a 17,000 step, 22-hour day.
And it will likely be more of both on Thursday, as once again we'll be up and out early for the 8 AM start of dealer set-up and with it the usual frenzy of activity to set up the table, race around the floor like a wildman to find cool coins before someone else buys all of them and then be perched at our table when they fling the doors open to the public.
So that we can then blog all about every single thing that happens right here on Friday AM.
EOM
February 28th:  Day 2
It turned out to be true – he DID check out (referring of course to our high volume former hotel room next door neighbor).
Which allowed us to rise peacefully on Thursday, write the blog, answer email and visit the gym before beginning the looooong trek to the security room at the convention center to retrieve our bags, stand in a semi-interminable line to get our show credentials and then join the queue at the bottom of the escalator waiting to get into the bourse room when the doors would be flung open at precisely 8 AM.
Actually I should say door, as in singular, and also note that it appeared to be juuuust slightly narrower than a standard door, and one that was only propped open to an angle of 87 degrees, making our ingress challenging and awkward, but less so than it was for most of the people hauling huge bags or pushing carts like a tugboat might push a barge up the Hudson.
Once inside we reveled in a comparatively luxurious space, made our way to the CRO booth, set up in near record time and dove directly in to what would be mostly non-stop numismatic action for the next, oh, 9 hours.
And we got off to a fast start, buying a bunch of cool coins, splitting a surprising number of raw pieces offered to us by a like-minded dealer and making one pretty big colonial trade in the first hour or so.
We also quickly evaluated but ultimately passed on a couple of other deals (including one that probably would have made solid financial sense, but was large, heavy, awkward and frankly just too much trouble to pursue).  Which is one of the great advantages of owning your own coin business, namely that we can choose the things we wish to handle, or not, based on the criteria of our choosing: How are we going to get this home? How long will it sit on my desk before I am able to get to it? How many months will it take to grade, image and finally bring it all to market? How likely is your author to be injured trying to lift it?
It was in the midst of pondering these important questions that we realized we forgot to eat breakfast, a nearly astonishing revelation which I can't recall ever happening before and testament to our deep concentration and laser-like numismatic focus at this show.
But one that we quickly resolved by eating some sort of egg thing while reviewing our first wave of grading results, including some decent ones that I think were extremely well deserved but which don't always happen until we sell the coin(s) to someone else.
With more business continuing apace throughout the day as a steady stream of our regular Baltimore visitors came to the table, with many buying a coin (or two, or six), or offering us one (or, in one case, 19).
Of which we made all the deals we could while trying to manage our budget knowing that one medium-sized deal on which we made an offer is still pending, we'd probably find more cool coins to buy on the bourse floor, other things would walk up to the table (as is usually the case here) and there were plenty of high interest auctions lots yet to come.
Including in the Stack's-Bowers session beginning at 5 PM, which we started to prepare for late in the afternoon and then followed along on their excellent app at the show and then, intermittently, as we got into an Uber to head to dinner.
But while the app worked great, the Uber driver did not, ultimately taking us to the wrong address in an unfamiliar part of town.
And while that could have had an extremely unhappy ending, it turned out we were only about a block away from the restaurant we were aiming for, as confirmed to us by one of our would-be dining companions, first by phone, and then by yelling to us down the street when he saw us standing on the corner.
Where we had a fantastic meal and talked numismatic data bases late into the night in a conversation that was waaaaay more interesting than I'm making it sound.
Eventually heading back to our hotel at about 10 so I could discuss upcoming auction lots with a customer we are representing, answer emails and finally get to bed at midnight so we'd be ready to do this all again on Friday.
More later –
March 1st:  Day 3
Great news everyone –  it's time for another CRO Yin and Yang installment of the RR starting right now:
Yin:  Ran out of time on Friday morning and could not get to the gym.
Yang:  Remembered to eat breakfast.
Yin:  Kept wishing we had stayed at the Hilton this week to be closer to the bourse floor location at that end of the convention center in Halls F & G.
Yang:  Discovered that we had been taking the long way walking back and forth each day and it's really not very far from the Sheraton if you go the direct route.
Yin:  Had a new customer buy one of our favorite coins off the site last week and then cancel the order before we could even ship it out.
Yang:  Satisfyingly sold that same coin here at the show on Friday to a different customer who appreciated it as much as we do.
Yin:  Didn't get all the grades we thought we deserved.
Yang:  Enough of them worked to justify the time, effort and expense to submit them all here.  So I guess we can't complain that much.
Yin:  Was not able to buy that medium-sized deal mentioned yesterday.  Apparently our offer was the highest received by the broker representing the collector-seller, but the guy decided he wasn't ready to let it go yet.
Yang:  Bought a lot of great things on the floor, including a fantastic Seated Dollar, some neat CWTs, some wicked Pillars, a mastodon of a Bechtler $1, some wholesome-as-can-be US type and a magnificent, original Choice Unc. Central American Republic 4 Escudo which was the single coolest thing we've seen here (so far).
Yin:  Too bad all those cool coins in the Liberty Seated Collectors Club "Seated Fest II" display are not for sale.
Yang:  Just seeing those CC Trade Dollars alone was worth the trip here.
Yin:  Has not been the busiest Baltimore show we've ever attended.
Yang:  Did manage to sell three coins here for more than $25,000 each.  And of course the show is not over yet.
Yin:  Got outbid on about 2/3 of the auction lots we targeted in Stack's-Bowers Twin Leaf colonial auction on Friday night.
Yang:  Bought the other 1/3 for about 2/3 of our max bids.  Do you know what I mean?
Yin:  It looks like we might get delayed or stuck here Saturday night based on the snow forecast back home.
Yang:  Why would we want to rush back to be in a blizzard?
With the answer to that and other important questions to be posted here bright and early on Sunday AM (possibly but hopefully not from a hotel room near the airport).
Finito
March 2nd:  Day 4
It happened again.
Another guest in the room adjacent to ours, and another cacophony of loud talking and TV viewing commencing at precisely 2:26 AM which awakened your author with a jolt.  And as has been reported here in the past, when I'm up, I'm up, so I figured I'd use this unexpected bonus time to answer emails and texts, review upcoming US and world auction lots, update the site to reflect a bunch of sales and generally accomplish a lot in the next 4 hours.  So thank you bad hotel room neighbor #2 for boosting CRO productivity to an even higher level.
Which continued on as we packed up efficiently, checked out and made our way to the show for the final time this week.
Where we knew a loooong and time consuming to-do list would be waiting for us:
Pick up our auction winnings from Friday night.
Try to track down one we lost on an embarrassing bidding mishap.
Chase down a bunch of checks.
Deliver a few of our own.
Pick up the last of our show grading submissions.
Return some not-exactly-CRO-style coins that another dealer wanted to consign to us.
Look at a collection and decide if we want to make an offer on it before it gets consigned to auction.
Sort and drop off a ton of world coins for grading back at the office.
Fill out 52 forms and consign some coins to auction for customers.
Figure out how to handle our table at the next Baltimore show which happens to be during the same week as our son's college graduation.
Sort and organize a medium-sized mountain of show paperwork.
In and around which we'd be meeting with table visitors which turned out to be many more than expected on a surprisingly active Saturday.  At least for us – I'm going to go out on a limb and say some other tables were less active (since many were empty having been vacated early on this day, or even late on Friday by dealers trying to beat the weather, or maybe just tired after what had been a long week here).  Whatever the cause we should be pleased with it, since it probably drove even more people to our table #442 resulting in very good-for-a-Saturday sales of 11 coins, and the purchase of 3 neat new ones that walked up to us.
We also bought a couple more coins on the floor, including a couple of OGHs that weren't there earlier in the week (illustrating our long held belief that scouring the bourse floor and looking in every single case is good, but doing so multiple times at each show is better).
Then, suddenly, it was 3 PM and time for us to start packing up which we did expeditiously, headed back to the hotel securely, got into an Uber quickly and made our way to BWI real fast where we feared we might be parked for the next 6 hours or so amidst the aforementioned dicey New England weather forecast.
But whatever concerns we had were unfounded, since we made it home on schedule and without a hitch where we looked forward to sleeping in a very, very quiet room in order to be sufficiently well-rested to tackle the next EB which will go out on Tuesday at noon, as always.
SYMWTKAEOFT.
The End