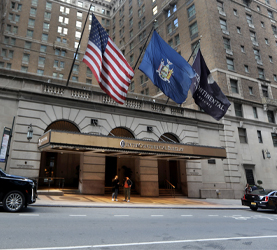 January 10:  Day 1
As usual, our FUN to NYINC transition has been juuuuust a little bit of a whirlwind.  To wit:
Got home from the FUN show at 1:15 AM on Sunday, leaving me about 48 hours to sort the show paperwork, unpack, do laundry, reformulate the inventory for a world show, sort a week's worth of mail and packages, curl in the competitive league on Sunday, go to the bank, ship orders that came in while we were away, talk to a bunch of customer, finalize a few deals from FUN and then repack before getting up at 3:30 AM Tuesday for an early flight down to NYC.
Allowing me to arrive here at the Barclays Intercontinental at about 11, discover that my room was ready, ditch everything there, head over to security, have some mediocre tomato soup at the Danish Bakery next door and then return to the hotel for 5+ hours of intensive lot viewing / wholesale room working.  During which your author carefully viewed coins for customers, and stock and bought a bunch of stuff from other dealers.
Then met my kids in Koreatown for some excellent Bulgolgi before coming back here and spending the next ~3 hours working on the 2024 Redbook pricing and auction link details.
Wow – that sounds exhausting, it did however add up to an extreeeeemely productive first day here.
With more fun sure to be had on Wednesday, as we'll view lots in two more auctions, do some spreadsheet reconciliations for customers, work the phones, update the site, do a new ad and try hard to buy a few more coins as more of the attendees arrive here for the show.
And then blog all about all of it right here in this space first thing Thursday AM.
January 11:  Day 2
Super productive coin dealer man (i.e. your author) would make another appearance here in NY on Wednesday:
Woke up early as usual
Wrote the blog at the little tiny desk not near any electrical outlets in my hotel room
Hit the barely adequate gym
Walked down to the New York Luncheonette on 50th and Lex for a reasonably priced breakfast
Reviewed the notes in my various world coin catalogs and marked all of the lots of interest on their respective websites
Went through the entire Stack's Bowers internet only sale online (since there is no catalog), and ID'd the coins I wanted to view in hand because doing it the other way – i.e.asking to see every single box in that massive session and finding the coins I like – would be just too time consuming and inefficient
Did spreadsheet recaps for 4 different customers
Called the airline to change my flight home
Talked to customers about upcoming lots and target bids
Made a deal with a customer on an early gold coin just acquired at FUN
Went to the Bowers lot viewing room to re-review some lots from yesterday, and then view the internet coins I had identified above
Entered all the updated auction lots on my computer
Had a tomato bisque in the hotel lounge which was significantly better than the version they sell at the bakery next door
Successfully bid in the Heritage US FUN auction session that started at 4 PM
Talked to several dealer friends afterward and compared notes on who bought what
Met my daughter-in-law in the lobby, went to registration and got her a show badge so she could help out at the table this week
Had a Japanese Sour at the hotel bar just as a well known US dealer that does not do any world coins unexpectedly walked in
Went to Little Italy for an authentic and very satisfying NYC pizza experience
Made it back to the hotel, finally, by 10 PM or so after accidentally entering Barclays Center (which is of course in Brooklyn where the Nets play) into my Uber app instead of Barclay's Intercontinental (which is in Midtown) – sorry Uber driver mysteriously named "C"
Chatted with a coin dealer friend at the bar
Went to bed
So of course we will be ready for action on Thursday with dealer set up starting at 8 AM, and the show open to the Professional Preview attendees staring at noon.
EOM
January 12:  Day 3
After months of anticipation, weeks of preparation and days of schlepping and sorting, we were delighted to finally enter the bourse floor here at the NYINC show for the start of dealer set up at 8 AM on Thursday.
Where we made our way straight to table #808, found our cases and lamps properly sorted and quickly achieved our goal of being set up faster than any other dealer in the room.  And there are solid, practical reasons for this:
We've got this thing down to a science
The faster we set up, the faster we can sell
As soon as we are up and running, your author can start rooting through the rest of the room (actually rooms at this show, as dealers are arranged in two ballrooms plus the open area between them) looking for cool stuff
And it worked well for us on this day, as we made several quick sales, and then kinda went nuts on the bourse floor spending about 100K in relatively short order.
All the while keeping our 2023 NYINC strategy in mind, namely that we wanted to buy a relatively smaller number of coins (say 10-20) of higher value, as opposed to some previous years when we left here with a gazillion coins of lesser value.  Of course it's easy to make a plan like that pre-show, but often hard to see it through since we have no idea what we'll encounter at any show and if we find some fantastic cheaper coins we'd certainly just buy them anyway.
But so far so good, as we snapped up some cool Thalers, some nice Mexican coins, a handful of better colonials and a neat Cap and Rays coin which your author spied early in the day in the display case of a guy who was never at his table and eventually secured after multiple trips back there.
Somewhere in the midst of this I met a customer in the lobby and sold a neat Classic Head Large Cent, bought another coin from a guy I met at the bakery next door and generally did some excellent business until about 5 PM when happy hour commenced at dealer friend Andy Lustig's table drawing a crowd of dealers and collectors alike.  And why wouldn't it?  In addition to being a consummate numismatist, Andy knows good wine.
After which your author eschewed a trip to the Harvard Club for the ANS Gala, and instead went back to Koreatown since we can't get that at home.
Returning to the hotel late and diving back into auction prep since it's going to get kinda crazy with all of that over the next few days.
We'll be back at it early Friday here, right after your author runs up to Heritage's NY office on Park Ave to pick up a US coin at 9 AM which will then be in our case at this show (since it is dated 1795 and thus 100% displayable per NYINC rules).
January 13:  Day 4
Certainly we never know what we'll find at any show, but at least at this one you can kinda assume it might be a world issue, an ancient coin or possibly a US coin dated 1815 or earlier.
You would not expect it to be a box of cool looking US classic commems, but that is exactly what it was on this day as your author sorted through a massive and unexpected deal of them and chose the most CRO looking ones.
Which when combined with the more predictable types of coins we snagged earlier in the show, and the half dozen more we bought from various sellers on Friday, brought our total NEWP count to 31 coins here.
Fortunately we made room for some of those by having a pretty good sales day here, including coins in all categories, some brand new, some we've had for a while, to collectors and dealers alike.
We also played a small role in a faith in humanity restoring event which started when a young collector came by our table Thursday and sold us a Mexican coin, then returned later to ask if we had seen a Chinese coin which had apparently fallen out of his bag somewhere in the room at some point during the day.  Unfortunately we had not.  Fast forward to Friday when another visitor of the super honest variety came to the table said "Hey, what's this on the floor?" and produced said Chinese coin which apparently had just been sitting there by the table leg the whole time.  So we made a quick call, reunited the owner and watched as a generous reward was offered and gratefully accepted sort of like in old James Stewart movie.
We then spent the rest of the day figuring deals, working on trades, looking for coins, schmoozing with customers and generally being very productive here at the Barclays.
Right up until 6 PM, when we had to get ready for the Stack's-Bowers Latin American auction in which we had a few bids for stock and for customers.  We planned to sit through the auction and then go to dinner afterward, but the pacing made that untenable, so we decided to bid using the excellent SB app while at some Sushi place on the west side with a good collector friend from Tel Aviv I have not seen since way back before Covid was a thing.
Returning to the hotel late and then working on auction stuff for today's session, and reviewing customer want lists just to make sure I am not forgetting anything here at the show.
Which will continue on what we expect will be a pretty busy Saturday with, if history is our guide, a lot more business to be done here.
And if it is, or even if it isn't, we'll blog all about it on Sunday AM.
January 14:  Day 5
While Saturday at most shows can be a sleepy affair, that's not been our experience in the past at the NYINC.
Nor was it this year, as we had another busy day at the table, meeting with a long line of collector attendees, showing coins, working on trades, handing out business cards, directing people to the website and generally engaging in exactly the kind of things we hope will happen at coin shows.
And while a lot of that may lead to business down the road, it also led to plenty of business right then and there, to the tune of our best sales day this week in units (though not in dollars), and including some new things we bought earlier this week, and other coins we have owned for a while.
With a lot of interest in colonials and US coins (many of which we had in the back case and not on display here in accordance with NYINC rules), but also pretty much everything else, as we also had a number of customers for Pillars and Portraits, as well as esoteric issues, World Crowns, cool medals, etc.
Interrupted only by an Asian Chicken Salad for lunch, a few more forays around the room looking for some last purchases and some feverish emails with dealer friends helping me value some potential trade ins that were not exactly in your author's area of expertise.  Nice to have a network like that at the ready.
So by the time we had to close up and get ready for the Stack's-Bowers auction in the evening, we we're kinda spent, so I once again decided to bid using the SB app while we zipped down to the Bowery for some wildly spicy Chinese food.
Once again returning to the hotel real late in anticipation of a busy and hectic morning in which we'll have to head out earlier than originally planned, giving us precious little time to scoop up auction winnings, pack up and head home.
From where we'll do a summary NYINC recap first thing Monday AM, including any last minute action here and ruminations about this event in general.
Until then, then –
January 15:  Day 6
Now back home in snowy New England, let's recap the NYINC show through a series of random observations presented in no particular order:
We like this venue and we like this part of New York, and it seems like attendees do too as the show was crowded and active throughout.
It is interesting to see the wide variety of people who do come in, from Captains of Industry (literally), to local guys collecting on a sliiiiightly more modest budget.
It is fun and fascinating to see people from all over the world at these shows making for some pretty lively interactions on the show floor, at the auctions, and of course at the hotel bar.
While our young collector friend was fortunate that the coin he dropped on the floor was found and returned as described in our Day 4 RR, not everyone here was so lucky.  There was a major theft at the show when someone broke into the back case of another dealer friend and stole a large quantity of high value coins.  Word of that spread on Friday / Saturday and obviously is deeply concerning to all of us in the business.  It seems like that should be preventable, but apparently not.
The show continued on after that, including at the table of the dealer directly affected.  And while I'm sure insurance will cover it, it's just the worst thing about this business.
In total, and despite that nauseating development, this turned out to be an excellent show for us overall, with strong sales, strong buying and what I would describe as disciplined auction bidding in which we got many coins we wanted at less than our max, but did not stretch for some really cool ones going too strong (and believe me, plenty did).
We will definitely be back here next year, though with perhaps a slightly different mix of price points, and a more diligent approach to security (including things we will implement at all other shows going forward).
And now we will be sorting coins, shipping coins and photographing coins for our next EB scheduled for Tuesday, January 24th and containing some absolutely wicked material.  So you might want to keep an eye out for that.
Finito