January 15-16, 2008: Stack's Americana Auction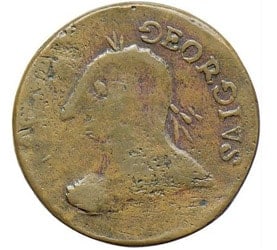 Because we hadn't quite had our fill of coins at the FUN show, we were delighted that Stack's had scheduled their annual Americana auction (plus some cool world coins and notes in a total of 4 robust catalogs) for Tuesday and Wednesday this week in NYC.
As the reader may recall, our intent was to capture one day at home after the FUN show before heading into the city, but the weather made that impossible for 50% of the CRO staff, forcing Dave to go straight from FLA to NY with not only no clean clothes, but also with no winter clothes in his bag. Which meant that he had to buy an entirely new wardrobe in NY at the crappy souvenir shop next door to Stack's and thus was seen patrolling the posh hallways of the Parker Meridian Hotel (home to Stack's auctions) in a variety of brightly colored "I LUV NY" sweatshirts. But at least he was clean.
I arrived Tuesday AM for some rather high-speed lot viewing and discovered nearly the entire membership of C4 (the Colonial Coin Collectors Club) perusing an offering with a number of significant highlights:
First up would be Robert Vlack's collection of French Colonial coinage. Some may know that Mr. Vlack authored the new and now definitive reference on French Colonies Billon coinage and plated many of the pieces in his collection in the book – making this a meaningful offering for the specialists.
Next up would be the Rosa Americana, Hibernia and New Jersey collections formed over several decades by long time C4 member and colonial research enthusiast John Lorenzo, including a number of important rarities pedigreed to the famous collections of Norweb, Taylor, Oeschner, Ford, etc.
Followed by the particularly interesting collection of counterfeit English and Irish Halfpennies assembled by the late, great Mike Ringo. As a series, these are fascinating, ranging from the refined to the incredibly crude, in countless varieties made to circulate in the early colonies and thus eminently collectible by colonial specialists. The fact that Mr. Ringo's collection must rank among the finest ever formed ensured some robust bidding on these pieces.
Mixed in too were a few smaller consignments including two (!) Higley coppers, a newly discovered unique Fugio variety and other assorted goodies.
The colonials would be followed, as per usual, by some interesting medals and exonumia, and then a long run of US type coins in copper through gold, some which had been seen in relatively recent auctions and others which had been off the market for a very, very long time.
Dave and I stayed through the session on Tuesday, and then I went solo on Wednesday, giving Dave a much needed rest and taking advantage of CRO maxim #423: If either of us is at a show or auction by ourselves, we get to buy whatever we want. And believe me, I did.
Notable to me were the following lots scattered throughout the days:

Lot #5592, the 1722 Hibernia 'Rocks' Halfpenny
This is an interesting coin, long included in the Redbook as the first of the Hibernia series but almost never seen (in stark comparison to the relatively common, standard issue halfpennies of 1723). The specimen in the Lorenzo collection was a pleasing VF traced to the Norweb collection and hammered for a reasonable $9,200.
Lot #5608, the 1766 Pitt Farthing
Another major rarity, though this was a grounder (i.e. a coin that had been buried for a long time) and was, as a result, pretty corroded. It did have excellent detail, however, and must have been near unc. when it first went 'under'. We last saw this specimen on Ebay before it was picked off by a knowledgeable collector, then consigned here, where it sold for $5,462.50.
Lot #5705, the 1787 New Jersey Copper, Maris 48-X
The single most expensive coin in the Lorenzo Collection, the 48-x probably would not have impressed the Registry crowd (since it was pretty low grade and not a whole lot to look at), but it did represent the finest surviving example of the Maris 'X' reverse. Which made it especially desirable to the specialists to the tune of $43,125.
Lot #5611 and #5611, the two Higley coppers
The two Higleys in the sale (which were more than representative examples of the type) went unsold. The first opened at $90,000 followed by crickets chirping, while the second opened at $115,000, received one floor bid at $125,000 followed by the 'book' at $135,000 and that was it. I didn't expect that. Not because those are low numbers, but because other more common and frankly less sexy pieces have sold for that much and more (much more) in recent auctions.
Lot #5773, the newly discovered, unique 1787 Fugio 13-JJ
Consigned in a non-descript offering, this coin looked pretty much like any other common variety, $800 (in this grade range) Fugio. But it wasn't. It turned out to have been struck from a previously unknown reverse die and thus became of near obsessive interest to the die-hard collectors in this series, finally succumbing at $109,250 after a spirited romp between two major collectors. it is not often that a Fugio sells for more than a Higley in an auction, but (had someone bid on the first Higley) that might have been possible in this instance.
Lot #5872, the 1772 'Banana Nose' Counterfeit Halfpenny
Of all the counterfeit halfpennies in the Ringo offering, none were as sought after as the 'Banana Nose', named, not surprisingly, for its absurdly crude, folk-arty rendering of a guy with an absolutely gigantic schnoz. Of further interest, this piece had formerly resided in the collection of famous sportscaster Chris Schenkel, who, to the best of my knowledge, never once mentioned this coin while he was covering bowling on the Wide World of Sports in the 1970s. It sold for $18,400 to a serious collector (and seemed like a pretty good deal to me at that level).
Lot #8020, the Chain Cent
A generally pleasing and about 80% wholesome Chain Cent in a PCGS XF40 green label holder hammered for a robust $55,000 to a podium bidder. And while it was not perfect, it was an awful lot better than some we've seen in similar holders in recent years.
Lot #8388, the Ubiquitous 1795 Flowing Hair Dollar
On a less positive note, this is a coin which I have now seen offered countless times in auctions in the last several years. Frankly, I'm tired of it. Evidently the other bidders were too, as it went unsold (again).
Lot #9111 and lot #9153, Rare $20 Libs
These two reasonably wholesome rarities saw plenty of bidding action among several groups of gold-expert bidders, selling for $241,500 and $253,000 respectively.
In total, I sat through about 4,000 lots over two days, expending 11 hours of my life in the process and buying some 33 coins during the session (which is actually a lot for us).
But with that behind us, we are now officially back in the office on Thursday and Friday this week, but off again on another merry jaunt to view a collection next week. Proving once again that there is no rest for the weary.
On the other hand, it sure does beat working.