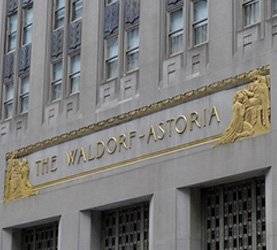 Normally we wouldn't write a Road Report for a mere auction viewing trip, but we're going to make an exception in this case for two reasons:
To highlight the challenge this overlapping NY International vs FUN Show schedule presents for dealers like us, and
To get full credit for the amount of travel hardship we're willing to endure to acquire cool coins for the site.
Which in this case began with a 3 AM Saturday wake up call and trip to the airport so we could arrive at the elegant Waldorf Astoria Hotel at the very beginning of lot viewing.  Thus allowing us enough time to see the several thousand cool world coins being offered in a series of NY auctions which will start Sunday evening January 3rd and continue all week while we are in Florida also trying to focus on coins being sold down there.
Lot viewing which took us about 7 hours (including a typically elegant NYC diner lunch) during which we ended up identifying about 100 coins throughout that we wanted to try to buy.  Quite a few of which were a surprise, since some of the coins looked a lot different to us in hand and could not (or should not) have been bid on based only on the photos.
And then wisked ourselves back to the airport for a relaxing evening flight which would then be delayed due to mechanical failure, and then replaced by a second aircraft which would also experience a mechnical failure and then replaced again by a third plane which actually did take off at about 2 AM allowing your author to retun home and get back in bed at 3:17 AM, a nice, symmetrical 24+ hour, exhausting, numismatic day.
And the best thing to do after that?  Why of course to jump on another plane and zoom down to Florida on Tuesday so we can do it all again.
On the other hand, I'm really glad we did this, and we are in pretty good shape to go after some of the cool stuff that other dealers may not have seen (and to avoid the ones that we would have been very unhappy to own).
EOM