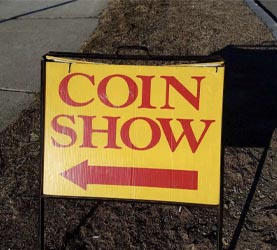 After our marathon two week FUN Show to New York International Numismatic Convention Metroplex (in which the urban sprawl between the two shows merged into one), readers may have assumed that CRO would be kicking back and taking it easy this weekend.
And if they did, they'd have been wrong.  WRONG.  W—R—O—N—G.
Instead, we were up at 5:30 AM on Sunday prepping for the newly located, formerly Westford, MA Show now in a shiny new venue in Devens, MA (which your author had never heard of despite living here since 1998!).
And I have to say I was favorably impressed with the place, and with the job show organizer Ernie Bott had done getting it all set up. Meaning that all us dealers had to do was show up, display our wares and conduct as much local flavored numismatic business as possible.
Which turned out to be more than we might have exected, as we bought a bunch of coins from multiple different dealers and collectors in the room, considered a few others, passed on some that didn't quite fit the program, made one trade, sold 2 coins and, as is the case at nearly every show we attend, large or small, saw at least one thing we have never, ever encountered before (which we will not mention, yet, since we are still hoping to buy it).
Leaving at about 2 PM to get home in time for some very serious paperwork sorting as we attempt to continue to unbury ourselves from that onslaught of early January and roll into next week with a clean slate.
The End