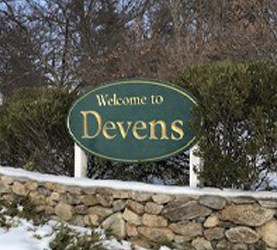 January is always an active month for us, and that would continue on this day with the first Devens, MA show of 2023.
So of course we were up and out early, arriving at the show at the crack of 8:30.
Where we immediately (and predictably) set up the table in no time flat.
And then met with a bunch of local customers and dealers, showing coins, talking coins, selling coins and buying a respectable eight (8) pieces in the colonial, US and world categories.
Some of which may possibly appear on Tuesday's EB, others which will be off for grading during which they will disappear into a figurative (but also sort of literal) black hole and not return for months.  And when they do finally come back, it will be a little bit like Christmas, since we will by then have long forgotten what was in the package and open it with a sense of wonder and glee like a child.  So that's nice.
Nice would also be a good way to describe this show, as well as productive, useful and, importantly, efficient, as we were in an out in about 5 hours.
Allowing us to get home just in time to dive back into EB prep for our aforementioned next installment on Tuesday.
So you might want to keep an eye out for that.