January 25, 2012: Stack's-Bowers Americana Auction in New York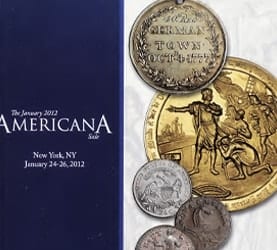 Just back from our annual pilgrimage to the Stack's (now Stack's-Bowers, of course) Americana Sale, we are pleased to present this quick-hitting, no-holds-barred, profusely illustrated auction recap Part I for your reading pleasure.
And for those who are unfamiliar, this January auction is typically heavy in colonials and esoteric items, and this year was no exception, but at the same time exceptional, including several different consignments of mostly raw coppers anchored by the "SLT Collection", the decades long labor of love of beloved dealer, collector and friend Steve Tanenbaum, ranging from things like this high end mint state 1788 Connecticut Miller 3-B.1 (all images courtesy of Stack's-Bowers):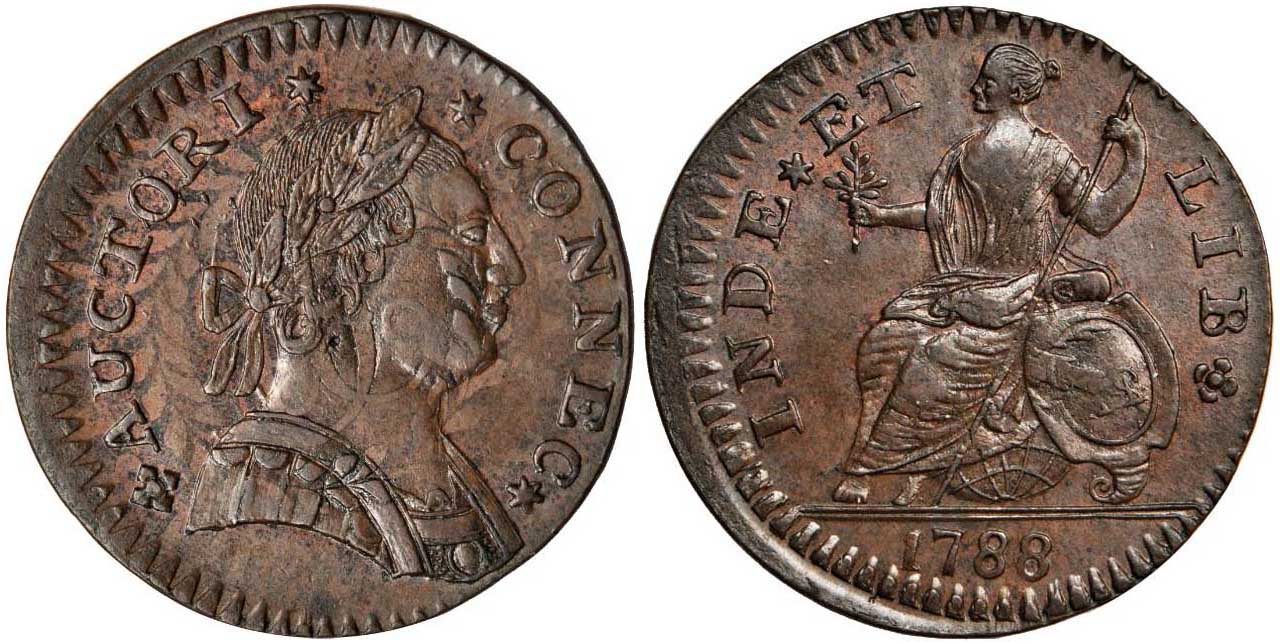 To this New Jersey Maris 31-L in sliiiiiiiiiiightly lower grade: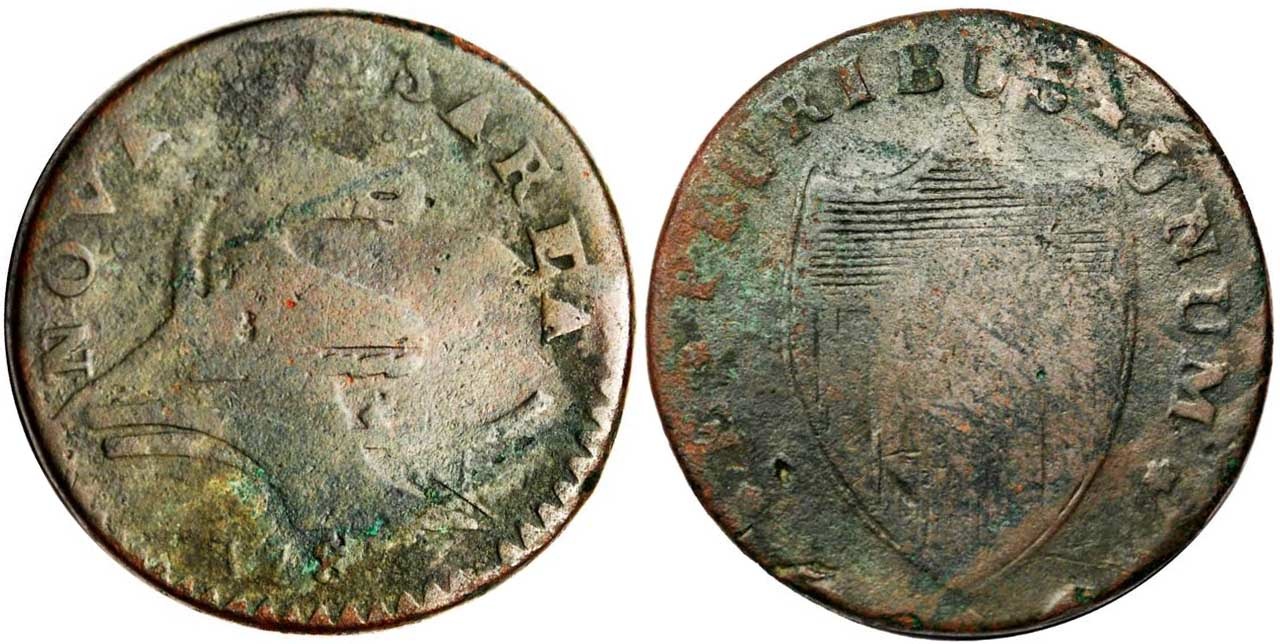 And including everything in between (if 'everything' refers to Connecticut and NJ Coppers from common to über-rare), with pedigrees of all shapes and sizes like these (to name just a few):  The Garrett Collection, the "Pocono Hoard", the John J. Ford Collection, an outdoor flea market in 1993, The Norweb Collection, Susan and Richard Sisti's 1986 Casar Sale (I have no idea what this was, but it sounded cool) and some place called "Asia Mail Coins", which suggests that Steve bought his coins anywhere (and everywhere!) he could find examples that he needed.
Numismatic oddities and curiosities were well-represented too, like this piece on which someone, apparently long ago, inexplicably wrote CANCEL very neatly on the upper obverse in what appears to be Palatino all-caps 4 point font: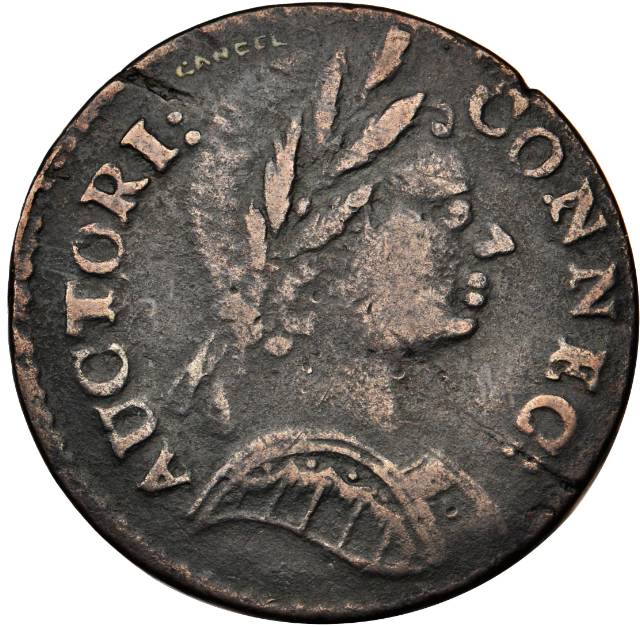 Or this reverse brockage which looked suspiciously like a mudpie: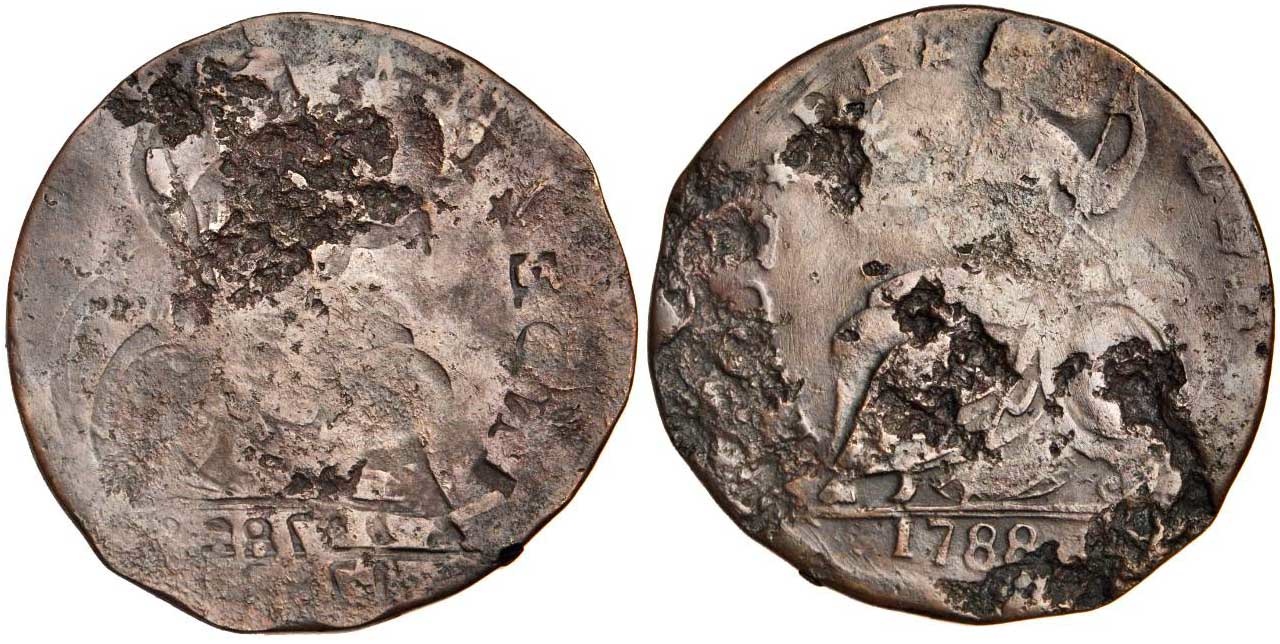 Juxtaposed against this absolutely lovely double struck example of a 1788 Connecticut M.15.1-L.1 with two bold dates: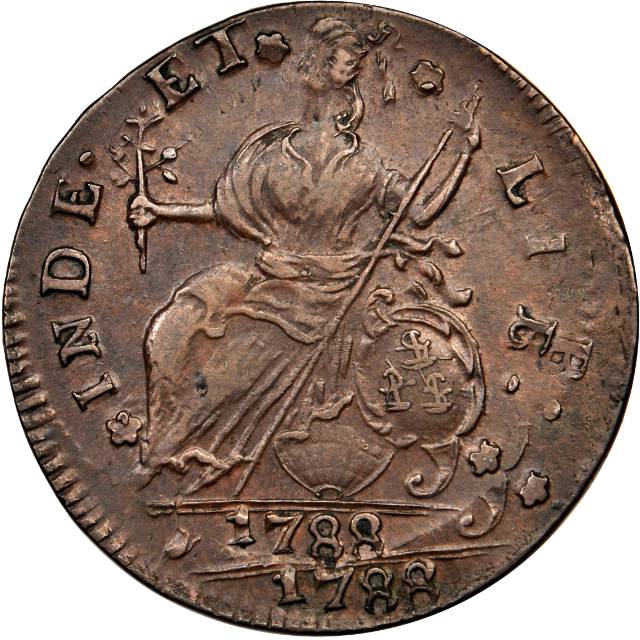 Perhaps the most accurate way to characterize the session overall would be 'staggering', since that describes both how your author was moving (after waking up wicked early to catch the first morning train to New York, viewing lots all day long and then bidding until 12:30 AM), and many of the prices realized (as in they seemed really strong to me) in a well-attended session in which all of the usual suspects were present.
In an effort to present a balanced view, however, I should mention that some collectors and dealers thought prices on some of the rarest pieces were on the weak side, since different examples of the same varieties had sold for more (sometimes much more) in recent years.  In this thinly traded field, however, prices seem to be dictated more by 'who needs it' than by rarity ratings or the strength or weakness of the market.  Meaning that if two well-heeled collectors need a particular variety then it is sure to go the moon.  But if one of them already has it, the same coin might sell for, oh, I don't know, 80% less.  I have heard similar assessments of other series as it relates to Registry and other buyers, so this phenomenon is certainly not unique to Connecticut Coppers or colonial coindom in general.
In any case, a few of the notable results were as follows:
Lot #7085, a an R-6+ 1785 Connecticut 6.4-F.5 in nice VF brought $12,650 and thus signaled to me that prices in this session would be strong, since this same piece brought 'just' $8,625 in the Ford sale in 2005.  Granted that was 7 years ago, but that had been a very strong session, and I actually expected this piece (and others) to sell for less here than they did there.  Which was my first wrong prediction of the evening.
Lot #7128, a 1786 Connecticut Draped Bust Left (a sleeper Redbook type, since most 1786 varieties have a Mailed Bust portrait) from the Norweb Collection with choice golden brown color did not go unnoticed, bringing $9,775.
Lot #7132, an R-7 Muttonhead 1.2-mm in crusty F15 was the first really big price of the evening at $109,250, and was, unless I am forgetting something else, the most expensive coin of the night.
Lot #7237, one of a number of very choice Connecticut error coins listed throughout the auction brought a very fair $4,600 to a specialist.
Lot #7310, a 1787 Connecticut 33.29-s.1 described as "Rarity-7+, One of Three Known" in lovely, unflawed VF with good color, brought what seemed like a bargain $11,500, which was partly explained by the collector seated next to me who noted that he was actually aware of 6(!) different examples of this issue.  Still, this might be the finest known of a type for which lesser specimens realized ~$45,000 and ~$25,000 in recent years.
Lot #7422, that choice unc. 1788 M.3-B.1 pictured at the top of this RR (and one of the absolute highlights of this or any Connecticut Copper sale) sold for $48,875 to a well-known dealer who just missed out on this piece when it last sold decades ago.  Which gives you some idea how frequently some of these desirable pieces trade, and how fleeting the opportunity to acquire them can be.  So while I can say that the price realized was a bit more than I expected, I can certainly understand it.
Lot #7440, the 1788 Connecticut Mailed Bust Left ex-Eliasberg which was technically unc. but with an off-center strike, a moderately distracting line in the middle of the obverse and some unusual iridescent color indicative of an old cleaning still realized $19,550 all-in.  That was considerably higher than our estimate, and another demonstration of the power of the Eliasberg pedigree.
Lot #7454, the Double Struck 1788 piece shown above with the two bold dates brought $7,762.50 to another specialist.
Lot #7503, the very rare 1786 New Jersey Maris 9-G brought $48,875 to a serious collector who paid significantly less than we expected for this one.  Frankly we thought it might frighten the 6-figure mark, but with nearly every specialist buyer either in the room or aware of this session, I guess that was the level of demand.
Lot #7640, the rare 1785 Vermont Immune Columbia in close to basal state consigned by a collector friend realized $4,887.50.
Lot #7751, the best Washington North Wales with 4 Stars your author has ever seen and also notable for its pedigree listed as "ex-Cokayne (not cocaine) Collection" brought a worthy $25,875.
And let's not forget the Mudpie coin, which sold for $287.50 to a well-known dealer whose initials are not CRO, indicative of another trend this evening, which was the vast number of different successful bidders.
Speaking of which, how did CRO do?  Well, decently, I think, as we bid on 80-something coins and won 39.  And while we should be happy with that haul, I cannot help but think of the few that got away and if we should have gone a bid or two higher.  Too late now, though, and no point lamenting what might have been.  Instead, we'll forge ahead, which in this case means submitting them all for grading and then launching them onto an upcoming Early Bird with much fanfare.
So you might want to keep and eye out for that.