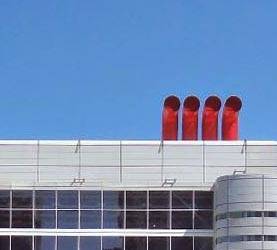 After some extensive advanced planning (which began last week), I decided to make the trip to Houston this week for the 50th annual Money Show of the Southwest.
Show Promoter Carl Schwenker does a great job getting the word out, I heard good things from other dealers and so I figured I'd head on down for a couple of days, walk the floor and, possibly, buy a coin or two while I'm there.
So I quickly booked my flights and hotel, got to Boston's Logan Airport at about 6 AM on Thursday and was pleased to run into another coinite on the exact same schedule. Numismatic camaraderie, you can't beat it.
We got to Houston and checked in to the elegant Hilton Americas Hotel at about 11, then killed 3 hours until the show opened primarily by eating like zoo animals.
The show was held in the convention center connected to the Hilton by "Skyway" and is located just next door to Minute Maid Park (home of the Houston Astros), which seems spectacular and which I am proud to say that I think I helped pay for via the 'Sports Authority Tax' added to my hotel bill.
The convention center is huge, with an interior not unlike the inside of a large container ship (complete with portholes). There were a couple of other events going on at this time; one for PRI-MED (some sort of pharmaceutical industry gig) for which there were 847 signs everywhere, and another for some kind of antique furniture which had evidently just been varnished. The Coin Show was held upstairs, way in the back, and wasn't particularly well marked, resulting in us getting lost in a back hall at one point and necessitating two out-of-shape middle-aged coin dealers to attempt a dangerous leap over two railings to get from one concrete staircase to another without a net. I am pleased to announce that no one was injured during this stunt.
Anyway, we did finally locate the bourse and arrived in time for the 2 PM start. Once inside, we found a good mix of national and local guys putting coins out at a very, very leisurely pace. Dealer set-up was scheduled from 2 – 7, but half the tables were basically empty until 4:30 or so, with some of them never occupied, including a few last minute cancellations, and one glaringly empty spot which had been reserved for a dealer who shall remain nameless, but who has been discussed ad nauseum in various chatrooms due to some apparent financial issues. There, that should be vague enough to prevent us from being sued. But eventually the room did fill up.
As for the actual coins, there were all sorts of things of various shapes and sizes, from inexpensive collector coins to some six-figure items and everything in between. And absolutely no shortage of moderns. Not a lot of fresh new coins though.
At shows like this, I like to spend the majority of my time going through the local dealers' inventories where there is a chance, however small, to unearth some hidden gem or cool coin that was not sold in the last Heritage auction. One dealer in particular had an incredibly diverse group of coins, from US to foreign, odd tokens, sets in Capital plastics holders and some 3rd world slabs mixed in, all piled up in his cases and hard to see. But there were enough high grade coins and interesting things to make me think it was worth rooting through his entire inventory, so I did. I went through every single thing he had on display and in boxes in the back and I found two neat coins that I never see. And believe me, I've been looking.
In total, I probably went through 2,000 coins at the show and bought just 6 (six).
I also brought a few things with me to submit to PCGS, but was disappointed to learn that the $100 walk-through submissions wouldn't be done at the show and would instead be shipped back to us next week. PCGS would guarantee that the $200 submissions would be done on site, but I couldn't bring myself to reach that far into my wallet. Apparently, some enormous firm submitted 80 gazillion coins for grading on site and that gummed up the works for the rest of us.
One neat thing about the Houston Show is that they hold a BBQ dinner on Thursday evening for the dealers as so signified by Mr. Schwenker walking the aisles and ringing a dinner bell at about 6:30 PM. Nice touch, I thought. I'll admit though, I didn't partake, instead choosing to meet with dealer extraordinaire Harry Laibstain at Spencer's Steakhouse at the Hilton. If you are in the area, I would highly recommend it.
Thats pretty much it. We headed to the airport at about 2:30 PM Friday for the flight back north which featured the second worst landing I've ever personally experienced on a fixed wing aircraft. My worst one involved landing gear that would not go down, which would be hard to top (while still being around to write about it). But here we are, unscathed, still typing, and looking forward to the next event – a little foray called the Long Beach Expo.
Until then, then.