January 26-28, 2011: Stack's Americana Auction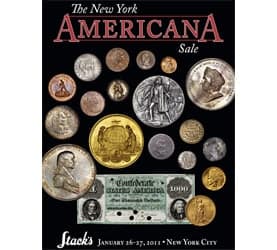 January 26th:  Day 1
Good morning everyone. Today we'll be discussing our trip to Stack's annual Americana Auction, in which a slew of early American coins, medals, exonumia and other assorted hoo-ha is auctioned off right in the heart of NYC, this year in a 2-day, 306 page, 2,812 lot affair.
Ah yes, but getting there is all the fun, beginning with standing on a frigid train platform at 6 AM for about 20 minutes, during which a high-speed commuter train roared through, kicking up a wake of fine, sharp snow which was deposited directly into your author's face at approximately 60 mph. Fortunately, I was wearing only a light jacket at the time, and was thus able to fully participate in this fine New England weather.
I would not be taking that train, though, instead I'd be on the Acela, Amtrak's flagship ultra-modern, high speed train which whisks commuters to their northeast corridor destinations in comfort, and style, and, in my experience, is on time once out of every 17 trips.  And that one time would not be today, as we advanced not more than 300 yards from our starting point before grinding to a halt while the maintenance crew tried to fix what was described on the PA system as a "broken switch" up ahead.
Still, this sounded better than the time the tracks were totally flooded (though I did peek out my window that day and see a small fish swimming by, which my daughter would have enjoyed very much if she had been with me, which she wasn't), and a far cry from the time the overhead wires went down and we got stuck outside New Rochelle for 8 frickin' hours.
Anyway, I would eventually make it to NY only about 45 minutes late, navigate the cab stand at Penn Station while avoiding the massive puddle along the curb that swallowed the elderly woman in line ahead of me, make it to Stack's on West 57th Street, get out of my cab while accidentally (though heroically) ripping the handle off my luggage (a trusty piece that I have been carrying around the world since 1989, but which will now be retired), meet up with our own Dave Wnuck, and begin the hard work of analyzing, studying, viewing, debating and valuing the lots.
Not that we hadn't been doing a lot of advance scouting online – we did – but, as always, some of the things we liked on the Stack's site looked absolutely disgusting in person, while other things that I had dismissed on the internet actually looked pretty nice in hand.  Which should suggest that, even though it can be pretty tough on your luggage, actually coming here to view these lots in hand is m-a-n-d-a-t-o-r-y (unless you don't mind being horribly disappointed when the stuff you won at auction shows up in the mail).
Anyway, we viewed lots carefully, compared notes, argued about one coin so vociferously that we created a minor scene, ate the lunch brought in from the Carnegie Deli, did not eat any of the multicolored donuts artfully arranged on a big tray and ultimately figured out what we would be bidding on, and how much.
While we were doing this, we had to keep one eye on the auction which was actually already taking place right there in the same room, starting with federal coins and running for much of the day. And we were moderately successful doing that, buying a bunch of coins in different categories, missing out on some very nice things that just went too strong and then eventually calling it a day, with Dave heading back home, and your author braving a lovely sleet storm on the way to my hotel, so I could sit in my room, re-review all of our lots, and bids, and type this blog so that it would appear on our website before anyone called to complain that it wasn't up yet.
Tomorrow we'll recap how it all turned out in extensive detail, hopefully typing from the comfort of home, and not, for example, from the train which could, by then, conceivably be stuck in a snowdrift just outside of New Rochelle.
Until tomorrow –
January 27th:  Day 2
I woke up on Thursday, got organized and walked directly into this scene in front of my hotel: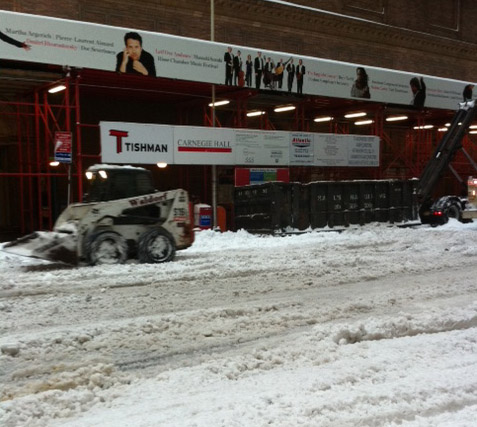 While it may not be obvious, that is actually 7th Avenue just underneath all that snow, imaged by your author to document the occasion, but also because I liked that little truck and wanted to bomb around in it like a madman the way the guy driving was, smashing into snow banks, doing giant donuts and basically make an even bigger mess than was already there.
Fortunately, it was just a few minute walk through this stuff over to Stack's for me – unlike the treacherous and, in some cases, very, very long drives other would-be bidders would be making to get here in time for the 10 AM start of the auction.  As far as I know, though, everyone did eventually make it, including one well-known dealer who arrived just in the nick of time to execute a highfalutin bid for a client and win a coin that might well have been a once-in-a-lifetime opportunity.
To Stack's credit (since their employees struggled to get here, too), the auction started pretty much on time, without much of a hitch, beginning with the colonials, and generating some interesting results almost right away:
Lot 5805, an American Plantation Token 4-D variety described as a die combination "whose existence is not confirmed" in the Whitman Encyclopedia of Colonial & Early American Coins (slightly bewildering, since this particular example has been known and was described accurately, as noted in the current catalog, in another auction 38 years ago, and even earlier than that this variety was listed in Eric Newman's plates of this series in 1964) brought $25,300 (a new auction record for any coin in this series) in a ping-pong match between one bidder and the book and/or internet while the rest of us watched.
Lot 5836, a rare Virginia Penny in what we thought might be the most affordable condition possible (cleaned, with some surface business) brought what we thought was a very strong $17,250 on the floor.  Considering that we bought a very nice PCGS PF64 coin a few years back in the mid 20's, and a PCGS PF65 ex-Eliasberg for around 30K last year, there must be some pent up demand for these.
Lot 5838, the newly discovered Pitt Farthing in abjectly original (i.e. crusty as all get out) AU55 with full silvering and the best one I have ever personally seen (though there is a known specimen plated in an old reference book considered to be a full blown unc. which was curiously not mentioned by the current cataloger) brought what we thought was a seemingly fair $94,875 to the bidder noted above who showed up just in time to buy it.  We tried too, but eventually had to say 'no mas' to the determined winner.
And then the state coppers started, featuring a lot of coins that did not have the originality, surface quality or color that we seek, including many with minor and not-so-minor problems, and so we struggled to find more than a small handful to bid on. And actually, one of the coins we did like was a bit of a problem piece, raw, with porosity that would prevent it from holdering at PCGS.  That would be lot 5910, a tough New Jersey No Coulter type with pleasing color pedigreed to the Norweb collection.  We were not the only ones who liked it though, and we were outbid at $11,500.  That would have been an interesting item to put on the site in a PCGS Genuine holder, though of course that will not happen now.
Followed by a long list of NJ coppers in low grade that realized roughly $100 to $300 (with the low point being lot 5936 at $23 (twenty-three) all-in.  I do not know what the consignor had paid for all these coins back in the day, but I assume they were bargains.  I could not help but thinking, though, that if he had spent just a little more, and acquired pieces with better color and surfaces, they would have sold for many (possibly many-many) multiples of those prices in this session.
However, a handful of his rarities did plenty well enough to carry the day, and, in total, I am sure this set proved to be a very good investment through the years.
Lot 5956, a Maris 37-X NJ, considered to be Rarity-7, and frankly a pretty decent looking F/VF which I believe the consignor cherry-picked years ago, brought a robust $17,250.
Lot 6016, a Maris 83-ii variety, also R-7 and described as the "7th finest of 9 known" (though with a look only a mother could love) brought $18,400 to another specialist.
Lot 6023, a Maris 38-Y was notable for its very attractive, original golden brown color, and also because it was the only NJ in this auction that we bought.  It also was from a different consignor, who evidently had a different purchasing criteria more in-line with our own.
Which led us to the Machin's Mills coinage, where lot 6051, a newly discovered unique variety in well worn but not-unattractive condition brought a very strong $40,250 to another specialist.
Followed by some scattered colonial type, and tokens and the like, most of which brought pretty typical prices save for the few really neat looking high grade examples or the ones with cool toning which all found enthusiastic bidding interest.
And let's not forget this fine item: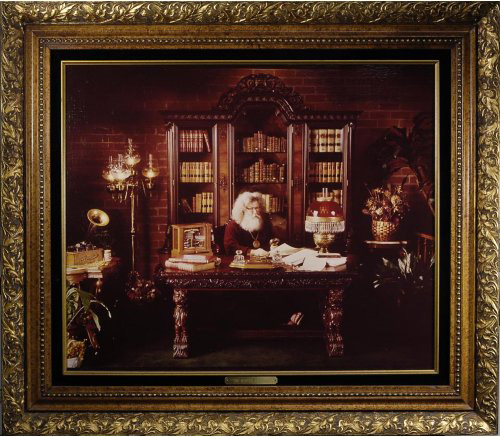 Lot 6491, an extra creepy photograph of Walter Breen in a surprisingly ornate frame (which we later learned was consigned by a dealer friend), realized $1,840 (with another dealer we know as the unexpected underbidder).  Throughout the entire live auction, that picture sat at the front of the room facing the crowd, which is about as much as I personally ever need to see it.
And while we did not buy that, we came away with about 2 dozen other things, and though we were sorry to miss out on a few cool coins and tokens, this was still a fine result in our opinion.
Then at about 4:30, I packed up and headed out with a dealer friend to an all-you-can-eat Sushi restaurant which may sound unappealing, but which was actually very good.
After which I returned to my hotel (where I had earlier extended my stay one day since I figured my original train home late Thursday would be delayed or cancelled), and encountered two attractive 20-something year old women in the elevator in the midst of perhaps the crudest, rudest most graphic conversation I have heard since high school, which I pretended to ignore while checking my phone for messages repeatedly times during the 45 second trip to my floor.  As I got off the elevator, an 11 year-old kid got on with them, for what I can only imagine was an extremely memorable ride for him.
Tomorrow I'll be I'll be picking up our lots and heading home, in what will be a truncated day described in our next RR.
January 28th:  Day 3
Leisurely like I got up on Friday, put the finishing touches on yesterday's RR, answered our voluminous email, updated a few recent sales on the website, talked to a few customers who wanted to know what happened in the auction, lamented not buying a few more coins that we probably should have, then got dressed and strolled back over to Stack's at 9 AM for the ceremonial picking up of our loot (i.e. all the stuff we won).
Which went off without a hitch and allowed me to meet up with another dealer who was there picking up his stuff, so we went out for a quick breakfast down the block, compared notes, shared some info about who had bought what, and why, and then went our separate ways, with your author heading to the train station, and the other dealer going to the airport to catch a flight to California for the LB show (which frankly blew my mind, since I cannot imagine heading out there this early, which is why I am not doing so).
As for the rest of my day, it was mostly uneventful, with the train nearly on time and nothing much interesting happening, except for an argument I witnessed on the "Quiet Car" (Amtrak's one coach on the Acela where you can't make phone calls and talk loud).  It seems that some guy spilled his coffee on a lady's coat, and then she yelled at him in a whisper, while he whispered back in a nasty and contentious but hushed scene that one might have expected to see on an episode of Seinfeld.
Thoroughly entertained, I arrived home just in time to race to the Post Office and pick up all sorts of NEWPs, consignment coins and stuff back from grading so that I can ship them out to various places on Saturday and pretty much work right through the weekend.
Anyway, our next Road Report will be posted from Long Beach on Thursday, and will by then include news of all of the fantastic stuff we bought and sold during dealer set up, if there is any.
The End