January 28, 2006: Heritage's Jules Reiver Sale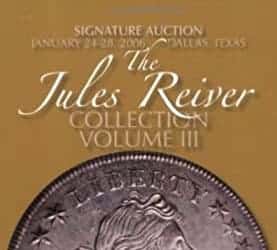 We just returned from one absolute endurance test of an auction – the $8.5 million Jules Reiver Collection auction conducted by Heritage and held at their Dallas headquarters.
And it was pretty cool. It was also just about the opposite of a lot of the auctions we attend and coins we see these days. Mr. Reiver was not a registry collector. He did not collect high- grade coins, pop tops or DMPL items. He did not focus on condition. What he did do was to collect virtually one of everything in early copper and silver. When I say everything, I mean E-V-E-R-Y-T- H-I-N-G. Jules Reiver had virtually complete collections of half cents and large cents and silver coins from early half dimes through Gobrecht Dollars by DIE VARIETY. As if that was not daunting enough, he also had multiple examples of many of these die varieties in order to show different DIE STATES (i.e. the changes in appearance of the coin based on the degradation of the dies during the minting process). But that's not all! He also had vast holdings of more modern series and US gold coins.
In total, it was an incredible body of collecting work that took the better part of a lifetime to complete. After viewing the lots several times (as is our custom – we find that viewing more than once is essential to really evaluate auction material) it was apparent that Mr. Reiver was focused on completion of sets and not on finding the highest quality, choice-for-the-grade coins.
After having been maintained raw for years, the entire collection was submitted for slabbing prior to the sale – and it was pretty clear that the quality of the material (or lack thereof) dictated the choice of NGC. A high percentage of the coins were sufficiently impaired that NGC deemed them 'unslabbable' and housed them in NCS holders. And even at that, it seemed to us (and many of our dealer-friends) that this was the loosest-graded coin auction we have ever attended with a lot of material in "how-could- they-have-possibly-graded-this-coin-so-high?" NGC holders. So, with a massive collection of intricate and obscure die varieties, something like half of the sale in NCS holders, and a significant percentage of those in NGC holders being extremely 'optimistically' graded, and with the collection being sold totally UNRESERVED, you'd think there would be some softness in sales, or maybe a bargain or two, right?
Uhh, that would be wrong.
The superb publicity before the auction (a.k.a. "hype"), and the fact that the collection contained virtually complete die variety sets of heavily collected coinage resulted in absolutely explosive prices. We won't go into detail of specific lots and prices realized, but trust us – the prices were stunning given the relatively low quality of most of the coins. We expected the rarest and most sought after die varieties to bring huge money – they ALWAYS do, even when they are low grade or impaired examples. But here there were hundreds of basic, "meat & potato" everyday coins that brought prices that were significantly above what they could be purchased for elsewhere (other auctions, dealer price lists, coin shows).
Perhaps auction fever had set in? We tend to think that many buyers simply hadn't done as much pre-auction research as necessary to critically evaluate the coins being offered and to assess recent sales of items of comparable quality – sad, but unfortunately a common occurrence. In total, the Jules Reiver sale reinforced some important themes for us:
Die Variety Collecting is Alive and Well
Collecting by die variety and die state has every bit as loyal a following as does collecting by type, or by date and mint and has seen just as much financial gain in this raging market.
Set Completion is a Noble Goal
While there are many who collect in a 'registry style' seeking the highest examples of coins, there are many for whom completion is the overarching goal.
Do your homework!
The more you know about the items being offered, their real level of quality and recent sales of like items the better your chances of buying well.
Next Stop:  Long Beach!