July 31, 2012: Heritage Lot Viewing in Philadelphia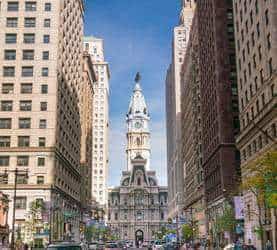 I am delighted to provide this Bonus RR about my day-trip to Philadelphia made exclusively to view Heritage auction lots, a previously unplanned, hastily arranged visit made necessary by the challenges of this year's cumbersome ANA show and auction schedule.
How so? Well, the Heritage August Signature live auction takes place Thursday and Friday of this week, with the Stack's pre-show auction kicking off Saturday.  And since I was not scheduled to arrive in Philly for the show in earnest until Saturday, my choices were as follows:
Arrive Wednesday, lengthen my already extreeeeemely long 8-day stay at the show to a "That's ridiculous!" 11 days and be present for every auction session, the ANA Pre-Show and the ANA Show itself, or
Zip down to Philly on Tuesday, view the HA lots for a few hours, go home, bid by computer or phone later in the week, and then go to the show itself as I originally planned on Saturday.
As you may have surmised by now, I selected Option #2.
Which explains why I was up at about 3 AM Tuesday to catch the first flight down (editor's note: I always book the first flight no matter how inconvenient it is or how horrendous I feel at that time of day just in case there is a delay of some kind).
But this time everything went off without even a tiny hitch, allowing me to stroll into the Sheraton Hotel lobby at 7 AM, a full (and annoying) 2 hours before HA lot viewing was scheduled to begin.
So when it did, I was lot viewer numero uno, giving me free-rein of the boxes and allowing for the sort of uninterrupted, in-sequence, high-speed viewing experience I prefer.
Which allowed me to crank through the regular session, the internet session and Platinum Night, in that order, in 3 hours or so.
About which I can make the following not-very-specific observations so as not to bias anything I (or you) might be bidding on:
There is no shortage of cool stuff here – more than I expected to find, frankly.
Of all the copper coins I see at shows and auctions, the percentage of Lincoln Cents in RD holders that are no longer red seems waaaay higher than any other coin type or series. So you might conclude that the original red on a newer Lincoln Cent is somehow less stable than on other, older copper coins, or more Lincolns are improperly stored than other copper coins, or that a lot of this stuff was "helped" by someone a few years back and is fading fast (I'm thinking it is that last one).
There are some totally original and untouched silver proof coins here which received newly minted mega-grades, results that should make people who dislike dipped coins very happy.
A lot of the extremely highfalutin coins were not CAC'ed, and while I'm sure many were tried and failed, others looked like they would sticker. Maybe. So if that is important to you, you need to figure out which ones are which.
I was very, very surprised to find State Quarters in the Platinum Night session.  Not that there is anything wrong with that.
I am going to place a nuclear bid on a seemingly innocuous coin I found in the internet session.
And then I left, but not before chatting with a few of the other dealers who had arrived after me, answering questions about the changes at Coin Rarities Online, including the one seemingly on everyone's mind: Yes, of course the CRO hats will continue.  Was there ever a doubt?
Our next RR will be the Official CRO ANA Prologue which will be posted here in a few days. So you might want to keep an eye out for that.