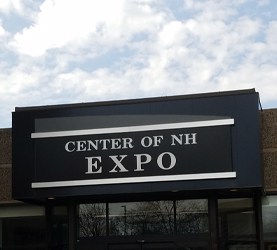 June 24:  Dealer Set-Up
In a scene which was almost totally back to normal, Team CRO was on the road for an actual coin show, enthusiastically cruising into the DoubleTree for the 3 PM set-up, parking at our usual table next to dealer friend Gentleman David Kahn, spreading out what we honestly think is the coolest inventory in the room and pronouncing ourselves open and ready for business not 15 minutes later.
Where we immediately sold 6 coins to 3 different people, including 1 which was on our recent EB and others that were from our 'regular' inventory, including a couple to a NJ dealer we were shocked to actually see at this event.  "Hmmmm, that's a good start." I said to no one in particular.
And then began our usual continuous forays around the room, peering into dealer cases, rifling through coin boxes, checking out things people brought specifically for us and then repeating the process over and over again as new people arrived and with them new coins to see.
Unfortunately, at least so far, scant few of them were CRO-style items on this day, as we managed to only buy 5 during the course of the afternoon.  But with two days to go, we're confident that worm will turn in the form of lots of neat NEWPs of all kinds.  Hey, here's hoping.
In the meantime, by about 6ish we felt we had exhausted the potential on this day and headed out so that we could be rested and ready to go on Saturday when the actual public arrives, including long-time collector friends from far flung places who we expect to meet here, in person, for the first time ever.
With everything that happens to be described right here on Saturday AM.  So you might want to keep an eye out for that.
June 25:  Day 1
Arriving back at the show around 9 AM on Friday, your author encountered an already active room in which deals seem to be happening all over the place.
So I dove right in, barely snagging a cool, old holdered PF dime directly under the nose of another dealer who showed up to look at it just I went to get my checkbook.  Phew, that was close.
Then grabbed a couple of tokens one aisle over and a neat large cent at the table next door just before the doors would open to the public.
At which time we met up with a collector friend who arrived to take delivery of a purchase from last Tuesday's Early Bird, then another local collector who completed a layaway purchase and took delivery of a cool gold coin that never actually made the site.  Followed by the sale of a few more commems that had been on the aforementioned EB list, and then a world coin in a cash and trade deal to a looooong time New England customer that we met for the first time in person on this day.  So that was cool.
In an around which we bought a coin here, passed on some there and then kinda hit the motherlode, buying 11 choice federal coins in one fell swoop in the late afternoon.
And then found out that another dealer sold a coin we jointly owned, putting the cap on what was an excellent and very productive day here in NH, with one more still to go.
With everything that happens on Saturday to be reported right here in just about 24 hours from now.
EOM
June 26:  The Exciting Conclusion
Arriving fashionably late on Saturday (i.e. before the show was open to the public, but after the dealer to dealer activity had been churning for 45+ minutes), we tried to immediately make up for lost time.
First by cruising the room again and peering into every single case, including all of the usual suspects, plus the reeeeaaaally unlikely ones where we would never reasonably expect to find anything CRO-style.  And while there turned out to be no surprises in the latter, we did pretty well in the former, finding another few worthy NEWPs bringing our total haul here to 28 coins.
Then by bringing some coins to various other dealers in hopes of making some wholesale sales of things we had taken in trade that weren't good enough for the site, other things that seemed good enough but did not photo well, and a few things we've had for too long and wanted to move along.  An effort which worked decently, allowing us to lighten our load a bit and make room for those aforementioned NEWPs.
With these various activities interspersed with sporadic collector visits to the table during which we made a few more sales, did a cash and trade deal for a neatly toned Mexican Peso, delivered another website purchase and generally kept going with the positive vibes we've had here for the last several days.
Finally winding down around 1 PM, packing up, heading out and looking forward to another active week shipping out more orders from our last EB, sending out grading and CAC packages, receiving others, bidding in auctions, sending off auction consignments, doing coin photography and generally working all day, every day on numismatic activities.
But only after we get some well earned R&R on Sunday.
The End