June 9, 2006: Once sold, what item(s) in your inventory will be hardest to replace?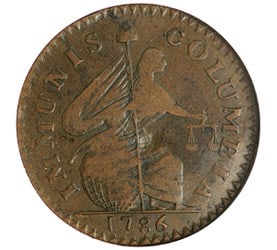 Someone asked us this on the phone today and we thought it was an interesting, thought provoking question. Not easy to answer though.
Lets see, there is one coin on the website – the 1650 Pine Tree Shilling Fantasy – which is believed to be one of 2 known.  Once its gone, we would guess that its gone for good.
Now while that may seem an obvious choice, there are other coins which may prove just as hard.
What about the 1786 Immunis Columbia, Large Eagle? With an extant population of 3 (t-h-r-e-e), I guess once this example is sold we'll get a chance one day at one of the other two surviving specimens, right? I'd say it is extra-ordinarily unlikely that we'll see another in our lifetimes (and we're not that old). And if one does come along, the odds that we'll be able to acquire it are not good. Maybe we'd have to outbid a museum or two to do it.
What else? How about something truly obscure like the Bolen Confederatio Restrike? To the best of our knowledge, this is the only one in private hands. I'm guessing we won't see its likeness pass this way again either.
Or our 1833 Maundy Set? Perhaps the only surviving example of such a set, intact. Probably we (and you) won't see another one of those either.
What about the Bolen George Clinton Restrike in Silver? Well, there are apparently three known and one is permanently impounded in the ANS. Maybe we'll one day acquire the third example? I'd advise you not to bet on that.
1921 Canadian Specimen Cent ex-Norweb. With 5 known, this one is is downright common in comparison to the coins listed above, so of course we can replace it, right? Where? How? And what will it cost us? The answers are 'no idea', 'no idea' and, probably, 'a lot'.
Shall we keep going? We could, but the point may be made. There are a number of things in our inventory today that we couldn't replace. At any time. In any place. And at just about any cost.
Aren't those the kind of coins you would want to own?