March 1, 2012: Rosen Numismatic Advisory Crystal Ball Survey, Part 2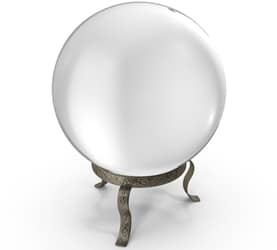 As promised, and like clockwork, we are herewith pleased to present the 35th Annual Rosen Numismatic Advisory Crystal Ball Survey, Part 2 for your reading pleasure.
For those just joing us now, Part I of this Survey containing questions 1 through 13 can be found in our Coin Commentary of February 1st.
And, as we did last month, the questions and Dave's answers are listed below; if you want to read what the other respondents had to say, please contact Rosen Numismatic Advisory publisher Maurice Rosen at mauricerosen@aol.com to obtain copies of back issues and to subscribe to the newsletter.
And so, again without further ado, let us again proceed:
Question 14:  What are your Best Buys among U.S. Silver Dollars?
Dave's Response:  The 1921 Peace Dollar in MS64 and MS65 is a favorite, but only well struck specimens need apply.  Really deep DMPL's in MS65 & MS66 are always easy sellers.
Question 15:  What are your Best Buys among U.S. Commemoratives, silver and gold?
Dave's Response:  Attractive MS64 Lafayette Dollars, as well as MS66 and MS67 Lincoln Commems are on my list.  $2.50 Sesqui's in MS64, and both Lewis & Clark's in MS65 are decent deals too.
Question 16:  What are your Best Buys for 20th Century series coinage?
Dave's Response:  The 1916-D Mercury dime in MS65 Full bands is a famous coin and a solid value.  MS64 1932-D Quarters are finally bottoming out and are fairly priced for the future.
Question 17:  What are your Best Buys for Generic and Modern issues?
Dave's Response:  I am not familiar enough with these series to comment, though I have always felt that circulation strike Ike Dollars in MS66 and up are quite tough to find.

Question 18:  What are your Best Buys for any other issues of your choice?
Dave's Response:  The top end of the colonial market is filled with great values for buyers willing to do their homework and educate themselves (see my comments in Question #4 for more detail).

Question 19:  A)  What one series strikes you as particularly undervalued?  B)  What are your best picks there?
Dave's Response:  $2.50 Indians.  This is a completable, affordable series, struck in gold.  I like every issue in MS63-65, save for the still overvalued key 1911-D date.

Question 20:  What is your favorite put away coin?  It can be a cheap one you like in quantity or a specific high-priced issue.  Please explain your choice.
Dave's Response:  A lovely 1795 $10 in choice AU.  A large, pre-1800 gold coin that is insanely popular in hot markets.  They are finally at a price point that makes sense again.

Question 21:  A)  How successful are our industry groups promoting coin collecting to the public?  B)  What ideas do you have?
Dave's Response:  A)  The small gross margins in our industry do not lend themselves to lavish promotional budgets.  I think our industry groups are having only minimal impact in promoting and educating the non-collecting public about the fun one can have in numismatics.  B)  If industry groups made a concerted effort to place general interest stories in the mainstream media outlets (Time Magazine, The Wall Street Journal, Yahoo News, etc.) about exciting finds, amazing auction results, recently minted coins of great value, etc., I think we would see an impact.

Question 22:  A)  How important is rising inflation concerns for the demand side of coins?  B)  What's your outlook for inflation over the next three years?
Dave's Response:  I think rising inflation expectations are the key to the investor / speculator side of numismatics.  I expect inflation to pick up in 2013-2014 when the excess housing stock in this country has been absorbed, and it will then be hard to control.
Question 23:  For investors looking to play high silver prices, what are your best suggestions and why?
Dave's Response:  Silver has gone up so far so fast, that I feel a conservative approach is the order of the day.  With some patience and with a good working relationship with the major bullion buyers, investors should jump on the chance to buy silver at bullion levels in areas that used to bring a premium – proof silver coins up to 1964; Walkers in XF-AU; BU rolls of Roosevelt Dimes and Washington Quarters; mid-grade silver dollars, etc.  This way, you will have some downside protection in case silver drops markedly.

Question 24:  Same question for investors looking to play higher gold prices.
Dave's Response:  Saints in slabbed MS63 and MS64 are available for not much over melt, as I write this.  Great downside protection.

Question 25:  What changes / improvements would you like to see for price reporting in the various Greysheets and other publications?
Dave's Response:  The Greysheet should clarify which bids it publishes these days refer to CAC-verified coins.  And for goodness sakes, why are they still publishing bids for NCI, INS and similar slab companies?  It is a complete waste of printer's ink.

Question 26:  Please take this opportunity to ad-lib about any topic that would be of interest to my readers.
Dave's Response:  Coin shows have, as they say, "jumped the shark".  Now major coin shows are absolutely necessary and likely always will be, but they last waaaay too long.
Coin shows should be a maximum of 2 days long, instead of the foolish and outdated 4 to 8 day shows now being held.  All the business being done in a 4 day coin show could easily be done in a 2 day show, and it would give the attendees the (correct) impression of a bustling marketplace.  Instead, today's shows are artificially dragged out for several extra days, so much so that the bourse floor is often reminiscent of a bus station at 3 AM.
The retail coin business has largely moved onto the internet, so coin shows are predominantly wholesale affairs.  Question – What is keeping major coin shows stretched out for so many days?  Answer – The lucrative contracts signed by the major auction companies.  The auction houses want a captive audience for as long a period as is tolerable, and  the show promoters try their best to accommodate them.

However, there is considerable pushback from the dealers who set up at these shows.  Attitudes are changing, and show promoters can either get in front of the trend or be blindsided by it.