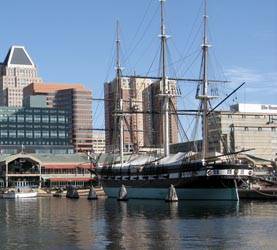 Prologue
Words are perhaps inadequate to express your author's enthusiasm for the upcoming Baltimore Expo (the first of three to be held during the year), but as this is a written blog I am going to try real hard anyway:
Yes, we are reeeeeaaaaaally looking forward to this one because business is typically fan-tastic here, with a plethora of dealers, a plethora-and-a-half of enthusiastic collectors and the best mix of colonial, U.S. and world coins we find at any show this side of the World's Fair of Money.  We'll also be bringing some of the coolest NEWPs we've had in a while, making our table #442 a veritable must-see for all attendees.  But that's not all!  Add to that a Stack's-Bowers mega-action rich in CRO-style material and local dealers who always bring us cool stuff and, well, hey, the sky's the limit!
Which should be good news for our Road Reports, since there will be no shortage of activities and cool coins to write about here in this space every single day of the show.
So you might want to keep an eye out for that.
March 24th:  Day 1
Tuesday was productive if disjointed, as I woke up at 3 AM, caught the first flight out, arrived in Baltimore early, checked into my hotel, was delighted to see that my room was available, dumped off my stuff, headed out for a breakfast meeting at different hotel with another dealer who had come in Monday night, discussed a deal we are working on, headed back to the convention center, viewed the Stack's-Bowers lots for about 3 hours, went back to my hotel, filled out 82,500 grading forms, submitted a veritable ton of coins to PCGS at the Sheraton where they are set up before the show, then went back to view and re-view lots again until dinner. Phew. That is a looooooong sentence.
I have to say this all went pretty well though, as I actually got done everything I had hoped and left lot viewing the second time with a very clear view of what I'll be chasing in the auction.
And then, in most relaxed fashion, I strolled down Pratt Street for a calm dinner with a dealer friend, eventually walked back to my hotel and unceremoniously collapsed on the bed while watching a show about otters.
So at the very least I should be well rested on Wednesday as I focus again on the auction and formulating exactly how much I want to bid on all that stuff, and then pore through boxes of other dealers' coins looking for a few to buy before the show starts.
EOM
March 25th:  Day 2
I enjoyed trekking in, through and around the convention center so much on Tuesday, I decided to do it all again on Wednesday.
Starting in one of the wholesale meeting rooms at the Hilton at about 9 AM, then back to the Stack's-Bowers lot viewing room at the convention center, then to an impromptu table in the hall just outside the security room where I went through another dealer's boxes and bought a bunch of cool coins while every single person who walked by made a snide remark about this being the "pre-show", then headed back to the Hilton where I was surprised / delighted to find a bunch of pretty toned Capped Bust Quarters, a delicious Seated Dime and a lovely piece of Mass Silver in different dealer wholesale boxes.
Speaking of which, it was then time to go view all of the Mass Silver in the Stack's-Bowers auction one more time just to be sure, which proved to be a significantly more time consuming project than I expected in a room that was by then SRO and with a waiting list of extremely impatient would-be viewers spilling out into the hall.
Hey, if this was any indication, it looks like people are really, really, ready to buy (or at least bid on) a lot of coins. And by the time I finished up, I was too.
But not before jetting out to dinner with a collector friend at Morton's where your author avoided the bread, all potatoes, and anything that looked like it might be a dessert, and then returned to the hotel early to get a good night's sleep.
Until another dealer called at about 10 and asked me to meet him at the Hilton again to discuss another deal, so I headed up there one more time in what proved to be a fruitful meeting, then finally got back to my hotel at about midnight.
And this time I succeeded in actually going to bed in anticipation of what will be an e-x-t-r-e-m-e-l-y busy Thursday starting with dealer set-up at 8, a full day on the bourse floor, and then a very long, late night at the aforementioned auction which starts at 6 PM and, according to Larry Stack, will run until about 1 AM.
The results of which will be described here in vivd detail on Friday.
March 26th:  Day 3
Well that was fun.
Nothing like ending a long day at work with about 5 and a half hours of continuous bidding on colonial coins and early mint patterns in a Stack's-Bower auction, then capping that off with a drink in the hotel bar with two guys who each managed to buy dream coins for their own collections in the session.
Actually, I felt slightly jealous about that, though I was also quite pleased with my own commercial haul during the evening, which included 20-something coins of all shapes and sizes.
And while I will not be going into detailed recap mode here (saving that for an upcoming CRO-style mega-review), I will make the following observations:
I'm glad I had a comfortable chair, since many lots opened at very low numbers (say 850 bucks), before finally hammering down for high 5 or low 6-figure final prices at a glacial numismatic pace.
It was clear that the abundance of great coins coming on the market in this unprecedented parade of auction in the last year or two has taken its toll, with a lot of great but esoteric pieces selling for much less than they would have under more normal circumstances.
Which of course meant opportunities abounded to buy some

ü

ber-rare and infrequently seen items here without breaking the bank.
All of which made for a good ending to a busy day here in Baltimore during which we bought quite a bit on the bourse floor, sold an about equal amount, saw lots of good local customers, and did some excellent overall business.
But now, operating on about 3 hours of sleep, I am excited to burst back onto the bourse floor on Friday morning and do it all over again, then recap everything that happens right here on Saturday AM.
Until then –
March 27th:  Day 4
I only had one migraine headache on Friday AM, so I felt terrific as I went to breakfast with the ladies of CW, then headed to the show just after 9 to start coin dealering activities like crazy.
First order of business: Pick up some of the stuff that I bought either before the show or at dealer set up and sort it all out.
And in the minute and a half I waited while another dealer totaled my invoice at one table, I turned around, saw something cool in another guy's case across the aisle and bought that too, demonstrating my commitment to fully utilizing every second of available time here in Baltimore, and highlighting the serendipitous nature of coin buying (since I'd never have even seen that coin if the first guy was better at math).
Then I stopped by PCGS and picked up 8 boxes of freshly graded coins and carried them back to my table across the room receiving at least two dozen snide remarks or glib comments from other dealers en route. It might have been nice if one of those was "Hey, can I help you carry those?", but that was not to be.
But it was at my table #442 that most of the activity took place on Friday, with a steady stream of visitors buying coins, selling me coins, working out trades and generally occupying all of my time and my two booth chairs pretty much all day long.
My favorite part of which was a cool show and tell of Mass Silver by a long time specialist which made some of the previous evening's Kendall coins (many epic in their own right) look positively mundane, and illustrated once again that you really don't know if a particular coin is finest known, merely high condition census or just OK unless you know what else it out there – not all of which is graded, imaged, or otherwise on the radar.
And then, when all was said and done, we packed up and headed out for a deluxe dinner at Cinghiale with some dealer friends (and, based on a quick scan of the room, every other person from the show), went back to the hotel and turned in early to catch up on the sleep I did not get earlier in the week.
So we'll will be ready to go, again, on Saturday, looking to do as much additional business as possible here in Baltimore before calling it a day and a show.
With any late breaking events described in our final Baltimore RR from home on Sunday morning.
March 28th:  Day 5
My expectation for Saturday was that there would be decent attendance, but few serious buyers, the room would start to thin out at about noon or 1 PM, and not very much would happen.
And I am here to announce that these expectations were soundly met. Until about 4:30 PM.
Because up until then it was just a few sales, lots of photography, some grading projects accomplished or well underway, chatting with the remaining customers in the room about coins they are seeking, trying to finalize deals with a few of my colleagues around the room, writing checks, receiving checks, etc. In other words, all of the normal stuff one does on a weekend at a major show.
A non-hectic pace that allowed ample time for your author to cruise around the room looking in every remaining bourse case seeking hidden nuggets to buy. Which I did to the tune of 5 or 6 interesting pieces of all kinds, including a circ Barber Half which was one of my favorite purchases at the show (partly because I loved the look, but also because it is so satisfying to find a beautifully toned needle in a haystack of utterly average stuff).
And while that was hardly an important coin or major commercial coup, it would have been a nice ending to the show, if not for the really cool and rare medal I bought from a collector a few minutes later (after straining to figure out how to pay enough to actually get the deal done).
Which I am pleased to announce that I did at the aforementioned 4:30, just before sorting out and organizing all of the show paperwork, packing up and heading to the airport with a few dealer friends to catch our late flights home.
Where the real fun will begin, as I race to complete this RR, then write an article for the C4 Newsletter and then start work on Tuesday's Early Bird which will be (if we get all the images ready in time) e-p-i-c.
So as we always say, you might want to keep an eye out for that.
The End