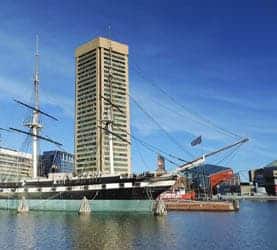 March 28th:  Day 1
Let's see, wake up (just before the alarm goes off) at 2:56 AM, jump in the shower, get dressed, grab my bags and we're off to the airport for the 5:50 flight to Baltimore.
A crisp early schedule which has me checking into my hotel in the inner harbor before 7:30, in my room minutes later and sorting coins to submit to PCGs shortly thereafter.
And by the time that was all done, I was free and clear to head over to Stack's-Bowers at the convention center in a room that was certainly not crowded, with just 5 or 6 other early risers already in there viewing.
Where I proceeded to pore through a few thousand lots of medals and tokens, colonial coins and U.S. issues over the next several hours.
At least until I was too hungry to continue, at which time I retreated to the Oriole Café at the Sheraton which I always choose for convenience (and certainly not for the food) where I reviewed my cryptic catalog notes over lunch before returning for another couple of hours of confirmation viewing.
The end result of which was for us to identify, finally, something like 50 coins to bid on (well more than we would usually find in a typical auction) and then once again head back to the hotel to enter them in the computer, do some pricing research, check current bid levels and generally figure out what we would be willing to bid for each one – in a few cases concluding that the current bid on the lot was already higher than our max number, which is OK, you can't win 'em all and all that. Plenty of others are still in the running though.
So we were feeling pretty darn productive when we headed out to dinner with a dealer and collector friend, discussed some of the latest entertaining aspects of the coin biz, ate well and drank even better before I finally returned to my hotel so I could collapse after what had been by then a looooong , exhausting day.
With Wednesday shaping up to be similarly active, as we'll hit the pre-show wholesale rooms at the convention center, maybe re-review a few lots and then roll straight into the auction starting at a civilized 4 PM and almost certainly running real, real late into the evening.
The results of which will be discussed right here on Thursday AM.
Until then, then –
March 29th:  Day 2
It is now 11 PM and I have just completed 6 hours watching the Stack's-Bowers medals and colonial coin auction online from the comfort of my hotel room, eschewing the auction room crowds, embracing the anonymity (of online bidding) and feeling like that was the right decision.
Not that I had a great deal of success buying coins in a session in which the New Jersey collector community was out in force, buying loooong-off-the-market coins from the heretofore unknown (at least by name) collection of Dr. Gordon Shaw, bearing in many cases the Holy Grail provenance of Dr. Edward Maris (the guy who wrote the first book about NJ coppers), plus Garrett, Roper, Picker, Taylor, Norweb, etc.
Where a lot of very nice, well made, well balanced coins were strongly in demand, like this Rarity-5 Maris 19-M variety graded XF45 by PCGS pedigreed to the aforementioned Dr. Maris-Garrett and last traded in October of 1980 which brought $35,250:
That was a lovely coin which nicely illustrated the very strong premiums for NJs at the high end of the cc spectrum (since the last nice one of these we had was a golden brown Choice VF, also with a fancy pedigree, which sold for 1/7th of this amount).
With strong competition for some less beautiful but rarer varieties too, including this R-7 Maris 22-P at $32,900: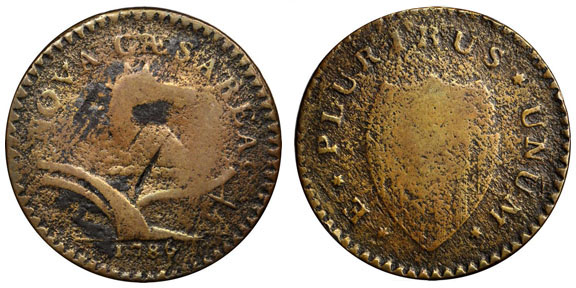 With the sort of prices I have come to expect with coins like this selling in front of a group of eager bidders who seem to really, really enjoy buying in this way.
Aside from the NJ collection which was undoubtedly the star of the show for drama and freshness, there were other coins from other consignors which variously sold for what I thought were a variety of strong and weak prices in a pattern that was hard to predict or decipher.
With your author picking his spots, winning a few, losing many and getting utterly swamped on others.
Alas, we did our disciplined best, with the good news being that we will certainly not be overwhelmed tomorrow sorting tons of auction lot winnings and can instead focus our efforts on the show itself, which will open to dealers at 8 AM.
So it's time to end this RR and head to bed so I can be ready for what I expect to be an extreeeeemely busy day on the bourse floor on Thursday.
More later –
March 30th:  Day 3
Aaaah yes, Thursday in Baltimore, with the traditional 8 AM start of dealer set up preceded by (at least for me) a wicked early start, a mad dash to get coins from the security room, an impromptu re-review of Wednesday's auction with some other dealers in the convention center lobby to see who bought what, an impatient wait in the massive and disorganized queue to enter the show and then a race to get the table set up and organized as fast as humanly possible.
Which for me was about 20 minutes on this day, followed by a controlled effort to buy even more selectively than usual on the bourse floor, part of our plan to pace ourselves through the next month where we expect to encounter a LOT of buying opportunities.
But we still found some cool coins that demanded to be purchased, including a number of colonials, a literal stack of old-holdered gold, a wicked Draped Bust $1, some wild toned pieces and a bunch of raw world coins.
Returning to the table in between to meet with customers and – in a strategic decision – sell some new coins in an effort to 1) Keep things moving, 2) Ensure that the CRO table always incorporates a sense of wonder (as in "I wonder what they are going to have on display there, since there will undoubtedly be things that are not on the website?").
Like this coin which we sold at midday, for example:
Continuing restrained buying and strong selling through an afternoon that saw us lay the groundwork for the possible acquisition of an expensive medal, pick up an awesome collection of high end Fugios (including what is without a doubt my favorite single example for type ever), added a few wild world coins capped off with a crusty Barber Quarter for a couple hundred bucks.
Before packing up and heading to dinner with some dealer friends at an Indian restaurant up Charles St. while bidding in the Stack's-Bowers auction using their app which, once again, worked perfectly and is highly recommended for people who prefer to have dinner in a nice restaurant with tables and silverware instead of trying to balance a tiny plate on your lap with one hand in an auction room.
I vote for the former.
After which we called it a night in anticipation of what should be another entertaining day on the bourse floor Friday with the Pogue auction, off site, right after.
EOM
March 31st:  Day 4
Excited for another day at the show, I burst out of my hotel at about 9:15 AM and into a cold, miserable, umbrella-less rain, forcing your author to run in an undignified manner to the convention center and arrive almost soaking wet.
Which I quickly shook off and dove back into coin-dealering activities, which would include running (again with the running) around the room to pay for coins set aside for me at various tables, picking up a few checks for items sold to other dealers, racing up to the 3rd floor to pay for my Stack's-Bowers auction lots and then heading back to the table to meet with customers.
And there were many on the bourse floor today, including at our table where sales continued to be pretty strong, and people brought more cool stuff that they thought we would want. And in many cases (but not all), they were right, including a lot of fantastic old-holdered gold coins.
I also got a chance to look through the S-B auction lots purchased by a few other dealers to see if there was, possibly, maybe, anything we might want to buy from them via the bourse floor equivalent of an Ebay 2nd chance offer. Why would we do this? Because these live auctions are fast moving, and sometimes we let things go early in a session in anticipation of buying later coins which we don't end up winning, leaving us regretting some of the ones we missed. Alas, we did not end up buying any of these on Friday – though there is still one more dealer to check in with that might have some of the lots we want.
With the day winding down in the afternoon and some dealers packing up early to head to the Pogue sale being held offsite with shuttle buses ferrying participants there. But we were not one of them, figuring we were not going to be a player on these kinds of coins, and not feeling the need to attend as a spectator. So you will not find any Pogue auction recap here.
Instead, I went to dinner with 4 other dealers, one of whom was bidding in the sale using the S-B app, and another was trying to convince the rest of us to buy the 1804 $1 thinking it was going to be a real good deal. In retrospect, he might have been right . . .
Returning to my hotel late and turning in to be ready for another loooong day on Saturday where we'll pack up and check out of the hotel, work a full day on the bourse floor, try to organize the chaos in our back showcase and then – weather permitting – fly back to New England.
From where I hope our next RR will be written on Sunday AM. Unless we get stuck here for another day, in which case it will be written from an aiport hotel that I have not booked yet.
Until then, then –
April 1st:  Day 5
Having successfully negotiated another winter storm in NE with only minor flight delays, I made it home Saturday night and can now sit back and reflect on a loooong, entertaining, at times frustrating, somehow serendipitous, occasionally exhilarating and overall quite successful Whitman Baltimore Expo:
Given the amount of time I invested in the auctions here, including arriving early Tuesday for lot viewing, re-reviewing coins of interest multiple times, carefully researching lots and figuring bids and then participating in the actual sessions, I was frankly disappointed not to win more coins. On the other hand, I was not seeing good value here for the specific things I wanted, and if I had been more aggressive and won more, I'd almost surely be kicking myself for overpaying and would now be sitting on coins I'd have a hard time selling.
My mindset on the bourse floor was similar to that in the auctions, where I was focused on buying cool coins in a reasonably disciplined manner, yet STILL managed to come away with about 45 new coins. Sometimes they just seem to find me.
I was intrigued to speak with another dealer Saturday who informed me that his business model does not include auctions. At all. They do not buy coins in auction. They do not sell coins in auction. When I noted that surely any coins they purchase privately could have come from recent auctions he said that they specifically check cert numbers to ensure that that is not the case (though he admitted they could not rule out that coins had been regraded or crossed or otherwise changed holders since). It seems like all of us dealers do things a bit differently, and I am always interested to hear something new like this even if it is not something I choose to emulate.
One of our more interesting purchases at this show occurred totally by chance as I was walking back from the PCGS table and was flagged down by a collector friend who was seated at another dealer's table. Said collector wanted to introduce me to a dealer who turned out to be someone I already knew, but as we were chatting I peered in their case and saw a cool coin that I know well, that I had not seen since February of 2001 and for which I know we have multiple customers. So of course I bought it in a transaction made possible by relationships, serendipity, preparation and my inability to ever, ever forget a coin. Plus I actually saw a second interesting piece there which I went back and bought later.
Of our sales here, three of the coins were brand new items never before offered, and were frankly things we were not really trying to sell. Which always raises the same questions for us: Should we put new coins out at shows? Or hold them back for the website? I don't think there is a right answer, but more often than not I find myself regretting those sales. Hours later in a discussion with another dealer at the airport, I was somewhat heartened to hear that he – with many more years of experience in this business – wrestles with the exact same issue.
Grading here was lackluster for CRO, mostly because two wicked coins I submitted thinking they would come back gem graded 64+ instead. Oh well.
For a minute there I thought we might end the show on an epically high note, when another dealer offered close to 6 figures for a couple of our coins at about 3:30 on Saturday. Alas, we couldn't quite get together on price and deliver a repeat of what happened at a Central States Show about 10 years ago (where a customer came by late Saturday and ended up buying a couple of hundred thousand dollars worth of coins from us after we had figured the show was long over).
But of all the things that took place here, the most thrilling had to be my acquisition of another of those obscure Belgian tokens with the skull and cross bones on it (of the same type as the one we tragically lost a few weeks ago at the Devens, MA show), but this example is a little bit nicer.  I'm going to try very, very hard not to lose this one.
And now, we have about 36 hours to unpack, get organized, repack and head out the door to the Chicago Coin Expo from where our next Road Report will be posted as early as Wednesday AM.
EOM