March 30, 2015: CRO's View of the Kendall Foundation Collection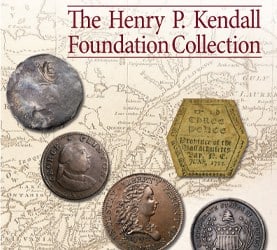 For the second time in just two months, we are delighted to find ourselves in the position of recapping another major colonial-centric auction containing another, ho hum, half dozen New England Shillings.
These residing in the Henry P. Kendall Foundation Collection, painstakingly assembled by the owner with expert assistance over a period of, oh, 5 decades or so, based on a desire to "form of a collection of historical significance", with a preference for coins which actually circulated, and an eventual deep (very, very deep) interest in colonial coinage and, of course, Massachusetts Silver coins.
Hey, wait a minute, how many such collections like this are out there? I can think of one other off the top of my head, but if it does in fact turn out to be more than that, I just hope the next one does not come to auction within the next 60 days or so because I am not sure I have the energy, time or money to view, bid on and then recap another one, and I fear the market cannot absorb so many coins so soon.
Because even for these two last collections, it was a real strain, but it was a good kind of strain in which some fantastic coins loooong off the market were fleetingly available again for a new generation of collectors, and we got to buy our fair share at prices that were more palatable than they might have been in a "regular" market.
Another difference this time: All the coins were graded by PCGS, generally conservatively, in a way that, based on all of the comments I heard from collectors and dealers at lot viewing, was much appreciated by the audience.
But enough generalities – let's get specific starting with lot #2303, the best of the New England Shillings in this group and a coin which was pretty similar to the NGC AU58 piece offered as lot #5517 in the Patrick Sale in January and recapped in our last Coin Commentary (this image and all others in this article courtesy of Stack's-Bowers):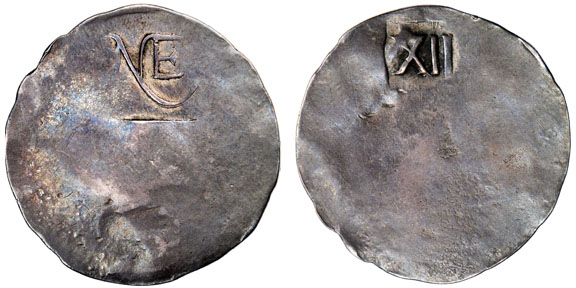 And while I thought that Partrick result was on the softish side in January at $293,750, Kendall's brought just $211,500. So while people who bought examples a few years ago for $350,000 to $400,000 or so may not be too thrilled about it, the influx of so many NE Shillings on the market in a compressed period has brought prices down to a more affordable level and allowed some new players to acquire an example.
Then came lot #2310, the most original, well struck, nicely shaped and appealing Willow Tree Shilling your author has ever personally seen of any variety: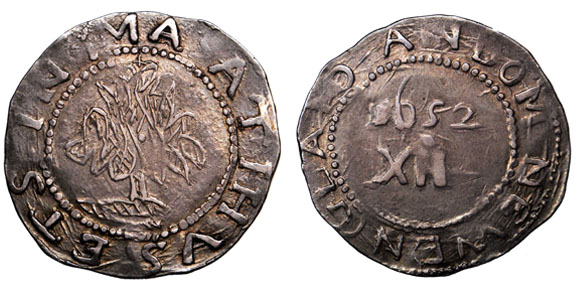 That one brought $381,875K, which seemed like good value to me. Actually I would not have been too surprised to see this one top out at half a million or so.
Followed shortly thereafter by lot #2313, a similarly choice, well struck Willow Tree 6p: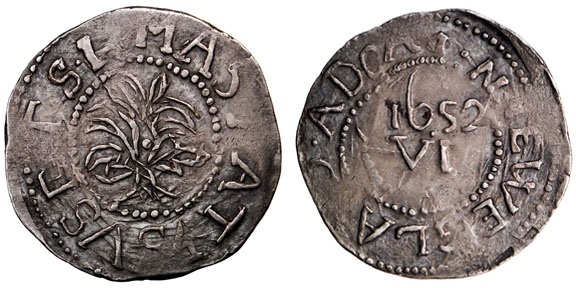 That one was more in the price range I expected at $282,000, which was about the same price as the PCGS AU53-graded semi-doppelgänger Ford coin brought when it last sold in the Sundman sale in November of 2013: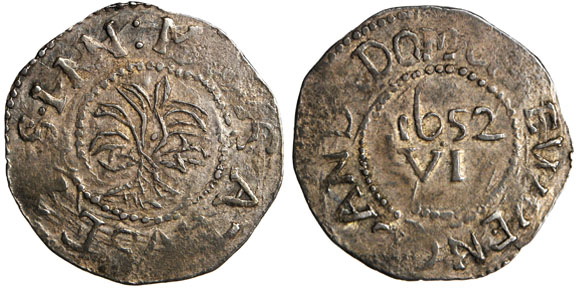 Seriously – I did a numismatic double take when I first saw the Kendall coin thinking it was the same Ford-Sundman piece. Nope.
Followed by lot #2314, the only example of a Willow Tree 3p in private hands, affording Willow enthusiasts a convenient, one-stop shopping opportunity to complete the denomination set and still have time to go to dinner and take in a movie: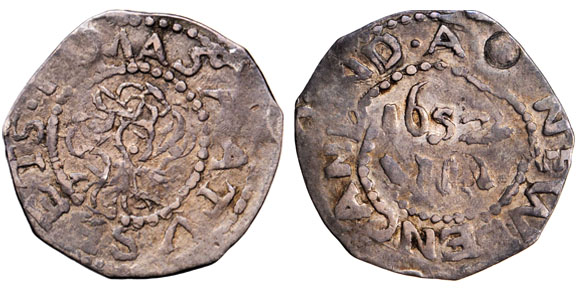 That piece brought a robust $632,500 when last offered in the Ford sale in October of 2005 (the highest price of any Massachusetts Silver coin in that session), and while a bit lower here at $587,500 it was still the highest in the Kendal sale and considerably more than I expected. I was thinking something like $220,000 hammer might steal it in this crowded marketplace. I was w-r-o-n-g.
Coins I was not wrong about included lot #2321, the superb Noe-4 Oak Tree Shilling in a tighter-than-a-drum PCGS AU58+ holder: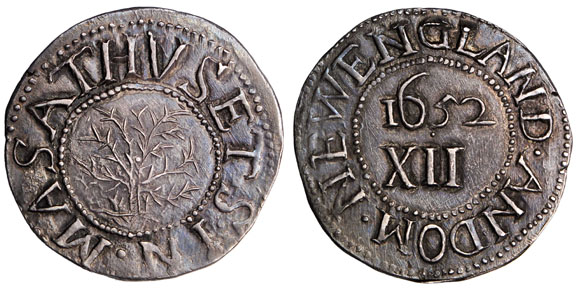 I graded that coin 63 or 64, as did nearly every other knowledgeable dealer and collector I spoke to after the auction. Which at $85,187.50 is exactly the kind of price that it brought.
With our next lot of note #2329, the finest known Noe-10 "Ghost Tree" Oak Tree Shilling at a fair $55,812.50: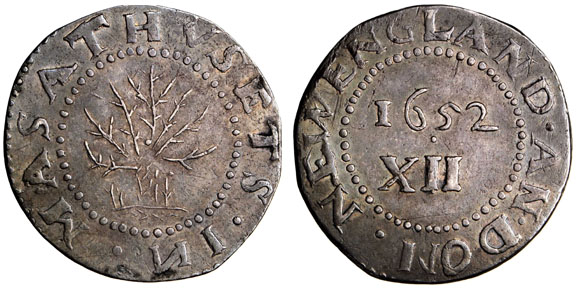 If all Noe-10s looked like this coin, the "Ghost Tree" name wouldn't make much sense, since it was applied based on the 'barely there' tree seen on most other examples of this variety.
Followed by lot #2338, the unique Noe-15 Oak Tree Sixpence graded AU55 by PCGS and boldly overstruck on an Oak Tree Shilling with the host coin's XII denomination peeking through on the reverse: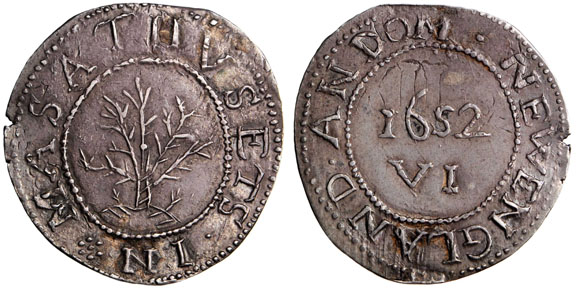 The cost of uniqueness that looks this good: An impressive $188,000.
But not every rare Oak tree 6p brought top dollar. Case in point lot #2341, the "perhaps unique in private hands" Noe-18 Oak Tree Sixpence with the interesting 1650-looking date ambitiously graded AU50 by PCGS: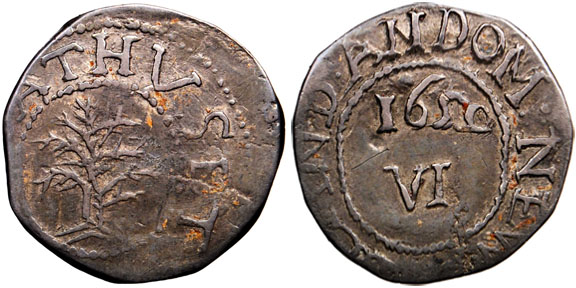 That one fell well below my pre-sale guesstimate at $30,550, which was a far cry from the $115,000 this same coin brought in the Ford sale in 2005. About which I have two comments: 1) Ouch, and 2) Ugly and rare is seemingly out of favor at this moment.
Eventually leading us to a long run of mostly average Oak Tree Twopences, including lot #2358: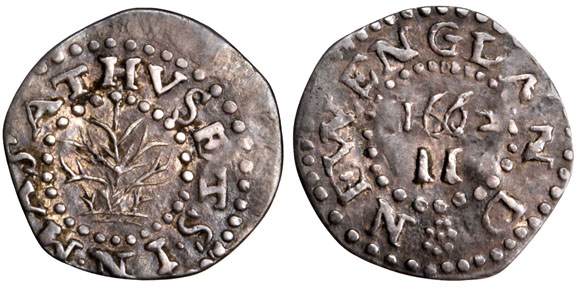 That one was fairly typical, graded PCGS AU50 and brought an about as expected $6,462.50. Which contrasted with the like-graded but much better centered Oak Tree Twopence offered in lot #2369: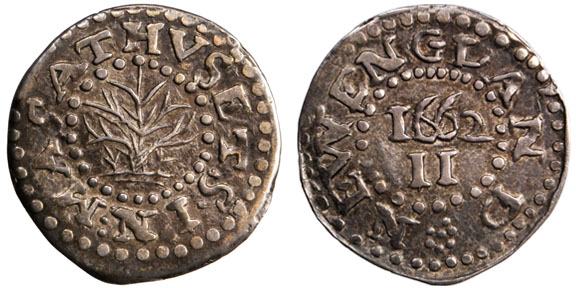 The price of better centering: $11,750, a difference which makes sense to me based on years of experience trying to sell these.
And then we were on to lot #2379, a Noe-5 Pine Tree Shilling housed in a PCGS AU55 holder and the single most polarizing piece in the Kendall offering: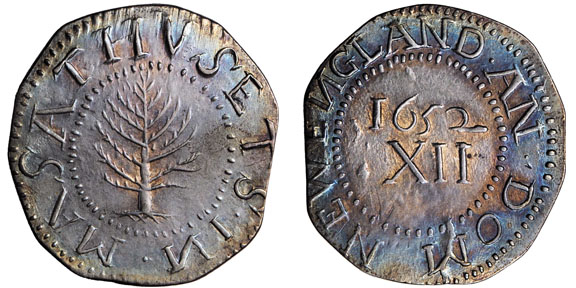 How so?  Well, some people loved the wild color here, considered it to be totally original, and thought this coin was unc. Others, including PCGS, CAC and your author, didn't. The price realized of $28,200 was sort of in-between, which is perhaps not surprising.
With our next lot of interest #2399, the Pine Tree Noe-17 Small Planchet Shilling in a PCGS AU58 holder:
I thought that was a nice, original AU but more like AU55. Others thought it was much better than that, and chased it to $25,850.
Eventually leading us to the non-Massachusetts Silver portion of the auction and lot #2449, a very nice Sommer Island Sixpence graded VF35 by PCGS which realized $88,125: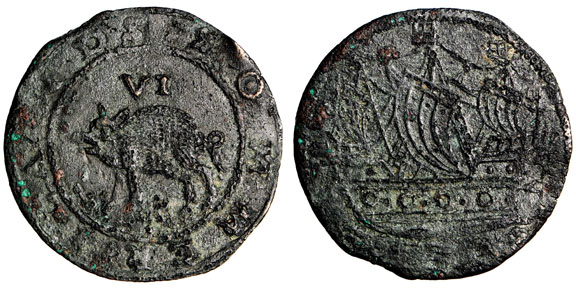 That grade seemed pretty harsh in comparison to lot #2450, a Sommer Island Shilling graded higher at XF40 by PCGS even with an indistinct pig: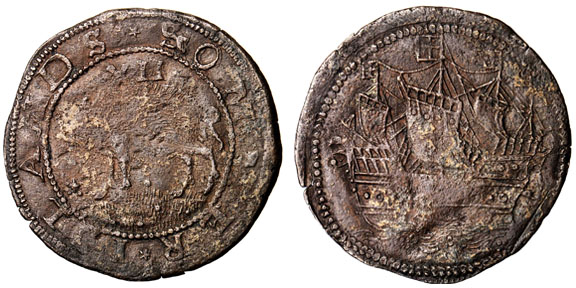 Hey, grade aside, we have learned through the years that collectors really, really want to see a sharp pig on these, which may explain why what would normally be a more desirable denomination brought "just" $58,750.
Perhaps pig enthusiasts can take solace in the sharp (for the grade) Elephant on lot #2480, the extremely rare 1694 New England Elephant Token in a PCGS VG8 holder, one of just three known and the first your author has ever personally seen: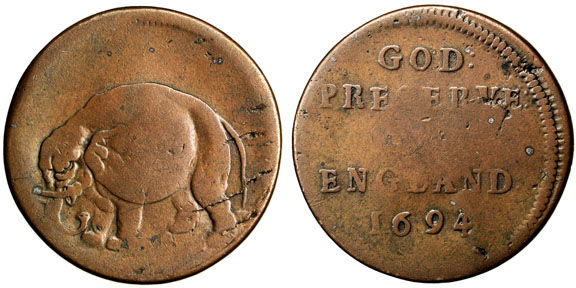 That was a neat piece with very nice color and pretty good surfaces for any copper coin in this grade range, which perhaps explains the strong price of $141,000 achieved after opening at only $11,000 – one of many coins in this session that started at lowish numbers and ticked slowly up, adding to the drama (and duration) of the evening.
Some neat NY issues were next, including lot #2508, a nice, original 1786 Non Vi Virtute Vici in an unusually low PCGS VG10 slab which brought a strong for the grade $31,725: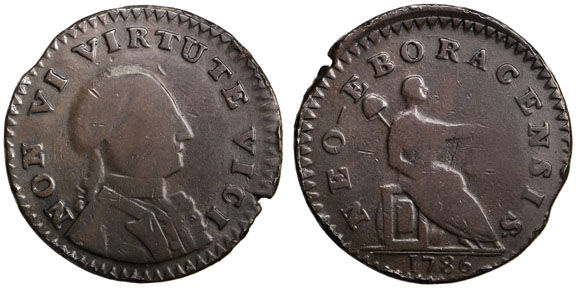 I found that piece interesting as I have seen its black and white 1952 ANA catalog plate photo for years: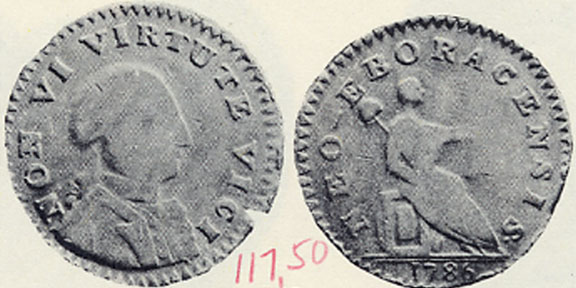 Looks like a nice increase from the $117.50 paid that day.
Followed by lot #2509, a wholesome 1787 New York Excelsior Copper in a PCGS F15 holder: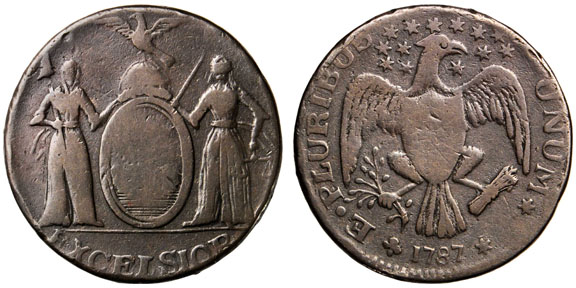 I thought that was a fair level for the quality of that coin, if not for the grade level.
And then we'd eventually get to lot #2547, an interestingly toned 1792 Washington Roman Head Cent: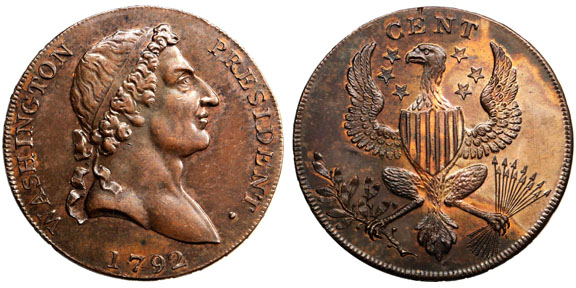 That was a neat coin and brought a reasonable $76,375, continuing a years-long trend of the price of this issue declining from its peak of 2008-2010. It seems the number of new specimens coming to market has been more than enough to satisfy the demand.
With the next items of interest being six groups of low grade colonials offered in lot #2570 through 2575 which realized prices from $250.50 to $499 and featured coins which looked like this:
Why are we highlighting these? Was it that there was something really good hidden in one of these? No, that's not it. It's that we found it especially interesting that these mundane lots were selected to directly precede the Pre-Mint patterns, the most celebrated coins in this entire auction and the unquestioned stars of the show. I'm really not sure about that strategy; if it had been up to me the Pre-Mint atterns would have gone off at the very beginning of the auction to set the tone for the evening.
But we did get through those inexpensive lots and eventually on to #2576, the pleasing Silver Center Cent in a PCGS AU53 holder: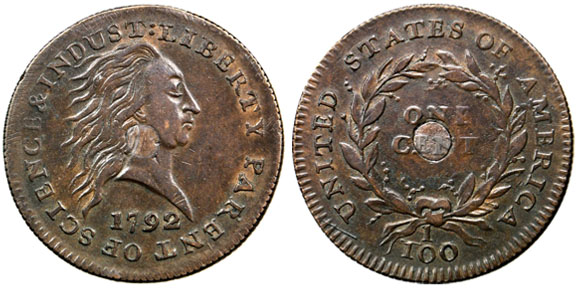 That brought a fair $499,375.
And then came lot #2577, the one we had all been waiting for, a lovely, totally original and in all ways exceptional 1792 Birch Cent in a PCGS AU58 holder: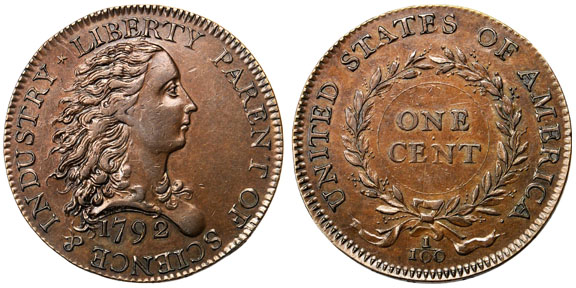 That seemed like a good deal to me at $1,175,000. In fact, I personally liked this one better than the MS65* RB coin in the Partrick sale, as it was so wonderfully wholesome and problem free, though I realize that is a minority view.
And, as is my custom, I left at that point, not sticking around for the Confederate issues and world coins at the end of the catalog, instead heading to the hotel bar next door for a celebratory drink with the guy lucky enough to win that Birch Cent.
How cool is that?  Very.  And while we were disappointed not to come home with that coin oursleves (not that that was ever a real possibility), we bought our fair share in this session, including lots of nice Massachusetts Silver coins, many of which will be trickling onto the site as soon as we can photograph them.
With our expectation that the coins unleashed on the market here and in January and purchased by us and other dealers will find new homes soon enough, and this momentary blip of oversupply will be looked back on in future years fondly as an excellent buying opportunity not likely to be seen again anytime soon.
The End