March 31, 2013: CRO's 'March by the Numbers'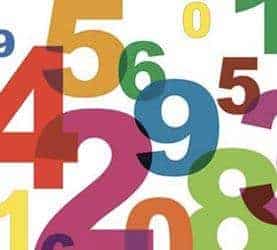 With a mini-lull between tax time and our next show, we have taken the opportunity to crank out another exciting edition of CRO's 'By the Numbers' in which we highlight a month numerically starting right now:
Just one: Shows attended this month, though it was that real big one in Baltimore.
Between the 2nd and 3rd: Inconvenient floor location where the Baltimore Sheraton Hotel elevator doors flung open, revealing a hard concrete wall.
66: Seldom conferred but totally justified grade we received on a cool new Portuguese coin destined to be featured in an upcoming CRO ad with a caption that mentions Vasco da Gama.
2: Wickedly cool Trade Dollars we sold that blew away most every other like-graded examples we've seen in recent years.
5 out of 7: Number of trades for coins in our inventory proposed by collectors that we consummated during the month. And while they don't all work, more often than not we can get to a win-win for both parties.
7: Orders received for the crusty old-holdered 1880 Double Eagle just added to our Archive, making us wish someone (anyone? anyone?) would offer us more that look like that one.
In the $70,000's: Most expensive coin we bought this month.
About 16.5mm: Diameter of the smallest piece we bought (which, coincidentally, was the same coin as above – a superb ca. 1659 Maryland Lord Baltimore Groat).
A Dozen: Number of scallops on the Washington Small Success Token we just acquired, each identical in size and shape to the one in Stack's 1983 Roper Collection sale, the only other scalloped specimen we have ever seen or know about:

Dos: Coins acquired by us in Mexico during the month, from two different sellers.
Less than Half: Level of our winning bid vs our max bid on a lot in the March S-B auction, our best deal (at least on paper) in the session.
64+: Seemingly harsh grade received on the cool Eliasberg Capped Bust 10c we submitted for a customer in Baltimore, one of just four + grades we received on any coin in March.
0: Number of Ted Craige Collection sales yet to come at Stack's-Bowers, giving us all a chance to catch our breath after a 3-mega-sales-in-5-months onslaught of totally cool colonial coins (a lot of which we bought, since opportunities like this don't come up very often).
All of them: Days I flossed during the month, a new commitment I made after getting reamed by the dentist during my last visit.
93.33%: CAC success rate on our own coins (not including those submitted on behalf of customers), which is more or less what we expect on coins we select for the website.
None: Number of USPS large Express Mail boxes remaining at my Post Office after I completely cleaned them out during a late in the month shipping spree.
Um, One: Checks from customers I accidentally threw away (and later found, though I still have no idea how it ended up in the trash).
Also One: Coins that went missing, only to later turn up exactly where they were it supposed to be. This was in fact the same day I threw out that aforementioned check, so obviously I must have been sliiiightly distracted.  All's well that ends well, though!
Less than 10 Miles: Distance I drove to go buy a cool coin from a collector who found me via the PCGS Authorized Dealer list, which is something I wish would happen more often.
Finito