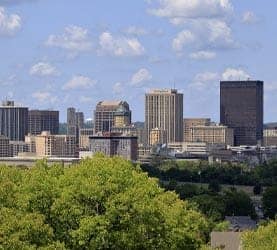 May 2: Day 1
Greetings from western Ohio and welcome to this our first RR from the 2019 EAC Show.
And while we lamented our failure to bring a suitably winter wardrobe to Schaumburg last week, this time we wish we had thrown a golf glove / clothes / shoes into the suitcase, since we'd be needing them for the impromptu golf match held on Thursday here in Dayton.  But of course we made do (i.e. we bought all new stuff in the pro shop), rented clubs and headed out for what turned out to be an excellent day on the links in fine weather on an extremely green and lush golf course.
Getting back (almost) just in time for the 1 PM dealer set up at the show where we found an extremely well organized bourse floor and our tables ready to go thanks to the fine work of bourse chairman Jack Young and case and lamp supplier Wayne Herndon.
Allowing us to set up in a matter of minutes under the watchful eyes of several collectors waiting to see what treasures we would unleash here.
And unleash we did, with many new coins not listed on the site amongst our full colonial, U.S. World and Esoteric inventory.
Followed by a few tours of the two (2) bourse rooms where we saw a lot of cool coins being displayed by collectors, dealers and collector/dealers with a much higher ratio of nice coins than one might find at a 'regular' coin show.
During which we bought a few coins (including one brought specifically for us), considered others, sold a couple, talked about some potential trades, executed one and generally kept busy right up until the 5 PM start of the elegant annual EAC reception.
Where the food and drinks flowed luxuriantly, except in the direction of your author who would have a late dinner date with some collector friends at a place called The Pine Club, regarded by critics as "One of the World's 10 Greatest Traditional Dining Establishments".  I'm not sure exactly how restaurant owners in New York, Paris, Rome and Tokyo feel about that, but I can say the food was pretty good.
After which we headed back to the hotel where your author summarily collapsed after what had been by then a long, action packed, exhausting and sun burnt day.
But we'll be energized and ready to go first thing On Thursday with the bourse floor open to dealers bright and early at 8 AM.
And then describe everything that happens here in vivid detail on Saturday morning.
Until then, then.
May 3: Day 2
First order of business on Friday: Find some decent coffee, which I did in a little stand near the elevator in the lobby.
Followed by some intense blogging, detailed email answering, early phone calling and comprehensive deal tabulating before eventually heading over to the bourse floor where your author was proudly one of the first to arrive.
Allowing me to re-organize all that stuff in the back case that I brought to deliver to various people here, click on the lights and then wait for the onslaught of EACers to visit the table.
And that's pretty much what happened during a day that was nicely busy start to finish, but never hurried with collectors and dealers coming by mostly one at a time, chatting and looking through our inventory, with many buying a coin or selling us one. Or four. Or six.
With your author occasionally wandering around the rooms looking for more interesting NEWPs, seeking out customer want list items and just seeing what was happening out there.
Where we spotted many old friends (i.e. coins we had sold in the past) residing in the cases of collectors who had set up tables here – which is sort of a unique thing about the EAC show, as many non-dealers take a table to have a place to hang out, to offer a few dupes for sale or just to display a few items of the distinctly NFS variety.
This, on the other hand, is for sale here: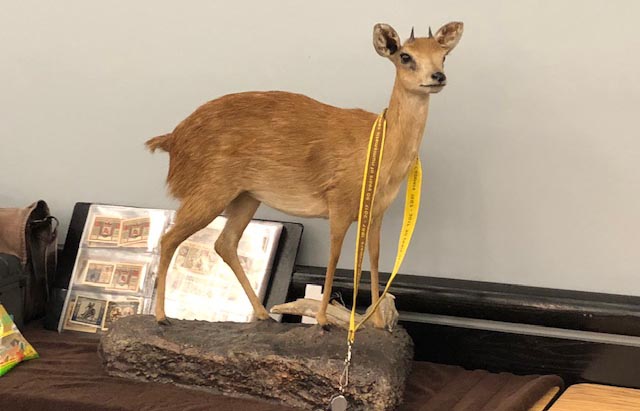 Though interestingly when I asked the guy how much it was he said he had to "look it up". I found that curious, since I'd have thought it would have been more memorable than that. Regardless, it's probably not for me since I would have to buy it an airline seat to get it home, and then explain it to my wife when I arrived there.
After which dealer friend Greg Hannigan delivered some of his incredible salsa, which he made here, and which by itself might have been worth the price of admission. But if you want the recipe you're going to have to wait for Greg's cookbook which he says he is working on. Seriously.
A late afternoon snack which I found sufficiently energizing to then complete a medium-sized cash and trade deal or the sort that we often do at shows, with all of the coins laid out, and both parties hoping for a win-win deal. Which I am pleased to say we accomplished just a few minutes before closing time.
After which we packed up, locked up and headed out to dinner at some cool place in the Oregon District with some dealer friends before calling it a relatively early evening.
So we should be rested and ready to do it all again on Saturday before heading home on a late flight.
Meaning that our final EAC RR from Dayton will be posted from the comfort of home on Sunday morning (unless we get snowed in again, which at this moment seems unlikely).
EOM
May 4: Day 3
Having thoroughly worked out, completely packed up and efficiently checked out of the hotel, your author headed back to the bourse floor just after 8 AM on Saturday where we were one of the very first to arrive.
With everyone else soon to follow on a day that would be at least as active as the preceding, with many of the same collector and dealer attendees still milling about, but also many new arrivees here for the first time on the weekend.
With many weighing and considering (or re-considering) coins of all types, from $150 world coins to mid-high 5-figure colonials, die varieties and type, slabbed and raw.
And sales were pretty good, including a few old friends (i.e. coins we've owned for a while), but also a few NEWPs we had acquired as recently as Friday and only had placed in the case here for safe keeping.
Also keeping up our search for neat NEWPs, buying some, getting close but ultimately no cigaring a few others.
We were also disappointed but not that surprised that a collector decided not to sell us a group of coins that he had 1) Called us about last Monday before the show to arrange, and 2) Brought to EAC specifically to deliver to us.  As dealers we see that from time to time as even guys who want to sell, intend to sell and maybe even need to sell sometimes just can't part with their prized possessions.  As collectors ourselves we certainly get this deep-seated emotional connection; it is actually one of the great appeals of numismatics. Anyway, I'm guessing we'll revisit this deal down the line at some point – maybe as soon as tomorrow. And whenever the owner is ready we'll be ready too.
And then suddenly it was 2:30 and time for us to pack up to make our 2-legged journey home from this nice but not-easy-to-get-to location. Wish we could have stayed longer though, since the table was still busy at that time, and it sure felt like there was more buying and selling to do here.
But away we went, schlepping bags through airports, making our flights right on schedule and finally getting home at about 1 AM before unceremoniously collapsing after another long, tiring but excellent day of coin dealering.
Where it is now time to shift focus to our next EB which will be posted, as always, at noon on Tuesday.
So you might want to keep an eye out for that.