May 22, 2007: Stack's Ford XVIII and Henry Leon Auctions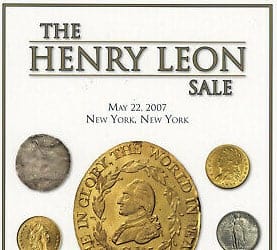 We planned to bring home a lot of loot, and that's exactly what we did.
From the 3 PM kick-off of the Ford session through some early Americana, an exuberant session of several hundred colonials, US type coins, etc., we were active bidders throughout.
The Ford portion was very strong, with the offering of the 'remaining' Peace Medals (i.e. the 2nd tier material not as high grade or choice as Ford's first group sold by Stack's last year) bringing some big numbers. In fact, some in this batch brought prices as high or even higher than the earlier pieces.
We bid on a few for several different customers and in many cases had what we thought were some very strong stretch bids. We were wrong. Turned out we bought many at our max numbers and fell short on others.
Still, we were pleased to get any. Even at strong prices, it's pretty hard to argue the value of these incredibly rare and historically significant medals. Our guess is that all of these prices will seem very, very inexpensive a few years down the road.
And then it was on to the 'regular' session, which was not regular at all.
Case in point, see lot #262, the 'True Bill against Sarah Smith for Fornication'. Yes, it was interesting. Yes, we actually considered (briefly) buying it. No, we have no idea what we would have done with it. I guess the winning bidder had a plan, and bought it for $825.
And then the colonials took off (literally).
Lot #317, the crude but exceedingly rare 1616 Sommer Islands Large Sails Shilling (replete with cancellation marks and some bright green verdigris), offered raw, hammered for a very fair $109,250 to a colonial dealer representing a client. Hard to argue with that price, as just a few of these exist in private hands (and they aren't making any more).
Lot #318, the Sommer Island 2p, was smaller (of course), slabbed by PCGS as VF25 and quite charming, and sold at $86,250 to a phone bidder. Another high but justifiable number.
Lot 319, the New England Shilling, brought an alarming $414,000. This was a nice wholesome piece, though wavier than the four in the Ford collection. We and most others thought it would be strong, but that was more than we expected for a coin which last traded for $161,000 in 2001! We are guessing the consignor was pleased.
And then we briefly settled down into a long run of good, basic colonials.
For the most part, some nice, wholesome coins sold for fair numbers, and we bought many of them for a few hundred up to a few thousand dollars, until the serenity was shattered by the next big coin.
Lot #521, the Indian Excelsior, did not go unnoticed. This is a neat type with about as cool a motif as you'll see, and they just don't trade very often. There are 12 known of which this is generally regarded as 5th finest, with a number of the lesser pieces meaningfully impaired. We were pleased to buy it at north of $100,000 as we had room to go.
From there it was a slow wind down to the finish with more wholesome coins bringing more fair prices – with one more catching our interest.
Lot #524, the rare and unusual (and crude) Machin's Mills 24-72C sold for a surprising $13,800 after some enthusiastic bidding. This is a coin we know well – it had previously been on memo to us and found no buyers on our website at $10,500. Something about an auction room and seeing others vying for an item gives some buyers confidence they would not otherwise have, apparently.
And then it was on to the Federal issues, featuring a mixture of great coins, fixer uppers and most everything in-between.
Of particular interest was a group of original rolls and partial rolls (with the quality ranging from lousy to amazing) that sold mostly to dealer-submitters for quite strong prices when the coins merited it.
Lot #1240, a roll of 1931-S Lincoln 1c with the original wrapper and 1950's era bill of sale, sold for $9,200.
And then we got to a fresh group of coins from the wreck of the SS Central America that had been put away since they were first sold into the market in the late 1990's. The coins were apparently hand picked and quite nice for the assigned grades, including some dates that were not typically seen from that wreck salvage. Not surprisingly, they sold very strongly:
Lot #1460, a lovely 1855-S $20 in a PCGS MS64 holder, brought a resounding $36,800.
Lot #1467, a Humbert Slug in a PCGS XF40 holder brought $43,000.
Lot #1469, the deluxe leather bound special edition Gold Rush book (one of 400 produced) sold for an amazing $5,980! That's good money for a book.
But let's end with a cautionary tale:
Lot #1484, a raw AU 1796 no stars $2.50 opened and closed at $60,000, unsold. This coin last appeared in an auction less than a year ago in a PCGS AU55 slab and sold for $92,000.  Someone evidently thought it would a good idea to crack that coin out of it's former slab.  And someone was evidently mistaken.  Conclusion: The crackout game is not for the feint of heart.
In all, and similar to most auctions, great deals and horrible burials were present in equal numbers.
And, as we always say, the key was to know which ones were which.