May 26, 2006: So how much of a premium above sheet levels would you pay for a choice original coin?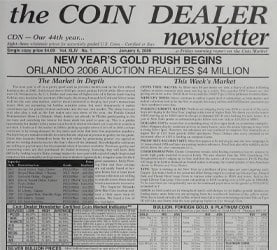 Lots of people say they want them. That they value originality. That they hate to see original coins stripped and dipped and ruined. And we agree.
So how much of a premium to the Graysheet are you willing pay to acquire a choice, original coin?
A value commensurate with one grade higher? Two grades higher? Three? More?
Lets say a wonderful, choice, original PCGS MS64 BN Draped Bust Half Cent in an old green label holder appears in an auction. Possible buyers for the coin may have completely different ideas about the coin and its value:
Some people will want to buy it for exactly what it is, i.e. a choice, original coin in its current holder and will value it as such.
Some people will believe it is an upgrade candidate if merely cracked and resubmitted and will value it at the new MS65 grade, for example, they think it will become.
Some people will believe that by expertly conserving a coin (for the purposes of this example, lets say that it is by brushing or some other method that some people consider to be innocuous and that the services apparently find acceptable) they can turn it into a much higher grade and they will value it at the MS66 or MS67 grade they think they can make it.
So what does that mean?
It means that in order to buy choice, original coins, you need to value them at a higher level than the other guys who may have a totally different perspective and plan for the item than you do.
Which means to us that choice, original coins are invariably going to be expensive. Very expensive. Maybe 2 or 3 or more levels higher than sheet prices.
And if you aren't willing to pay a strong premium for choice original coins, then you simply aren't going to be able to buy any.