May 27, 2007: The Right Stuff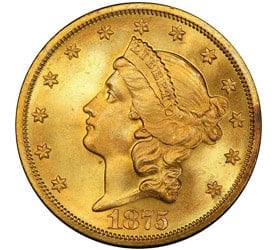 Is what I saw during a recent visit to view a customer's collection.
He graciously invited me to travel to meet him and view his coins, and, of course, I enthusiastically accepted. This is one of the great perks of being a coin dealer; we always look forward to seeing collections of any specialty. Or size. Or value.
The owner is a good customer, but we had never met face-to-face until that day. That is more typical than not these days, as many serious collections are built coin-by-coin from mail order firms and from internet-based dealers.
And through past conversations, I knew that his collection had been built carefully over a long period of time, was broad and varied and also included some great rarities – a few of which are quite well known.
But I wondered what other visual delights he had picked up over the years.
The trip was about 2 hours from our Connecticut office. It was a beautiful spring day, and the drive to the rural Northeastern town was a joy. We met at his office, and he took me to the bank where the bulk of his collection was stored. (Wisely, he keeps all of his coins in bank vaults, and stores nothing in his home or office. That's what coin photos are for).
At the bank he carefully removed a number of coin boxes from his safety deposit box and we gradually went through them one by one.
We began with the 'highlights' – a couple of great rarities that I had last seen at lot viewing of some prominent auctions in the 1990s. And they were more magnificent than I remembered.
Next were some surprise rarities in both the US and Canadian series that I did not expect. There were significant coins pedigreed to famous collections which he had carefully selected and put away years earlier.
I was also delighted to see the many old holder coins – mostly from PCGS, but a few from NGC as well. The owner is sitting out the 'crack-out' mania that has swept the hobby for the last 15+ years. He has a great eye, and he lets the coins speak for themselves.
We could not agree more with that approach.
Then it was on to the colonials – a small group of lovely pieces that were far more satisfying to look at than some of the higher numerical grade sets we've seen through the years.
What really surprised me is that he had a nice selection of inexpensive coins as well. Whether it was a $50 key date Walker in VG or a doubled die cent from the 1980's, each coin was selected with care and was choice for the grade.
In all, we probably spent more time looking at and discussing the 'regular' coins in the collection than we did the so-called highlights.
What I didn't see at all were over-graded, over-conserved coins (in or out of slabs), high priced speculative purchases, and the detritus that seems to accumulate in nearly everyone's collection over time.
In short, this was a collection built with care, thoughtfully, patiently, and done in what we strongly believe is the right way.
Perhaps like most collectors, the owner has had a varying capacity for coins at different stages of his collecting life. He was able to take advantage and buy some mega-coins when he could, but took just as much pleasure in adding moderately price items at other times.
Regardless of price points, all of the coins were selected based on eye-appeal, originality and quality and that is obvious when viewing the collection.
In short, and regardless of the value of any particular item, it was all the right stuff.
The owner doesn't sell his coins (he's pretty sure he still has the circulated silver dollar that got him started as a youngster), so he is quite careful about what he adds. He does add coins regularly, so he is able to constantly be on the lookout for new pieces – one of the great pleasures for most collectors.
As I headed back to the office at the end of the day I felt really good about what I saw and the implications for any collector.
While the mega-rarities get the lion's share of the publicity, anyone can build a nice collection of really choice coins within most any budget and enjoy the process.
You just have to buy the right stuff.