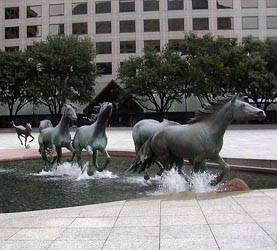 Day 1:
I'll have to type this quietly, as I am currently sitting in the "Colonial Coin Happening" (one of several on various copper topics going on concurrently) on the Mezzanine level of the Sheraton Grand Hotel in hot Irving, Texas, host to the EAC Show, 2008. At this precise moment we are looking at a photograph of a New Jersey Maris 12-G on a video screen in front of a group of 20 or so spirited colonial numismatists. Hey, it beats working.
Before that it was a raucous and well attended Heritage-hosted EAC reception dinner, featuring lots of good food, good copper conversation, occasional mirth and an extremely delicious chicken dish of which I availed myself repeatedly.
And we were ready for that, after developing a substantial hunger at a quick dealer set-up. I only arrived after 4 PM, which left me less than an hour to put our cool stuff out for public viewing, attempt unsuccessfully to find a pre-assembled lamp with a functioning light bulb in it and peruse all of the offerings in other dealers' and collectors' (who also set up here) cases.
I'd have been here earlier and had more time on the bourse floor, but we were delayed on the lengthy flight from New England, affording plenty of time for me to get some work done on the flight. Which would have been terrific, except that the person in front of me spent 4 hours reclining her seat as far as is humanly possible (and surely beyond the seat manufacturer's recommended tolerance) directly into my face, such that I had to type while resting my laptop at an acute angle off my gut with my arms positioned almost exactly like that of a Tyrannosaurus Rex.
But there is plenty of room to type here in the hotel, and ample opportunity to get myself psychologically prepared for tomorrow and the official start of the show.
And, I assure you, I will be ready.
Day 2:
I arrived at the bourse this morning right here in my hotel at 8:50 for my anticipated entry at 9 and discovered that most people had been there since 8. Great. The day was just starting and here I was 50 minutes behind the competition.
Which really would have been no big deal at all, except that everyone who got here before me snagged all the available lamps, leaving me with one broken lamp, no bulb, no mount to attach it to the table and total darkness shrouding our inventory.
Fortunately, we value ingenuity at CRO, and I lifted a bulb from a box I found on a corner table, jury-rigged a mount from spare parts, got the thing up and running like some kind of numismatic McGivor and felt extremely proud of myself in the process. And well-lit.
Just in time, too, as the throng of public rolled in shortly thereafter.
In point of fact, this show doesn't contain a lot of public per se (at least not the same public we see in most venues) – here it's largely dealers, serious collector-dealers and serious collectors with EAC (early copper) or JRCS (early silver and gold) affiliations, all talking about serious coins, displaying same in some amazing exhibits and buying and selling inventory from each other in some sort of deluxe dealer set-up day as what one might expect to encounter at the beginning of a regular Baltimore or other major show. Except that here it continues throughout.
And it was surprisingly active (at least to me), a lot of fun and a commercial success, as we got to see and chat with lots of old and new friends and sell a whole bunch of stuff to a lot of different dealers. Not huge dollar value, but really welcome nonetheless, as we moved a number of coins we specifically hoped to sell at this show, including some of the tail-end items of some recently acquired collections, coins we took in trade but didn't love, etc. Not that there is anything wrong with such material; it just isn't quite right for our site and so it never made it there. And now it's gone.
I'd also like to be able to talk about our NEWPs, but won't go into too much detail here. We did pick up some cool things, including a few coins we bumped into on the floor and a small group we finalized last week and picked up here at the show, all of which will be marketed starting next week.
But really the focus was on sales, the last of which was at 4:30 PM, after which I quickly packed up and got organized for my early (EARLY) AM departure tomorrow for New England and what my wife tells me is a "mandatory piano recital" by my daughter. When the words mandatory, piano and recital are used in a sentence like that, you get on a plane.
So, EAC for us was quick, successful and now complete – leaving us time to focus on sorting out NEWPs (both from EAC and earlier) and then gearing up for the mega-auctions at Stack's, Goldberg and Heritage coming in the next few weeks.
Speaking of which, our next trip will be to that aforementioned Stack's auction in NY in just 13 days from now.