November 11, 2016: Stream of Coin-sciousness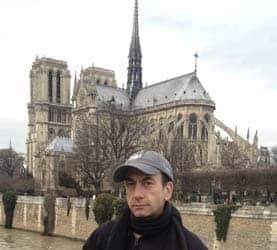 Inventory update: We've arrived at our intended steady-state website offering of about 200 coins (give or take), in the process beefing up a few areas where we've wanted to maintain a more robust assortment, namely Fugio Coppers and gold coins which circulated in early America. Of course we've always had some of those in the past, but not a consistent quantity sufficient to make CRO the destination for those seeking nice, original examples in a variety of grades and price points.
Speaking of finding coins like that, of all the challenges to being a successful coin dealer, just keeping track of what auctions are taking place, where, and when is right up there near the top as there is a nearly continuous schedule of Ebay, internet, local and world actions in addition to the occasional major 'unanchored' (i.e. not attached to a show) event and of course those regular ones at every big coin convention. Yes, we do miss some things, but I bet we follow this stuff more closely and buy more coins in obscure auctions than nearly anyone else.
Numismatic Truism #533: If a coin package is delayed or mis-routed in the USPS system for any reason, that is the one USPS receipt you will not be able to find in your otherwise fool-proof filing system no matter how many times you swear and/or slam a drawer.
Planning to numis-modify your entryway? Might we suggest this arrangement of RD and BN pennies artistically glued to the floor?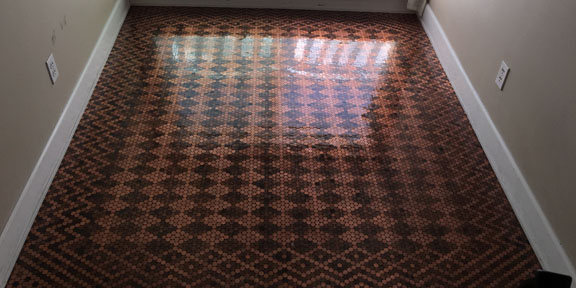 Editor's note: You'll need to lacquer these before installation so as not to have the pattern fade away and turn solid BN and/or verdigris green over time.
Another benefit to handling cool and unusual things on this site like our most recent NGC Black slab: Free publicity, including this recent article in the E-Sylum (with their text highlighted in gray):
1987 NGC Black Label Holder Sold Again
David Schwager writes:
  In case anyone has "non-buyer's remorse" and wants another chance at the NGC black holder mentioned in the last E-Sylum, it is currently for sale by well-known Massachusetts dealer Coin Rarities Online. Asking price is $4,750. They sent the slab to CAC and it now has a gold sticker.
Really? They slapped a sticker on it? Doesn't that ruin what was previously an untouched collectible original slab? -Editor
To read the complete article, see:
1946-D Walking Liberty 50¢ (http://www.coinraritiesonline.com/index.php?page=search&task=det_item&item_id=430191)
To read the earlier E-Sylum article, see:
1987 NGC "BLACK LABEL" HOLDER SOLD (www.coinbooks.org/esylum_v19n44a20.html)
And, in response to the Editor's series of questions above wondering if the CAC Gold sticker would "ruin" the slab, I can safely say "no".
What won't we say "no" to?  Why that would be photos of our customers wearing CRO hats all over the world, so we can post them here in an upcoming CRO "Hat Attack" section of this site.
If possible, we always like shots which include recognizable landmarks or place name signs in the background to set the scene.
EOM
Sav

Save
Save
Save
Save
Save
Save
Save
Save
Save
Save