November 12, 2018: CRO's View of the Archangel Collection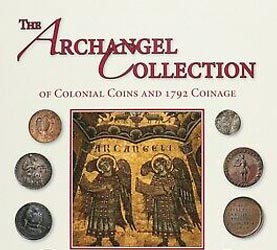 Don't look now, but CRO is about to recap Stack's-Bowers' recently concluded sale of the "Archangel Collection", an interesting, mostly high-end, well-pedigreed and loooong off the market offering of colonial type coins and pre-mint patterns assembled by an astute collector in a concentrated period between 1972 and 1984, privately and in significant auctions of the time, and then apparently left undisturbed and never upgraded, added to or otherwise improved for a generation.
And while your author had heard rumors and was vaguely aware that this set was out there, somewhere, I never knew exactly 1) Where, 2) What was in it, and 3) When/if it would ever come to market.
So of course I was extreeeeemely interested to read the initial auction announcement by Stack's-Bowers many months ago, and to then see scattered highlights of the collection displayed by them at various shows and new, previously unseen high grade colonial images popping up on PCGS Coinfacts as the coins were graded.
At which time I realized that I had seen many of these of these coins before, at least in print, since it turns out a number of them occupied positions of high honor in many of the colonial census lists I had created for each series through the years.
And while I had always assumed that many of these coins were in either well known super-strong, never-to-be-released hands, or perhaps in one institutional collection or other, I was wrong.  Because here they were, available, with your author about to get a shot at all of them – and then post this auction recap starting right now:
With the first notable item in the sale coincidentally the first item offered, lot #7001, among the most pleasing, aesthetic, nicely round, evenly struck, problem free and old-toned New England Shillings you author has seen (all images in this article courtesy of Stack's-Bowers):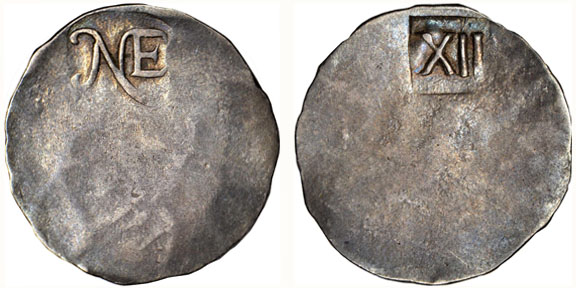 Selling for what seemed to me to be a quite reasonable $204,000.  Now, that's well down from the $400K+ high water mark of this type 5 to 8 years ago, but a tick above results circa 2015. And that might well have been a tick and a half (at least), since I know at least one would-be bidder who was unaware this piece was in the sale, and insisted he would have gone a fair bit higher. Oh well.
And then on to lot #7002, a Willow Tree Shilling acquired by the Archangel collector in Stack's May 1976 Laird Park sale where it was described as "Struck on a full almost perfectly round planchet and toned a lovely silvery gray and blue. EXTREMELY FINE.":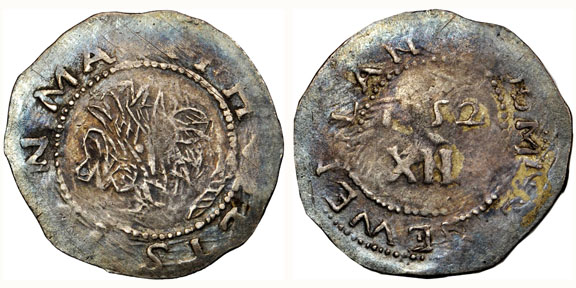 Your author and PCGS had a sliiiiightly different view in 2018, the latter calling this coin 'VF Details, Tooled' based on some obvious heavy-duty reworking at the lower obverse which held this piece back to $44,400.
But many other coins in this offering were super choice, including lot #7011, a lovely Pine Tree Shilling, Small Planchet, Noe-17, in a PCGS AU53 slab but looking waaaaay nicer than many like-graded examples we've seen: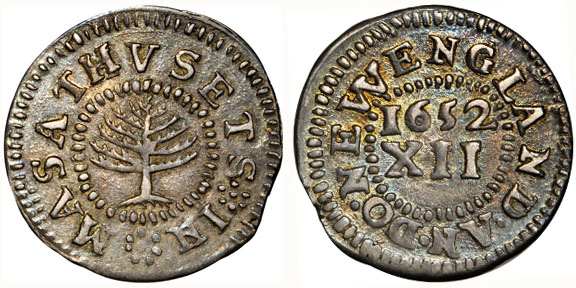 Other bidders evidently felt the same way, carrying this to $26,400 – which is more like a primo AU58-MS61 price. Can't say it was not worth it though.
Also selling for a price which belied its grade: Lot #7020, a lovely, original St. Patrick's Farthing Martlet (that duck with no feet underneath the king) variety graded AU50 by PCGS: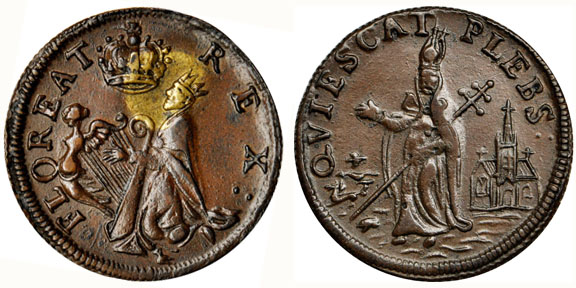 That again looked quite undergraded to this author – more like AU55 – and again that seemed to be at least the prevailing opinion, rocketing this coin to an unprecedented for the grade $31,200.
Followed by a long line of nice, highly graded and surprisingly sought-after Rosa Americana coins with lot #7028, the extremely rare 1733 Pattern 2pence ex Parmelee-Garrett the crown jewel at $132,500: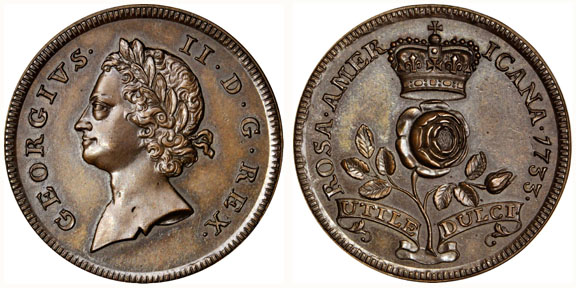 A price we found entirely justifiable, as there are just 6 known examples of this issue, one of which is permanently impounded in the British Museum, another in the Smithsonian and one which unfortunately went down in a shipwreck in 1854 and is presumably never coming back up(!). And since 2 of the remaining three in private hands are locked up tight, this was the lone, fleeting opportunity for a collector to acquire one for the foreseeable future.
Equally popular here: The Hibernia coins, with lot #7038, the rare, unusual and seldom seen Trident reverse pattern graded PF64 BN ex-Garrett the most expensive: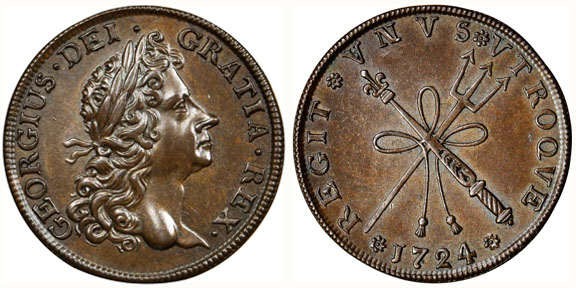 That brought $90,000 all-in, a price of particular interest to us, since we sold the PF65 BN finest known example ex-Norweb for considerably less than that a couple of years ago.
But while those pieces were strong, that trend did not carry over to lot #7047, the raw 1694 Carolina Elephant PROPRIETORS in MS63 BN ex-Bowers October 1980 sale of the Garrett Collection: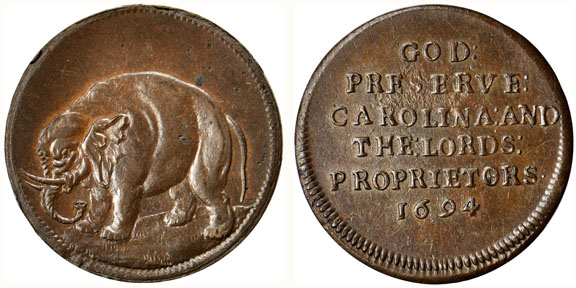 This coin has always been CC #1 on your author's census of this rare type (just ahead of the only other mint state piece known, a PCGS MS62 BN), so we were stunned to be able to buy it for just $24,000 (since we ourselves paid $47,000 for the NGC XF45 example in the Newman sale in 2014, and had sold a VF30 example in the mid $20,000s more recently). How can we explain the Archangel auction price? No idea. None. Not complaining though!
But perhaps the most baffling of all results in this sale (to me, anyway) would be lot #7088, the 1787 George Clinton Cent graded MS62 BN by PCGS, one of 12 known examples, 4 of which are impounded in museums. Of the 8 in private hands, this is, by all accounts, the 2nd finest example and realized $168,000 here: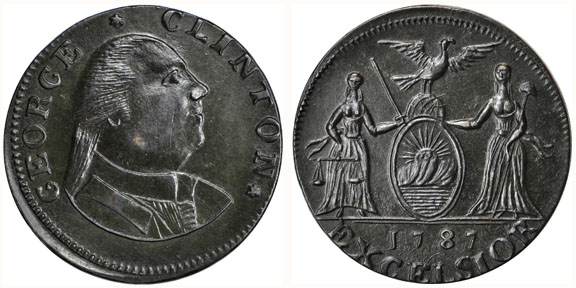 Now, while that is not an inconsiderable sum, it sure seemed cheap in the context of the few other recent Clintons that have come to market. Including the finer example in the Newman sale in 2014 graded MS63 BN by NGC which realized $499,375(!). Or the pleasing XF40 PCGS example ex-Garrett which sold in 2015 for $235,000. Or even the F15 PCGS coin which sold at Heritage in 2017 for $152,750. How can that be? Does this mean that the bottom has fallen out of the Clinton market? No, I don't think that's it. Rather I think it is a function of some combination of a half dozen factors:
The rarity (and price) of this issue makes it virtually an "NC" (Non-Collectible in EAC parlance) among even some of the serious segment of the colonial collecting community
This is a sufficiently thinly traded market that the presence or absence of one bidder at an auction like this can materially change the result
Some of those active on this day and interested in this issue seemingly had an example they were at least content with, causing them not to chase this piece as a mere upgrade
The presence of many other desirable target coins in this session may have drawn some potential buyers' eyes elsewhere
Some potential bidders may have assumed this would sell for much more and thus did not give it serious consideration as a realistic purchase option
Something akin to paralysis by analysis, where even those who wanted this coin, had the means to buy it and intended to bid in the sale just simply didn't pull the trigger
Despite all of that, I think the illogic of this result is undeniable, and will quickly give way to a sale for much more on the aftermarket. And, in our view, it will be worth it.
With our next highlighted lot #7095, the 1787 New Jersey Copper 'Pattern Shield' Maris 6-C issue, ex Chapman's 1904 sale of the John G. Mills Collection, now graded MS63 BN by PCGS which brought $60,000: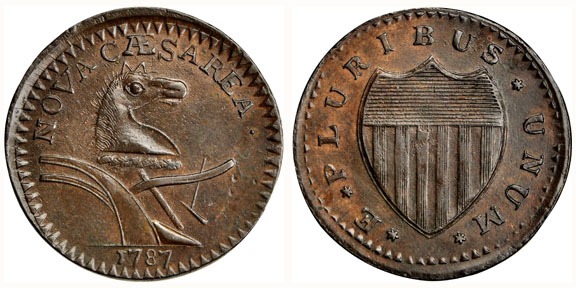 That's a distinct Redbook type and a tough R-5 issue, so when we had an opportunity to buy the finest known and only mint state example known, we jumped all over it (and then sold it off this very site just 4 days later).
Speaking of superb state coppers, it was tough to top lot #7099, the 1786 Vermont VERMONTENSIUM last offered at the 1976 ANA auction as part of a consignment from the Boston Museum of Fine Arts, now graded MS63+ BN by PCGS, which realized $84,000: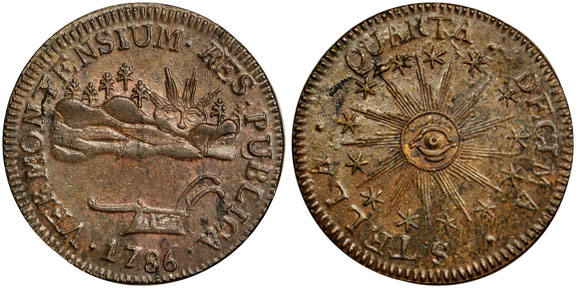 Of all the coins in this auction, this piece seemed to draw about the most pre-sale buzz, with even those who do not collect or deal in these coins taking the time to go view it. I know this because a bunch of them came and told me about it at the show and right up until I stood in the hallway minutes before the auction. I guess not surprising though, as this has always been among the most beloved designs in the colonial series. Which explains why we bought it.
But while that was undeniably popular, lot #7106, the Standish Barry Threepence ex-Crosby-Massachusetts Historical Society proved a lot less so at just $52,400: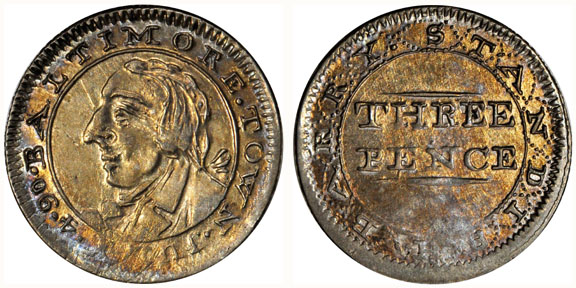 Now, we did not love the look of that coin, but as values go that seemed to be another Clintonian rip of the highest order. I'd say I wish we were the rippers on this one, but our business model has never been to chase things just because they are going "cheap", but rather to choose the coins we like and want to own and go after those.
A list which definitely did not include lot #7117, the only Castorland Token included in the collection, which was, curiously, a cleaned and heavily hairlined 20th century copy in copper: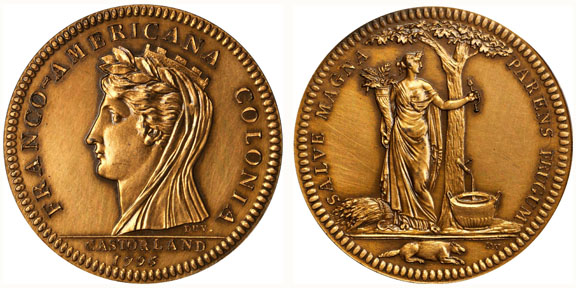 So why are we highlighting this piece?  Two reasons: 1) I couldn't figure out what the heck it was doing in this auction, and 2) It was the single most affordable coin in the entire Archangel offering at $75 (which still seemed like a lot of money to me for this item).
The Washington pieces, on the other hand, were waaaaay nicer, including lot #7124, the 1792 Roman Head Cent ex Stack's 1983 sale of the Roper Collection, now graded PF66 BN by PCGS: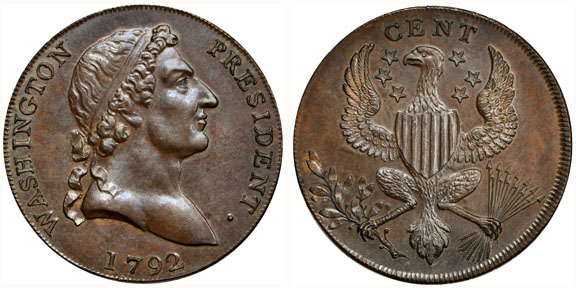 We've been trying to buy one of these for a collector customer for several years now, and have been frustratingly outbid on lesser examples in recent auctions.  So we were very pleased, no, delighted, actually thrilled to acquire this pristine, original, well-pedigreed, über-gem example for what seemed a relative bargain here at $114,000.
With the next highlighted item another all original, pop top Washington piece, lot #7135, a brilliant, silvered, near-gem Large Success Token the likes of which we (and others, apparently) had never seen before: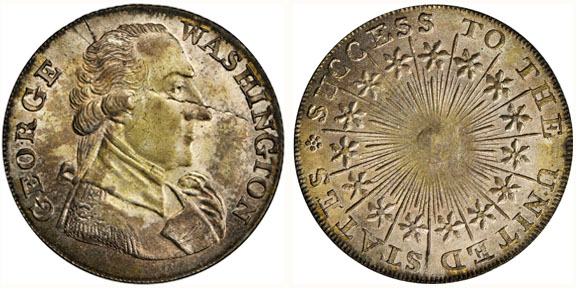 Which may explain why it rocketed to a record for the issue $16,800.  And though we agreed with the grade, and considered this a desirable item, it really was not for us based on the obverse die crack.  While it was as made, it is something we generally avoid based on our preference for coins which, to the extent possible, represent the original designs as the makers intended them (i.e. without big die breaks, huge cracks, mis-strikings and the like). To each his own, variety it is the very spice of life and all that.
With the colonial portion of the sale culminating with the Fugio Coppers, including lot #7142, the finest example we've seen of the rare Newman 11-A UNITED over STATES variety graded MS66 RB by PCGS which realized $36,800: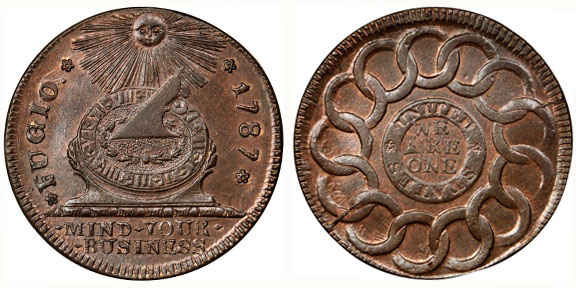 We've always liked this issue, as not only is it a rare variety, it happens to be the best made one in the entire series, and even in lesser grades than this is found very deeply struck with bold legends and devices. That's quite strange; we can't think of any other rare die rarities in any other colonial series which are better made than their more common brethren.  Can you?
Followed soon after by lot #7151, the 1792 Birch Cent, Plain Edge, graded AU58 by PCGS which realized $660,000: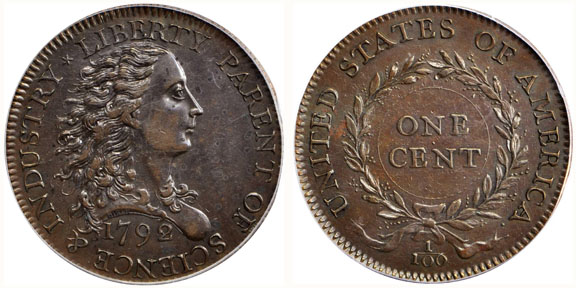 Obviously a rare and desirable item, and this is the only Plain Edge example known to exist, but we feature it here since it was the single most expensive item in the Archangel Collection by nearly 2x, but still well less than the last (admittedly more pleasing) PCGS AU58 Birch to sell.
With our last highlighted lot #7154, the Libertas Americana Medal in Silver graded MS62 by PCGS: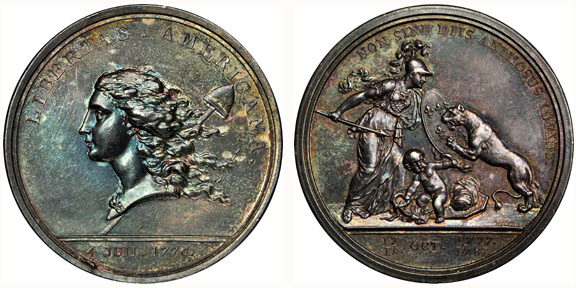 That was a very striking piece beautifully toned in shades of blue and gold, but not better than 62 in our view. So we were surprised to see it rocket to $156,000, a new record for the grade by about 40 grand.
And so what can we conclude about all of this activity?
There were three big take aways from my perspective:
The most attractive, original and eye-appealing type coins were in super deluxe high demand.
There were bargains to be had, as many of the rare and esoteric issues were soft, even if they were nice examples.
Anything off quality or not very nice for the grade went cheap.
So how did CRO do? We were pleased to buy a bunch of coins, at prices that varied from right around our max (i.e. our category 1 above) to less than half of our planned bid (category 2).  With just a few things getting away from us in a session in which a lot of the heaviest bidding activity seemed to be on coins we were not chasing.
And that's really all we have to say about that.