November 16, 2014: CRO's View of the Eric Newman Collection, Part V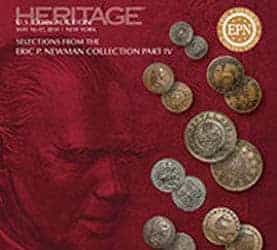 As a continuation of our May 17th Commentary on the Eric Newman colonial auction Part IV, we are pleased to add our thoughts on the recently concluded colonial auction Part V just held in New York.
And this was an interesting one, not very large at just 82 colonial lots in the Signature portion of the sale, of which we would characterize about 75% of the coins as "not all that exciting", but with the remaining 25% ranging from "not-beautiful-but-extremely-rare" to "highfalutin" to a few that were utterly "absolutely-epic-once-in-a-lifetime-opportunities".
With all graded, again, by NGC, and evaluated by CAC, but in such a way that we frankly disagreed with a high percentage of both of the assessments, both on the high and low side.
Finally, in the spirit of full disclosure, note that we weren't at the actual auction in person, instead having viewed the lots in advance, twice, and then watched the proceedings online from the office. How come? Had this been a larger offering we'd have gone in person, but we were planning to bid on only three lots on this day and figured there was no particular advantage to being in NYC to do so – especially since last time we were there for the auction in May we sat in the auction room but still bid discreetly using HA Live anyway.
And with that let us begin, with our first notable lot #3005, the finest Chalmers Sixpence that your author has personally seen, or knows about, with lovely, original coin gray color, a very sharp strike including a full, crisp star and just about perfect centering (this and all images in this article courtesy of Heritage):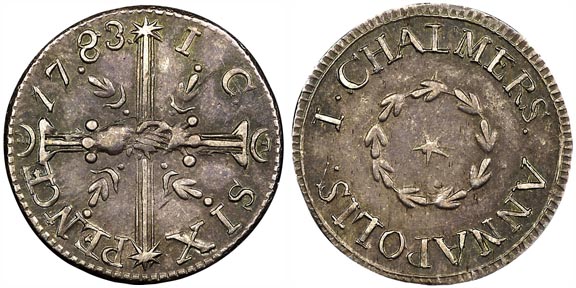 The price realized of $88,125 can't be called cheap (especially compared to any recent US auction record of which there are only some far inferior coins), but it seemed like a very good deal to us compared to a recent auction sale of a nice but lower grade example in France, and the private sale of the lovely Garrett specimen (like graded by PCGS at AU55) in the last year for much more.
While that was a scarce denomination with roughly 35 known in all grades, the next piece of interest, lot #3007, the Chalmers Rings Shilling, is a solid R-7 with just 5 examples extant. Of which this particular one was 4th best, in a condition (NGC AG Details, extremely worn and with a giant hole in it) not likely to impress your spouse, or your non-collector friends: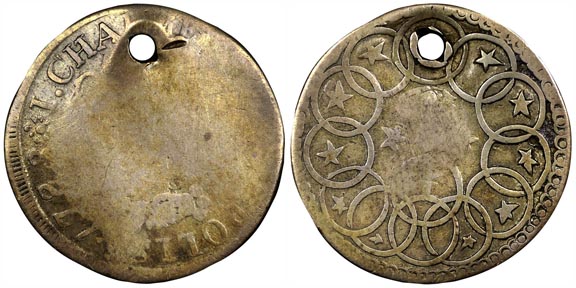 Still, it brought $44,062.50, which I thought was surprisingly high, but defendable for this issue.
Then we were on to the Nova Constellatios and lot #3010, a common 1783 Pointed Rays, Crosby 2-B example in an extremely uncommon NGC MS66 holder, verified by CAC, with an utterly hammered obverse strike: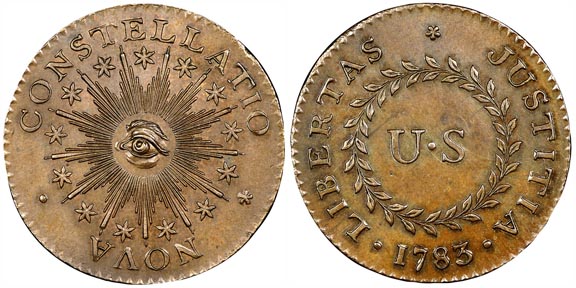 I personally graded this coin 65 at best based on the evident lines in the central reverse, and I tried to buy it for 65 money. Alas, it sold for what I personally consider a 66 price at $44,125 to someone else, which was exactly what I expected to happen.
With the next coin of interest lot #3016, another Nova different from the preceding piece in nearly every single way possible, the most important of which was that this one was a contemporary counterfeit long known in numismatic circles, unique, and über-desirable as such. It was also holdered by NGC (despite its contemporary counterfeit status) and designated as 'Whitman Encyclopedia #1920', which I thought was a totally appropriate move on their part to suitably recognize an important and desirable coin in the series: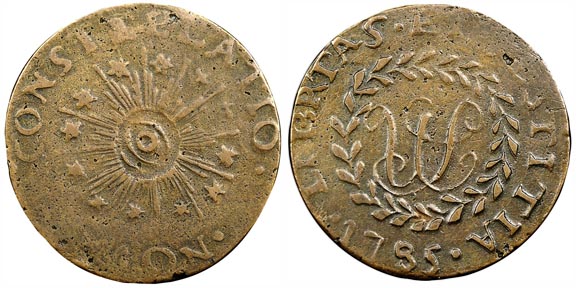 Surprisingly (to me, anyway) it realized just $7,050, though I am sure the winning bidder would have gone considerably higher had it been necessary.
And then came Newman's run of important and seldom seen colonial coins designated in the Redbook as "Speculative Patterns". And while these were all interesting, rare and desirable, I was not enamored at all with the condition of some of them, as many evidenced old cleaning or tooling or the like, and I personally consider some of the designs far more desirable and historically important than others. With the most important piece of all being the first one, lot #3018, by far the finest known example of the definitive Confederatio pattern, bearing Thomas Jefferson's recommended Inimica Tyrannis America obverse and the Confederatio Large Circle of Stars reverse as depicted in the original notes of the Continental Congress in 1785.  Coincidentally, this very coin was referenced in our April 16th, 2014 Coin Commentary (long before we knew it would soon be on the market) and illustrated with its B/W Breen plate photo.  In hand it was much nicer, with superb, original color and housed in what I thought was a well deserved NGC MS63 slab, but not verified by CAC: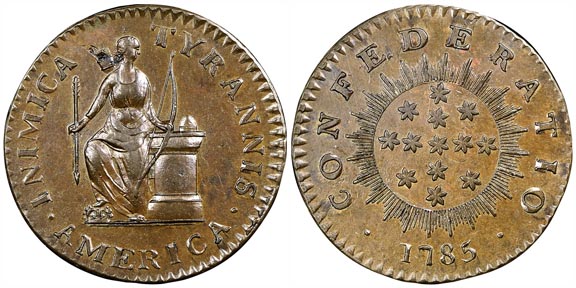 And so I tried very, very hard to buy this coin, ultimately succumbing at $352,500 which I still think was a good deal for what might be the ultimate colonial coin.
Followed soon after by lot #3023, a fantastic, original, nicely struck example of the 1786 Immunis Columbia Maris 3-C, a neat issue categorized as a speculative pattern, but also as a New Jersey Copper based on its shield reverse, in what I thought was a too low NGC MS62 holder again not verified by CAC: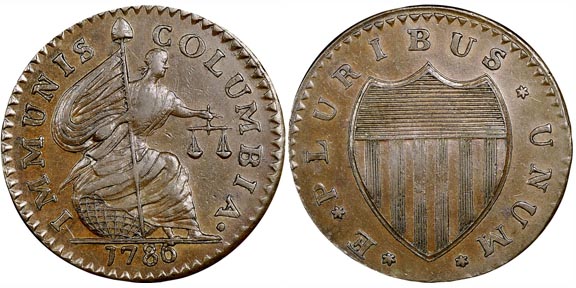 This piece had been regarded as 3rd finest known in a recent census as noted in the Heritage description, but I personally rank it numero uno in the CRO census and would choose this one over any of the other known examples. And so I tried to buy this one too, losing out at $141,000 which probably seemed like a strong price for the grade, but was assuredly not for this coin.
And then we were on to the Continental Dollars, including the typically seen types, some rare off metal strikes and, the coolest of all, lot #3041, the finest known example of the extremely rare variety with the obverse misspelling error CURRENCEY: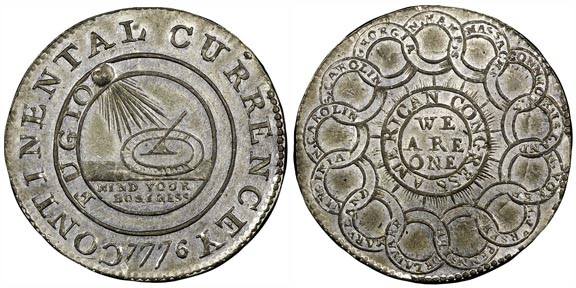 And while I loved the coin, I really wasn't sure how much demand there would be for it. I needn't have worried, though, as there was plenty, to the tune of a solid $381,875 price.
The auction then continued on into the Fugios, and I checked out.  While there were some tough types and rare varieties, I did not care for most of the coins in the group and did not want to buy any of them. So I didn't try.
And there you have it. In all, we bid on just three lots as noted, won none, thought two of them were still good deals, but above a level where we would feel comfortable to inventory them.
Leaving us to ponder what else Mr. Newman will be bringing to market in the future. Certainly he has other colonials, including some quite heady ones, but at this point we're not sure what will be kept, or sold in a future auction.
If the latter, rest assured we'll be covering it right here as soon as the session ends.
The End