November 26, 2020: Thank You!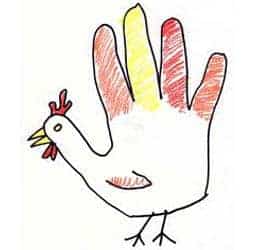 Thank you!
Thank you to our loyal customers who allow us to play with cool coins all day, every day, instead of schlepping off to real jobs like we used to.
Thank you to our friends Marc and Jenny and the whole team at 3 Media Web for redoing the website on the fly this year allowing us to continue to do business without missing a beat.
Thank you to Rebecca and the whole crew at PCGS Marketing for creating our PCGS website banner ads, and then helping us snag our usual PCGS calendar page so we could feature another cool coin (er, token) on it.
Thank you to the grading services who continue to indulge us with all sorts of bizarro pedigree requests so we can help ensure that the history of some of these coins doesn't disappear into the ether (like just this week, for example, when we found an image of a cool colonial in our inventory plated in a 1906 Chapman sale).
Thank you to the entire team at CCE for providing us with all the market information one could ever need and helping us double list all our coins on their platform.
Thank you to CAC for helping us continue to prove that there actually IS a market for coins which are NOT cracked out, conserved and regraded countless times before being sold.
Thank you to Cathy and the gang at CoinWorld for helping us continue to create our ads for the 14th consecutive year(!).
Thank you to our many CRO ad caption submitters who often come up with ideas that are waaaaay better than the ones we thought of ourselves.
Thank you to Eddie our long-time graphics guru who continues to help us translate our vision into website and holiday card reality.
Thank you to all our auction friends and colleagues at Goldberg's, Great Collections, Heritage, Stack's-Bowers, etc., who provided us the opportunity to buy a lot of cool coins and helped us sell thousands too.
Thank you to our Ebay listers who helped us sell another several thousand coins that weren't website-worthy.
Thank you to our many dealer and collector friends who offered us more cool coins than ever and thus helped us fill all those 51-coin Early Birds during a year in which we had very limited opportunities to scour bourse floors for NEWPs like we used to in the olden days.
Thank you to Ernie of EBW Promotions who found a way to conduct local shows in New Hampshire in accordance with the Covid restrictions and thus allowed us to satisfy our coin show fix at least a little bit during a year when most everything else was cancelled.
Thank you to our customer John who gave us some cool coasters featuring a rainbow toned Pillar ½ Real he got from us (here seen during performance testing with a whiskey sour):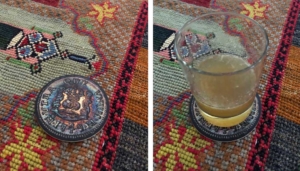 Thank you to Laurie and the staff at DCG who makes this very complex business seem simple come tax time.
Thank you to Jim, Pat and our entire insurance team at The Whitmore Group who quite literally saved our bacon this year, and did it waaaaay faster than we expected.
Thank you to our photographer Kevin who makes every coin on our site look exactly like it does in real life (which is a good thing if the coins are pretty, but not if they aren't).
Thank you to Lisa at Mark Harris who helped us make those invoices and cool stickers you see on our CRO boxes.
Thank you to our former partner and still good friend Dave who helped us land the Deal of the YearTM and thus had us working together more than we had since 2012.  That was fun!
And finally, thank you to little Billy, age 8, who drew the excellent hand turkey shown at the top of this article.
Happy Thanksgiving Everybody!
John & MaryAnn